2021 Luxembourg Dressage Championships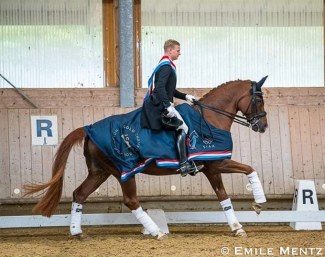 Junior rider Liv Dondelinger, young rider Tim Löffler, and senior Grand Prix rider Nicolas Wagner became the winners of the 2021 Luxembourg Dressage Championships held at the Thill family's equestrian center Feelener Hecken near Luxembourg City on 1 - 3 October 2021. 
The small grand duchy of Luxembourg has a loyal community of dressage athletes even though the fields of competitors are modest. 
Wagner Wins
The senior Grand Prix division also only saw four combinations entered despite more Grand Prix presence in Luxembourg (Fie Skarsoe, Kristine Moller, Isabelle Constantini, Emma-Lou Becca, and Mandy Zimmer who just delivered a baby). Wagner concluded his stellar year aboard his 12-year old Hanoverian gelding Quater Back Junior (by Quaterback) with the national title. The 29-year old professional went to his first Olympics this year, rode at the European Championships and at the Nationals grabbed the gold with 74.60% in the Grand Prix and 79.58% in the freestyle.  Sascha Schulz and Chinese Qiujuan He's 9-year old Westfalian gelding Dayman (by Daily Deal x Flovino) got silver with 71.73% and 76.33%. Alexandre Hidien and her 10-year old Hanoverian bred Famous (by Floriscount x Wolkentanz I) bagged bronze with 65.23% and 69.71%. 
"Quaterback Junior was great at the Championships. He felt very safe, confident and powerful," Wagner told Eurodressage, adding that the summer has been a life marking experience. "Tokyo impressed me a lot and it was very well organised. Hagen was also very special as I had a super feeling but sadly Junior got scared by a technical problem."
Nicolas has trained with some of Europe's most renowned coaches, including Klaus Balkenhol and Ton de Ridder. He is now being coached by Norbert van Laak.
"Norbert just is a great trainer. He has a good eye for knowing how to exactly train a dressage horse and helps me develop all the potential a horse has," said Nicolas. "I really like how much reassurance and confidence he gives me and the communication with him is super."
In the small tour championship for senior riders there was only one pair, so the title automatically went to them. Danish born Kristine Möller rode the 8-year old Trakehner Dallenia (by Millennium x Handryk) to the victory with a 69.12% in the first round and 69.60% in the second round. Dallenia is bred by Silke Druckenmüller out of the same dam as Olympic champion Dalera. 
Dondelinger and Löffler Win Youth Titles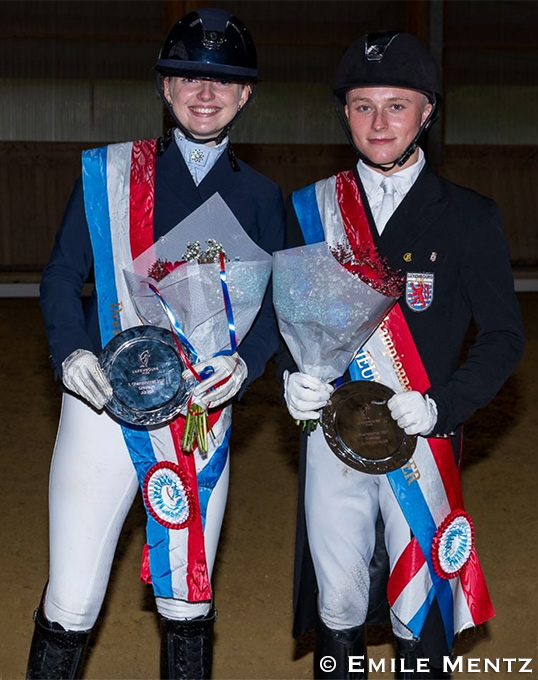 Six combinations contested the junior level championship was was won by the 18-year old Liv Dondelinger aboard her 9-year old Westfalian mare Zasou M (by Zhivago x Weltmeyer). She was second in the first round with 66.17% but won the second round on 67.54% to finish first with 133.71 points. The silver medal was for 18-year old Kimberly Schiltz with her 12-year old Westfalian Filou (by Florenciano x Furst Piccolo) who scored 66.40% and 63.38%. The bronze medal was for Alice Rouyr on her 10-year old Camargue pony Bolero des Baux (by Jericho des Baux x Hurlevent des Baux). The pair competed at FEI pony level but has now mastered the flying changes too and are continuing their journey at junior level. They scored 63.60% and 64.21% and were third overall.
Just four combinations finished both rounds of the young riders' championship, which was won by last year's junior champion Tim Löffler and his 17-year old Hanoverian gelding Hofgraf (by Hofrat x Weltruhm).  The 19-year old won the first round with 70.79% and topped the board in round two with 70.44 to get the gold. Last year's silver medal winning Marie Schiltz was back on silver with her 9-year old Hanoverian mare Quantina W (by Quaterhall x San Remo). She got 69.08% and 67.28%. The 21-year old Laura Hendrickx and her 14-year old Zweibrucken mare Lady Lascara (by Laurentio) edged out Lynn Thill for bronze with 65.31% and 65.40%.
Photos © Emile Mentz
Results - 2021 Luxembourg Dressage Championships
Junior Riders
1. Dondelinger Liv - Zasou M - 66.17 - 67.54 --- 133.71
2 Schiltz Kimberly - Filou -66.40 - 63.38 --- 129.78
3 Rouyr Alice - Bolero des Baux - 63.60 - 64.21 --- 127.81
4. Rouyr Alice - Zabaione - 62.16 - 64.74 --- 126.90
5. Kandel Line - Donero - 63.38 - 62.81 --- 126.19
6. Noesen Gianna - Charlie Brown Superstar - 60.59 - 65.18 --- 125.77
Young Riders
1. 1 Löffler Tim - Hofgraf -  70.79 - 70.44 ---- 141.23
2 Schiltz Marie - Quantina -  69.08 - 67.28 --- 136.36
3 Hendrickx Laura  -  Lady Lascara -  65.31 - 65.40 --- 130.71
4. Thill Lynn -  Aviator Red - 63.95 6- 3.51 --- 127.46
Hendrickx Gina- Bordeaux's Fürstin - 60.40 - DNS
Senior Grand Prix riders
1. Wagner Ehlinger Nicolas - Quater Back Junior FRH - 74.60 - 79.58 --- 154.18
2 Schulz Sascha - Dayman - 71.73 - 76.33 --- 148.06
3 Hidien Alexandra -  Famous - 65.23 - 69.71 --- 134.94
Rossy Anni - Chilli Bang Bang - 63.20 - 68.63 --- 131.83
Related Links
Löffler, Schiltz, Schulz Win 2020 Luxembourg Dressage Championships
Lange, Goergen, Hidien, Schulz Win 2019 Luxembourg Dressage Championships
Becca, Remy, Moller, Schulz Win 2018 Luxembourg Dressage Championships
Thill, Becca, Wagner, Schulz Win 2017 Luxembourg Dressage Championships