2021 CDI Le Mans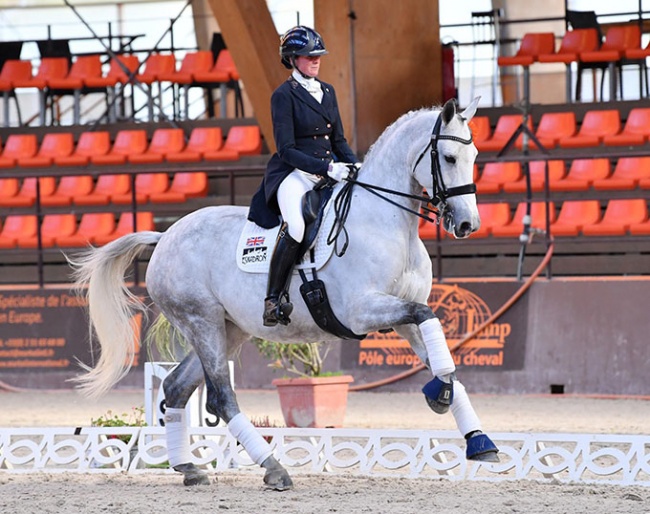 The power of working together as a team is central to international Grand Prix rider Anna Ross and the team at Elite Dressage, and this approach is starting to pay dividends.  In the past month, they've garnered a flurry of successes at the British Dressage Championships, great scores in Verden at the Young Horse World Championships and most recently, Le Mans CDI.  
Habouche
Habouche, the striking grey mare owned by Anna and Marcelo Tosi, successfully competed at the Young Rider European Championships with Elite Dressage young rider Vicky Campbell back in July.  This week, 'Holly' was competing internationally again, this time with Elite Dressage's head rider Beth Bainbridge, at Le Mans CDI** where they won the Inter 1 Freestyle with 73.4% and were second in the PSG and Inter one classes. 
Holly will now be campaigned by Anna, alongside Beverley Brown's Delgado, as she moves up to Grand Prix.  Meanwhile Beth has taken advantage of their embryo transfer programme and has her own 'little Habouche' embryo in utero for an exciting foal to look forward to next year. 
Newton Tiger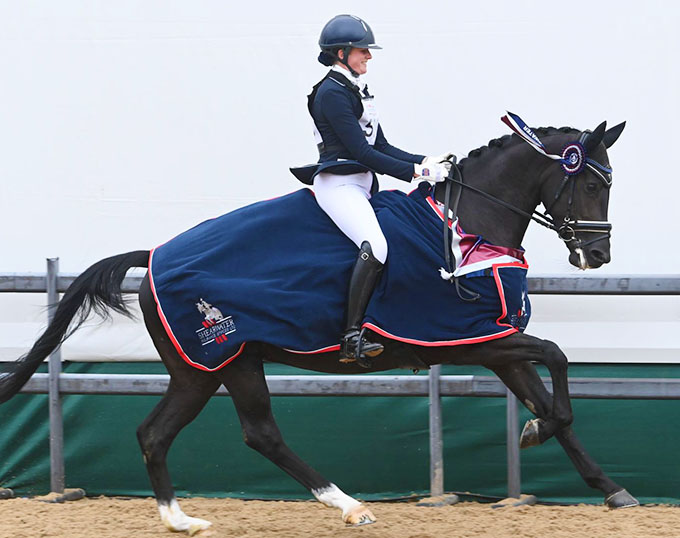 Meanwhile, five-year old Newton Tiger was competed by international GP rider Alex Baker, at the Young Horse World Championships where they scored an exciting 83.6%.
Tiger then went on to the British Dressage Championships, where she won the 5yr old British Young Horse Championship, this time ridden by Beth Bainbridge.
Tiger now heads to Ireland having been sold to an up and coming young rider. 
Anna says "It's important for our horses to be comfortable with different riders as we have different prospective owners/riders coming to try them. Our riders do have to put their egos to one side though and accept we all bring different skills to the team of horses, helping to bring the best out in them in different ways, than we all have a greater chance of success."
Sales and Breeding Combined
All the horses at Elite Dressage are for sale, even the top flight competition prospects.  Anna is not concerned about future horsepower for the team however, as all the Elite Dressage competition mares are part of their ongoing embryo transfer program.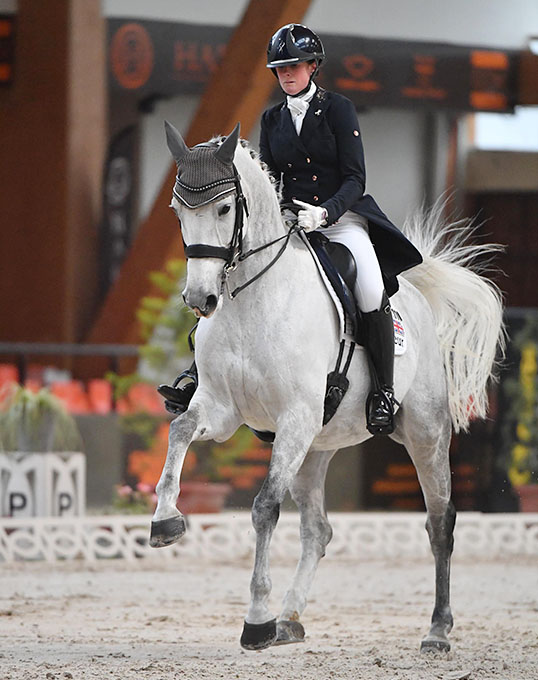 Domino, Habouche and Tiger have foals on the ground already, and with more than 100 youngsters growing up next door at Newton Stud and 40 more due in 2022, the team are safe in the knowledge that they are never short of quality, and by working together they can all enjoy the journey.
"Dressage can be an isolating sport especially for young people, who can often feel the pressures of owners and competition.  Happy riders make happy horses," says Anna. "Critical to me was to create a healthy positive environment for both humans and horses in which they could thrive, and successes, highs and lows, are equally shared. It's great to see this ambition coming together."
Future Generations
On top of Alex Baker's European success with Tiger, she was also selected for the senior team at the European Championships with her own horse, Dutchman, but sadly last minute lameness meant she could not compete in Hagen.  Alex had no time to dwell though as she is busy in 'the Elite Dressage nursery' backing the daughter of double world champion Woodlander Farouche by Valverde, along with Habouche's first son by Oldenburg licensing champion Morricone. Beth meanwhile trains the exciting 7 year old prospect Toska Too, who had two maternal siblings already competing internationally in Le Mans, as well as her own up and coming Grand Prix horse Henry.  
 'I know to inspire and retain a great team of talented riders, I need to offer them opportunities to progress and grow themselves.  Teamwork is fundamental to our ethos and keeps us, and our horses, happy and motivated' said Anna.  
CDI Debut for Newton Domino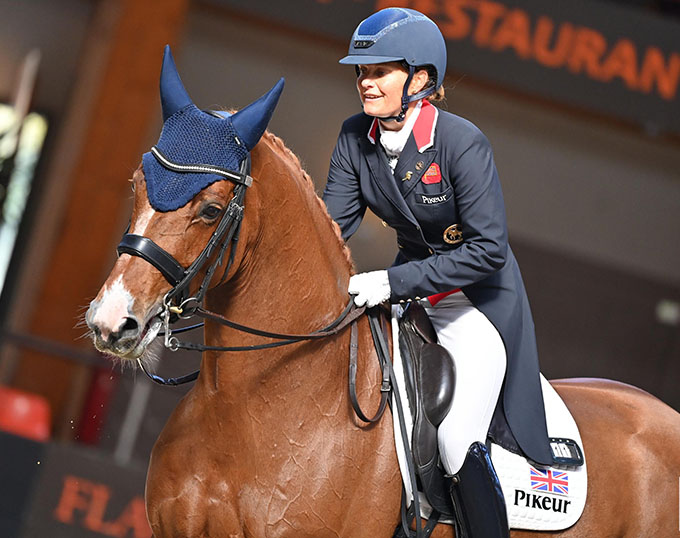 Anna has also been busy in the saddle representing GB at Le Man CDI*** where she rode Newton Domino in the mare's first international. This talented mare is still relatively new to the level and so the pair were delighted to come second in the Grand Prix Kur with 71.6 % riding to an instrumental music compilation from the computer game, Angry Birds put together by Equidance. 
This placing follows fourth place at the British Dressage National Championships last month where they scored 72.6% in the Grand Prix Kur to the same medley.  "It's unusual but it really suits 'Dotty' and is a hit with the judges," said Anna. 
 With Domino's three year old son by Stedinger already backed at the Elite training stables and the successful mares proving themselves in international sport, this forward thinking team have good reason to be excited about the future. 
For more information, visit www.elitedressagehorses.co.uk or on Facebook and Instagram.
-- press release - Photos © Les Garennes / Kevin Sparrow
Related Links
Newton Double Take Gets Highest Score Ever Awarded by British Hanoverian Society
Elite Dressage and Newton Stud Join to Create Horsey Heaven in Mid Devon