Hanoverian Auction News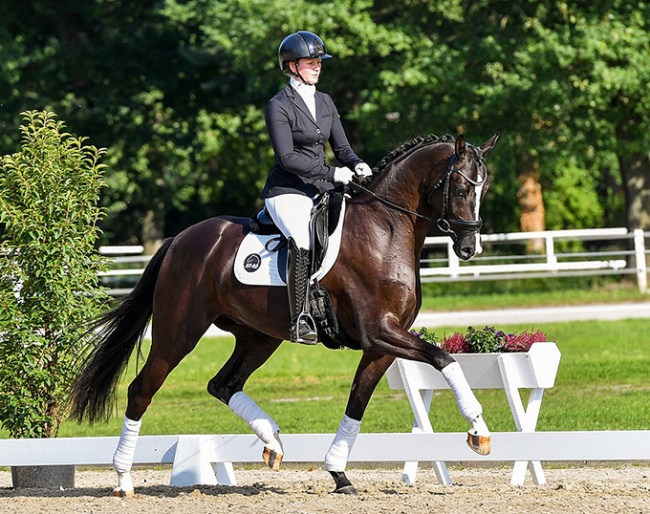 At the 138th Elite Auction Online, the dark bay gelding Sedamo K was the most wanted horse in the Hanoverian Autumn elite auction in Verden, selling for 305,000 euro. 
Sedamo K and Francesco
Sedamo K (by Secret x Dancier) is the 2021 Hanoverian Young Horse Champion and placed fourth at the 2021 Bundeschampionate in August. He is bred and was owned by Hof Kleemeyer.  Twelve bidders submitted 186 bids until the price was fixed: 305,000 euro. He will move to a well-known training stable in North Rhine-Westphalia, which has often found quality horses at the source in Verden in the past years.
Sedamo K will not travel alone. Francesco (by Flanell x Lauries Crusador xx), bred by Thomas Heuer and owned by Michael Schenk, will accompany him. For this three-year-old the hammer fell on 161,000 euro. They sold to the Schmitz-Heinen family at Hof am Eighen.
The most expensive jumper was Stepstone (by Stolzenberg x Quintender) who sold for 116,000 euro. The athletic bay stallion was purchased at auction by MK Sporthorses from Starnberg and will go to the stable of the internationally successful show jumper Max Kühner.
100,000 Club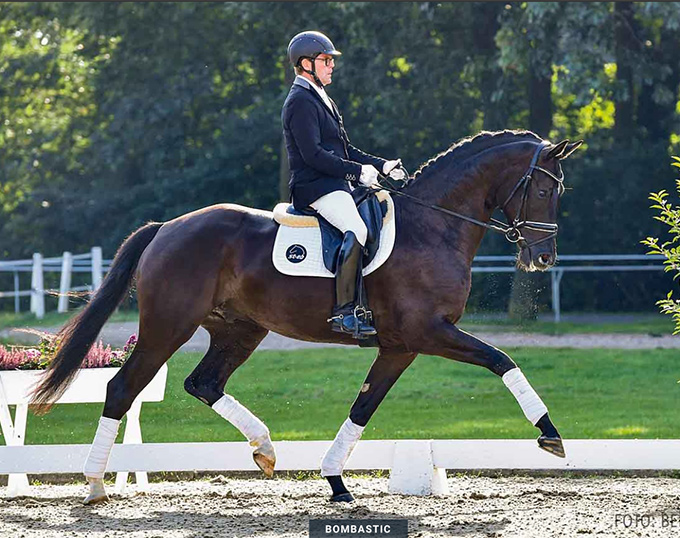 The club of the "one hundred thousand" had four more new members: Bombastic (by Bon Coeur x Wilawander xx) sold for 126,000 euro to Spain
Bon D'Amour (by Bon Coeur x Laudabilis) fetched 101,000 euro. The bay stallion was familiar to Verden as he already sold there once before as a foal.
Die Tänzerin (by Don Monet x St. Moritz Junior) moves to Bavaria for 118,000 euro. Deichtanz (by Diamond Hit x Lauries Crusador xx) cost 115,000 euro.
Big Interest
The interest was big in the collection of the 2021 Hanoverian Autumn Elite auction. The 4-year old Cantinero (by Cordynox x Coriando) sold for 82,000 to a German. 
An Austrian paid 36,000 euro for Fuchur (by Furst Belissaro x Don Vino), an American got Furst Henry (by Furst William x Sandro Hit) for 33,500 euro, an Australian bought Florida M (by Furstenball x Dancier) for 33,500 euro and a Hungarian purchased St. Tropez (by St. Schufro x De Niro) for 32,500 euro, while a Swede got Ladylike MH (by Livaldon x Dannebrog) for 32,000 euro. 
Great Statistics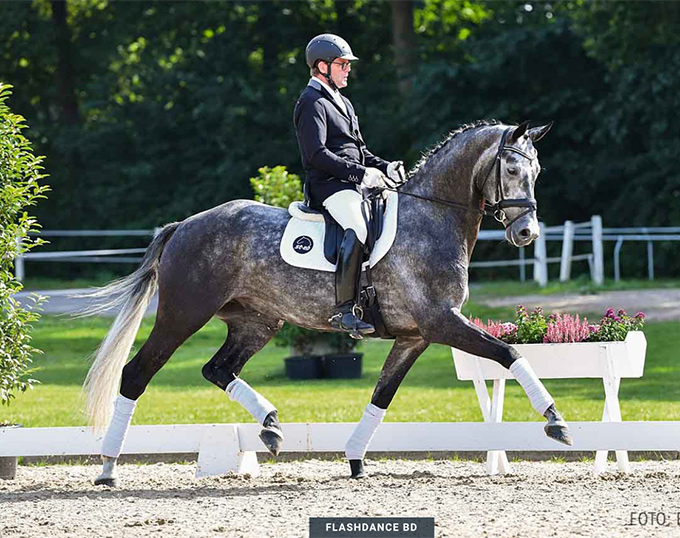 79 top-class riding horses were offered for sale in this Hanoverian Autumn Elite Auction, of which the bidding took place online. The average price was 40,943 euro. 
Over 60 percent of the collection achieved prices over 25,000 euro, which means that 49 horses sold for more than that amount. Thirty-five auction horses will move abroad. France appears six times in the sales statistics, followed by the USA, Canada, Austria and Spain with three purchases each.
A Spaniard purchased Director's Cut (by Destacado x Sandro Hit) for 68,500 euro, while Ibiza Boy (by Ibiza x St. Moritz) stays in Germany for 65,500 euro.
Cox Orange (by Christ x Wanderbusch II) moves to the Persson family in Falkenberg, Sweden for 54,000 euro, while Daytona (by Da Costa x His Highness), Feuerwerk (by Fantastic x Beguia) and Furst Hohenstein (by Furstenball x Lehmann) found a home in France for 51,500,  45,000 euro, and 31,000 euro. Daytano was bought be Géraldine Hieronimus of E2K horses. 
The Belgian owned Flashdance BD returned to Belgium for 43,000 euro. 
Next Auction at the Stallion Licensing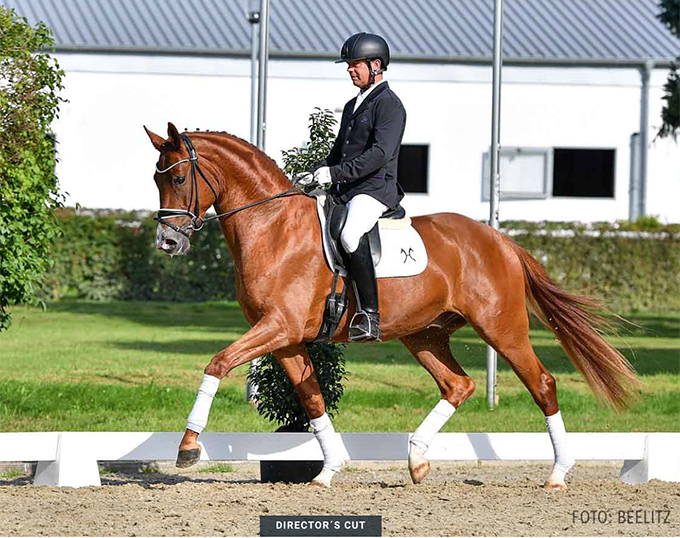 The 138th Elite Auction will be followed by further highlights in Verden. From 4 to 6 November, the stallion licensing and stallion sales of dressage stallions will take place.
On 20 November, around 50 riding horses will be auctioned online, ready for trying from 10 November.
The crowning finale of the year will be the stallion licensing and stallion sales of the show jumping stallions from 2 to 4 December, during which the Hannoveraner Show Jumping Masters will also be held.
Related Link
The Countdown has Started for the 138th Verden Elite Auction