2021 Hungarian Dressage Championships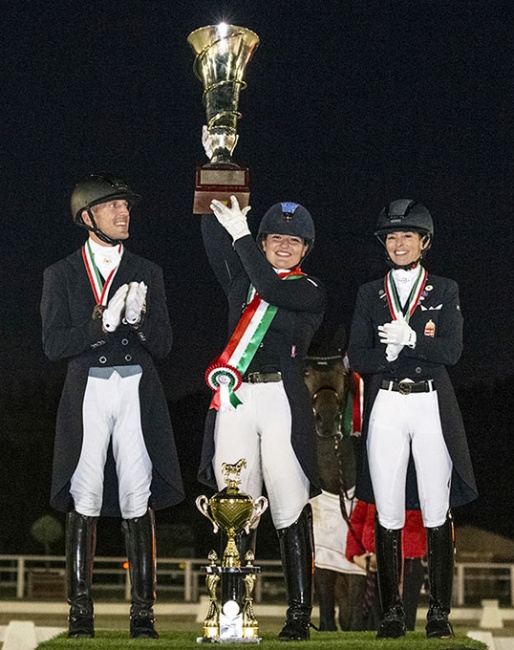 Pony rider Dora Malaczkov, junior rider Lilla Felvinczi, young rider Fanni Ambach, and seniors Csaba Szokola and Jazmin Yom Tov became the winners of the 2021 Hungarian Dressage Championships hosted at Arie Yom Tov's Stable Unikornis in Pilisjaszfalu, Hungary. 
Stable Unikornis
The venue for the Nationals has built a history in being a Championship host. After catering the European Youth Championships from children to U25 level in 2020, Stable Unikornis this year hosted the Nationals, while in 2022 it will welcome two age categories for the European Children and Under 25 Chamîonships, of which the FEI has set the definite dates on 24 - 28 August 2022. 
For the 2021 Nationals, the event was blessed with beautiful, sunny weather on a weekend that included 250 starts in total.
For the first time the Hungarian Championships were judged by a panel of 10 international judges including Thomas Lang, Elke Ebert, Eddy de Wolff van Westerrode, Freddy Leyman, Orsolya Hillier, Eugenio Rovida, Eva Maria Vint-Warmington, Paula Nysten, Janine van Twist, and Trond Asmyr.
Pony Riders: Dora Malaczkov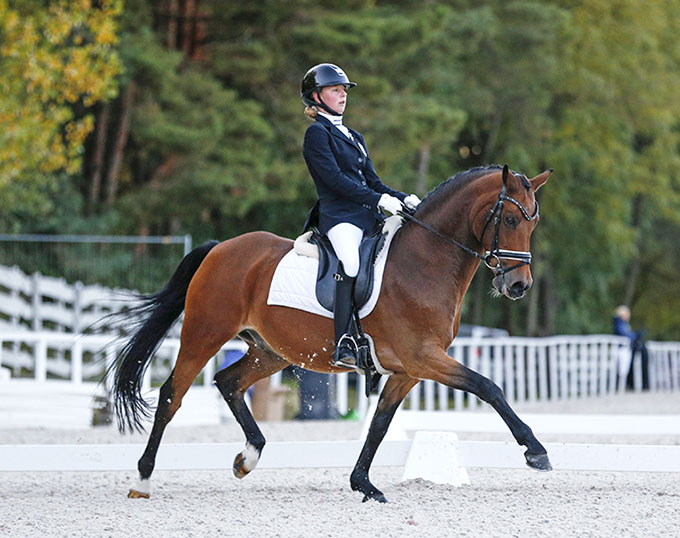 Five combinations competed in the pony division and new comer Dora Malaczkov captured her first national title aboard the 12-year old Campino (by Champion de Luxe), which Arie Yom Tov sourced in Belgium for her. Dora was third in the first round with 68.135% but shot to the top of the score board in the second round with 71.865% to put her on the highest step of the podium. 
The silver medal went to Lili Virag Vaszilko on the 17-year old Rocardo (by Rashing Boy). She was second in the first and second round with 68.757% and 68.505 to place second overall. 
Hungary's more experienced pony pair, Kira Malna Major and the 10-year old German bred pony mare Davida (by FS Don't Worry) took the lead in round one with 69.108% but dropped down the board in round two (65.965%) to finish third overall. 
Junior Riders: Lilla Felvinczi
Nine junior riders gathered at Stable Unikornis  for a neck-to-neck race for silver and bronze, but the gold was a clear win.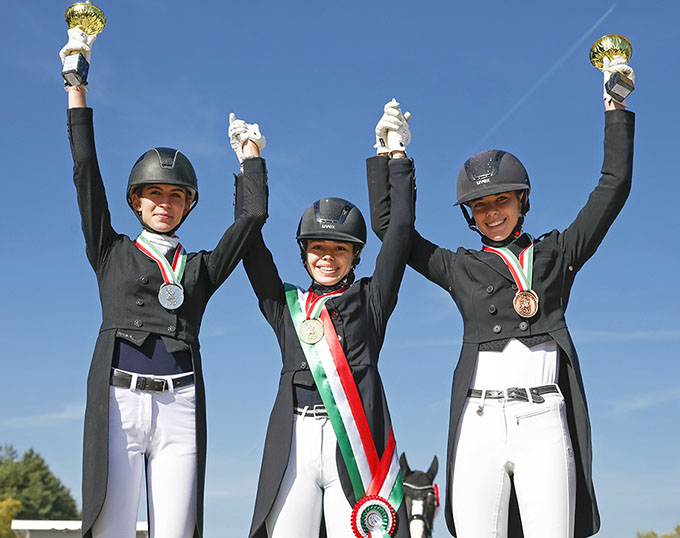 Lilla Felvinczi and the 10-year old Danish bred Bonjour Majlund (by Bogegardens Boney M) dominated both rounds with 70.735% and 74.265%. After finishing 13th in the Kur to Music finals at the 2021 European Junior Riders Championships in Oliva Nova, Spain, Lilla now grabbed the National Junior Title. 
Mira Dicso and the lovely 9-year old Hanoverian bred Foxtrot (by Foundation x Furst Heinrich) were good for silver with 68.441% and 73.875%. At the Europeans they were 11th in the Kur finals, but at national level Felvinczi had her horse in more consistent form. 
Hanna Hoffer and the 11-year old Mecklemburger bred Dujardin (by D'Olympic x Laurentio) are a brand new duo, having made their international show debut only two months ago in August. At the Nationals they were second in round 1 (69.294%) and third in the second round (71.845) to get the bronze. 
Young Riders: Fanni Ambach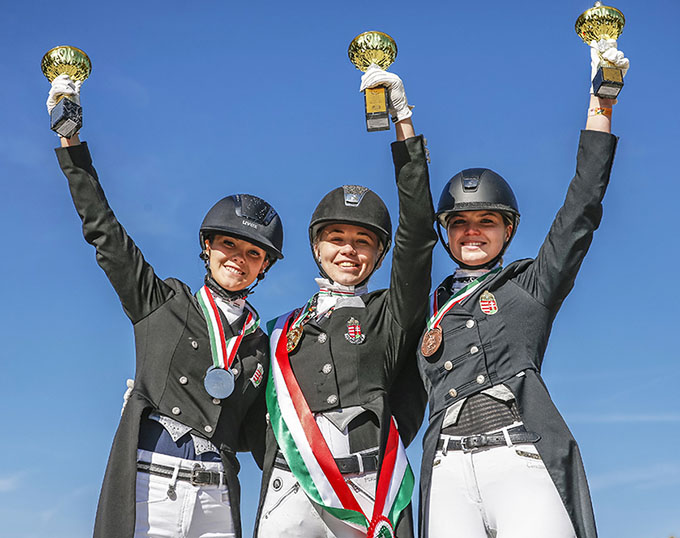 Seven combinations battled it out in the Young Riders division, which was won by routinier Fanni Ambach on the 13-year old Oldenburg bred Schufro Armani (by Jimmie Choo SEQ x Rosario). She was a league of her own and let all competition far behind her. She scored a winning 71.206% in the first round and 76.410% in the second round. It was consolation for Ambach, who was eliminated in the individual test at the 2021 European Young Riders Championships in Oliva Nova, as the judges considered her horse unlevel that day.
Kitti Krisztina Rapi and  the 16-year old Hanoverian mare Dancing Queen BC (by Don Crusador x Wenzel) finished with silver. This year they were not selected for the European Championship, but still had an active summer showing at CDI's in Budapest, Samorin, and Fot. At the Nationals they posted 69.235% and 70.355% for silver. 
Anna Sara Csiba and the 14-year old Hanoverian mare Lady Rowena  (by Lord of Loxley x Wladimir) finished third overall after a solid improvement in the second round. The pair started out with a 65.029% but pushed that score up in round two to 68.495%.
Seniors: Szokola and Yom Tov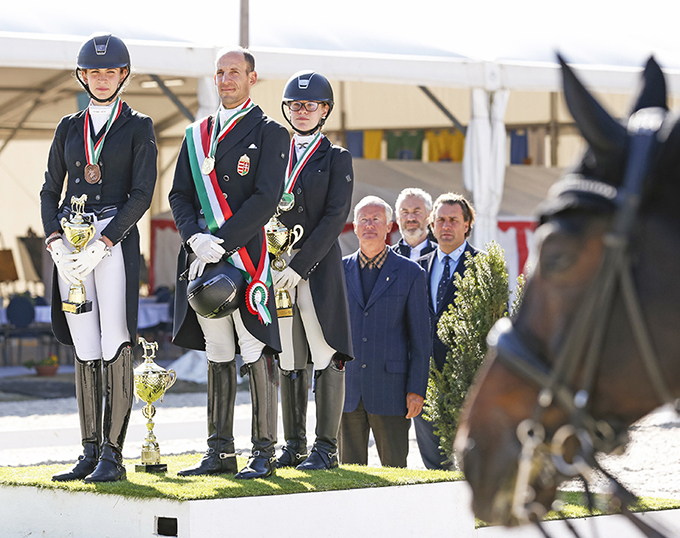 The seniors were able to ride in a small and big tour championship. At small tour level Csaba Szokola and the 9-year old Don Deveraux (by Deveraux) won with 69.088% and 72.850% but they certainly felt the heat from Rebeka Kis on Anna Kokenyesy's 17-year old Westfalian Leopold (by Laudabilis x Argentinus), who was right on Szokola's heels with 69.588 and 70.925%. Junior Mira Dicso also got a bronze medal in the small tour on the 9-year old KWPN mare Havana (by Stedinger x Don Schufro) with 67.441% and 69.355%.
The highlight division of the National Championship was of course the Grand Prix division in which the 20-year old Jazmin Yom Tov pulled a stunt as she beat 2021 European Championship team riders Aniko Losonczy and Csaba Szokola  to the title. Yom Tov, who also competed at the Europeans but in the Under 25 division with the 10-year old KWPN gelding Hexagon's Grandville (by Louisville x Rubiquil), dominated both the Grand Prix with 71.217% and the Kur to Music with 75.085% for the gold medal.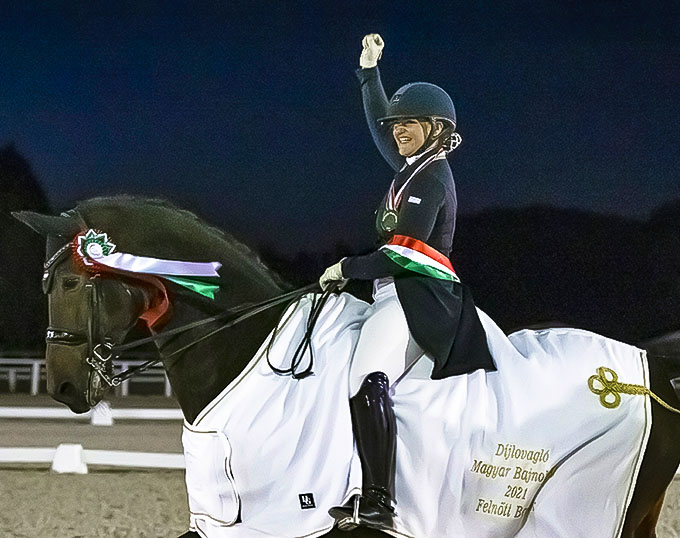 The silver went to Aniko Losonczy on her tall and impressive, 13-year old grey KWPN gelding Dior S (by Spielberg), who posted 68.674% in the Grand Prix and 73.945% in the Kur. Csaba Szokola and his 13-year old grey show jumping bred gelding Enying (by Balou de Rouet) were third with 67.152% and 71.765%.
Established Hungarian Grand Prix riders Robert Acs and Anita Schmidt were both absent from the Nationals this year.
Photos © Anett Somogyvari
Results - 2021 Hungarian Dressage Championships
Pony Riders
1. Campino - Malaczkov Dóra - 68.135 - 71.865 --- 140.000 
2. Rocardo - Vaszilkó Virág Lili - 68.757 - 68.505 ---  137.262 
3. Davida - Major Kíra Málna - 69.108 - 65.965 --- 135.073 
4. Mysterious Golden Bink - Szeivolt Hanna Titanilla - 65.459 - 65.615 --- 131.074 
5. Haverstein's Olympic - Plutzer Zita - 59.635 - 62.350 --- 121.985 
Junior Riders
1. Bonjour Majlund - Felvinczi Lilla - 70.735 - 74.265 --- 145.000 
2. Foxtrot - Dicsõ Mira - 68.441 - 73.875 --- 142.316 
3. Dujardin - Hoffer Hanna - 69.294 - 71.845 --- 141.139 
4. Jillzella - Nagy Rita Laura - 68.323 - 69.435 --- 137.758 
5. Pannon Royal Rosetta Star - Lõkös Lúcia - 66.971 - 65.255 --- 132.226 
6. Laurin - Kóródi Nóra - 62.765 - 68.355 --- 131.120 
7. Grace - Solymosi Sára - 61.677 - 69.260 --- 130.937 
8. Sharon - Strbka Anna - 63.794 - 66.515 --- 130.309 
9. Bonifatia - Nagylaki Kitti - 61.500 - 64.550 --- 126.050 
Young Riders
1.  Schufro Armani - Ambach Fanni - 71.206 - 76.410 --- 147.616 
2.  Dancing Queen Bc - Rapi Kitti Krisztina - 69.235 - 70.355 --- 139.590 
3.  Lady Rowena - Csiba Anna Sára - 65.029 - 68.495 --- 133.524 
4.  Chicago - Farkas Boglárka - 65.971 - 67.550 --- 133.521 
5.  Conversano Xxviii-2 Konyak - Marschall István - 63.912 - 67.385 --- 131.297 
6.  Shades of Grey - Rajnai Emerencia - 66.412 - 64.090 --- 130.502 
7.  Resuelto Uram - Isóczky Panna Viola - 61.794 - 58.955 --- 120.749 
Senior - Small Tour
1. Don Deveraux - Szokola Csaba - 69.088 - 72.850 --- 141.938 
2. Leopold - Kis Rebeka - 69.588 - 70.925 --- 140.513 
3. Havana - Dicsõ Mira - 67.441 - 69.355 --- 136.796 
4. French Kiss - Borza Dominik - 66.059 - 67.245 --- 133.304 
5. Lola - Nagyházi Júlia - 61.912 - 64.760 --- 126.672 
6. Maestoso Xxxiii-31 - Mikó Tamás - 62.882 - 63.075 --- 125.957 
7. Steel Fire Archibald - Németh Réka - 58.971 - 64.425 --- 123.396 
Seniors - Big Tour
1. Hexagon's Grandville - Yom Tov Jazmin - 71.217 - 75.085 --- 146.302 
2. Dior S - Losonczy Anikó - 68.674 - 73.945 --- 142.619 
3. Enying - Szokola Csaba - 67.152 - 71.765 --- 138.917 
4. Willi the Hit - Szalai Nikolett - 66.869 - 68.605 --- 135.474 
5. Ribery - Zengõ Réka - 63.522 - 69.325 --- 132.847 
6. Show Hit - Nébel Viktória - 60.913 - DNS --- 60.913 
Related Links
Hoffer, Koszta, Ambach, Yom Tov, Zengo, Schmidt Win 2020 Hungarian Dressage Championships
Hoffer, Felvinczi, Yom-Tov, Erdi, Acs Win 2019 Hungarian Dressage Championships
Hoffer, Lokos, Yom Tov, Zengo, Szalai Win 2018 Hungarian Dressage Championships
Nikolett Szalai Extends Title by Winning 2017 Hungarian Grand Prix Championships
Radnai, Ivan, Szoke Toth, Zengo Win 2017 Hungarian Youth Riders Championships
Nikolett Szalai Wins 2016 Hungarian Grand Prix Championships