2021 Masters du Cheval European Final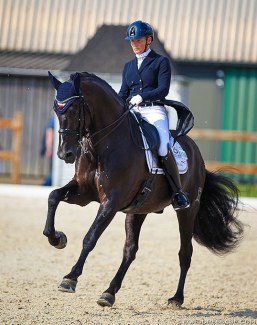 Italian Nausica Maroni and her PRE stallion Embajador SG became the Grand Prix level winners of the Masters du Cheval (MCI) European Final in None near Turin on 27 - 31 October 2021.
For its 25th anniversary, the MCI Final was hosted at the ASD Horsebridge Club and this was the third time that Maroni won the Grand Prix level championship. She did so before in 2016 and 2019.
MCI European Final Celebrates Iberian Bred Horses
The "Masters du Cheval" is a dressage league for Spanish and Portuguese bred horses, with classes from novice level up to Grand Prix.
The first edition of the event was held in 2008 and except for corona year 2020 the competition has been going non stop. In 2011, it was the first time that the European Final was hosted outside France. 
Riders from France, Belgium, Czech Republic, Great Britain, Spain, Italy and The Netherlands, had qualified for the 2021 MCI European Finals. However, due to Covid-19, EHV-1 and Brexit,  the entries for this year's (MCI) European Final were down by 50%, but this did not dampen the spirit of the competitors on their Iberian bred horses. In the end riders from five nations participated (Italy, France, Belgium, Holland and Great Britain.
Belgium Wins Nations' Cup
The Final takes place over 6 levels: level 1 & 2 are novice levels for amateurs, level 3 is FEI Juniors level, level 4 is Prix St Georges level, while level 5 is the medium tour, while Level 6 is Grand Prix level.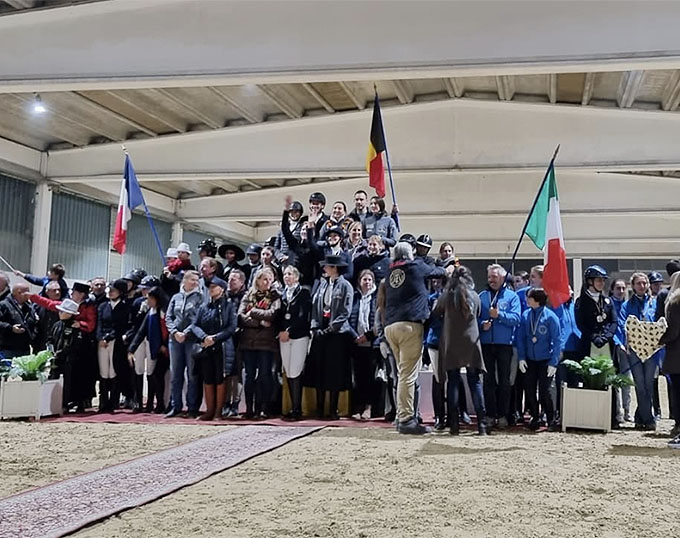 Across the levels it were the riders from Belgium who scored the highest overall and took the team gold medal in the nations' cup, like in 2019. The French team took silver and Italy bronze.
Embajador SG Achieves Hattrick
For the third time in her career, the brand new Italian Grand Prix champion Nausicaa Maroni and her 14-year old PRE bred Embajador SG (by Reclameo VI out of Cubanera) dominated Level 6.
Bred at Yeguada Soto Gil in Spain, the dark bay stallion won both rounds for the Grand Prix level MCI championship. The judges rewarded the pair with 71.413% in the Grand Prix and 75.470% in the Freestyle.
Italian Margherita Josi, who has successfully made the transition from U25 level to senior Grand Prix, steered the 16-year old PRE bred Califa LXX (by Duque x Novato XXVI) to a second place. They scored 64.348% and 71.610%. Her bay stallion is bred at Yeguada La B in Spain and owned by Roberto Maccarini.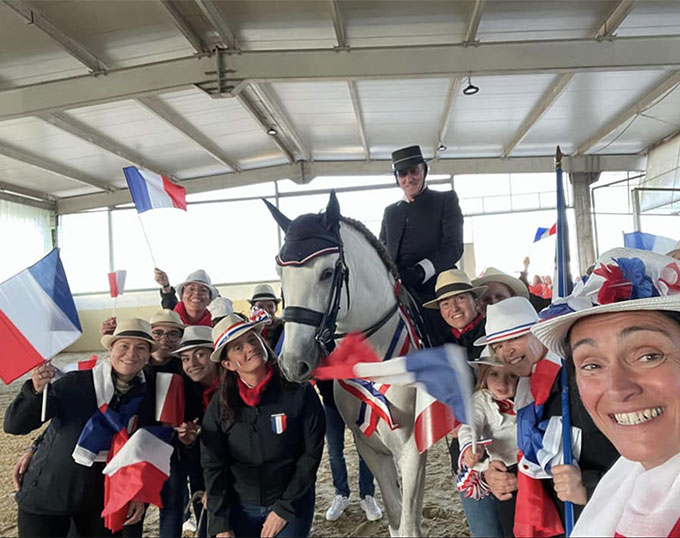 Third place went to former French U25 ride Lana Portejoie aboard Garzon VI, a 12-year old PRE stallion by Defo II x Barbaro II, owned by her father Frank Portejoie. This combination scored 65.217% and 69.930%.
Six combinations competed in the Level 6 class. The other three were Belgian Lauren Paquot on Tardo AS (by Barquero XXVI), French Sophie Leban on Lusitano Biqueiro (by ??); and Belgian Isaline Lieutenant on Lusitano Caravaggio (by Navalheiro x Lidador).
The 2022 MCI European Final will be hosted in Belgium.
Complete results here.  History of MCI Final results here.
Related Links
Verboomen and Maroni Win Grand Prix Gold at 2017 Masters du Cheval European Final
Nausicaa Maroni and Embajador SF Go for Gold at 2016 Masters du Cheval European Final