KWPN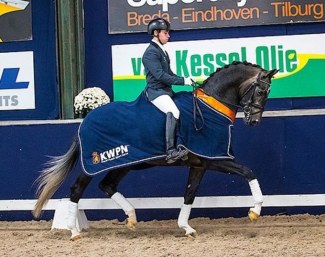 The 3-year old Everest and the 4-year old Montrachet became the winners of the KWPN Young Dressage Talent competition which the KWPN region West-Brabant organized on 7 November 2021.
Young Dressage Talent scouting competition have gained significant popularity in the Netherlands the past decade and local branches of the KWPN regions are now hosting talent competitions during the winter. It provides a good first competition experience for the young horses, but these shows are not part of a criterium for a championship.
The West-Brabant KWPN regional branch first held its Young Dressage Talent competition in 2013. The 2021 edition took place in stable Buitenhorst in Oosteind, The Netherlands. The judges were Grand Prix rider Vincent van Gasselt and young horse rider Franka Loos. 
The competition broke into two rounds: a suitability test in which the gaits, harmony and potential were assessed. The five highest scoring horses were then test ridden by the guest judge riders.
3-YO: Everest
No less than 50 horses competed in the 3-year old division.
The grey KWPN bred and NRPS licensed stallion Everest (by Especial x Negro), bred by Gert-Jan van Olst, topped the board under Spaniard Alvaro Conesa de Oliveira. The grey scored 8.5 for walk, 8 for trot, 10 for canter, 8.5 for harmony and 9 for potential, while the test rider rewarded him with a 10 for rideability and talent. He totalled 188 points for the victory. 
Charlotte Fry and the KWPN bred mare Nova Liz (by Everdale x Johnson) placed second. She got 8.5 for walk and trot, 9 for canter, 8.5 for harmony and 9 for potential. The test rider also scored this mare a 10.
Jos Hogendoorn and the KWPN bred Nox (by Furst Romancier x Krack C) placed third. This horse got 7 for walk, 9.5 for trot, 9 for canter and harmony and 8 for potential. The test rider rewarded it with a 9.5.
4-YO: Montrachet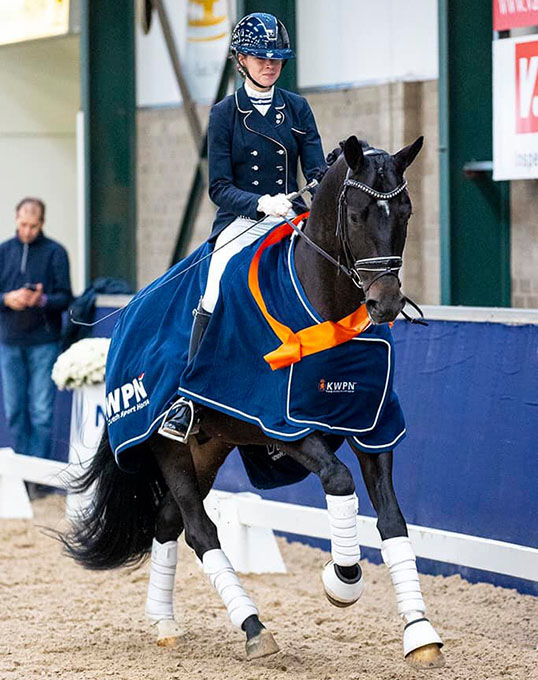 The 4-year old division brought afoot 22 combinations. The top three highest scoring horses were test ridden.
The class was won by amateur rider Lynne van Erp on her home bred Montrachet (by Toto Jr x Tuschinski). The rider conquered her nerves and steered her dark bay to an 8.5 for walk, 9 for trot, 8 for canter, 9 for harmony and potential and the test rider rewarded the horse with a 10.
The runner-up was Amber Hage aboard Mercurius ACM (by Dream Boy x Gribaldi). This duo received 8 for walk, 9 for trot, 8.5 for canter, harmony and potential and 9.5 from the test rider. 
Ingrid Schenk and Massimo (by High Five x Dayano) slotted in third. They got 9 for walk, trot, canter, 8 for harmony, 9 for potential and 9.0 from the test rider. 
Photos © Digishots
Results - KWPN West-Brabant Young Dressage Talent Competition
3-year olds (top 20 only)
Rider - Horse - Total first round - walk - trot - canter - harmony - potential -- test rider score --- overall total
1 Alvaro Conesa de Oliveira - Everest (by Especial x Negro) - 88 ---- 8,5 8 10 8,5 9 -- 100  --- 188
2 Charlotte Fry - Nova Liz (by Everdale x Johnson) - 87 ---- 8,5 8,5 9 8,5 9 -- 100   --- 187
3 Jos Hogendoorn - Nox (by Fuerst Romancier x Krack C) - 85 ---- 7 9,5 9 9 8 -- 95   --- 180
4 Kim noordijk - Naqueen (by Trafalgar x Samba hit) - 85 ---- 7 9,5 9 8,5 8,5 -- 90   --- 175
5 Alvaro Conesa de Oliveira - Nareina (by Everdale x Krack C) - 85 ---- 8 8,5 9 8,5 8,5 -- 85   --- 170
6 Femke de laat - New pleasure (by For romance x Blue hors zack) - 82 ---- 8,5 8 8 8 8,5
7 Jesper van Heijst - Notilas (by Totilas x Don Schufro) - 82 ---- 9 7,5 8 8,5 8
8 Marijke van giesen - Noëmi diede (by Ferdinand x Fuerstenball) - 81 ---- 8,5 8 8 8 8
8 Gianni Gevers - Naomyi De La Fazenda (by Secret x De Niro) - 81 ---- 8,5 8 8 8 8
8 Alvaro Conesa de Oliveira - Ninja D'Or (by Chippendale x Rousseau) - 81 ---- 7,5 7,5 9,5 8 8
11 Amber Hage - Duval's Natalya (by Secret x San Remo) - 81 ---- 8,5 8,5 8 7,5 8
12 Kim Noordijk - No Nonsense D (by Glamourdale x Olivi) - 80 ---- 8 8 8 7,5 8,5
13 Jose van Haren - Nacho SR (by Improver VDT x Beau) - 80 ---- 7,5 8,5 7,5 8,5 8
14 Dirk Jan van de Water - Nuevo toto (by toto jr. x Sir fashion) - 80 ---- 8 8,5 7 8,5 8
15 Marijke van giesen - Nightfeet (by For ferrero x Zucchero) - 80 ---- 7 8,5 8,5 8 8
16 Rowie Rooth - Ninilana (by Incognito x Ampère) - 79 ---- 7 8 8 8,5 8
16 Amber Hage -  Novello van Rayland (by Firestone x Lennard) - 79 ---- 7 8 8 8,5 8
18 Kim noordijk - Noqueen (by Trafalgar x Apache) - 79 ---- 8,5 7,5 7,5 8,5 7,5
19 Stephanie Dorr - No nonsens (by Johnson x Furst Heinrich) - 77 ---- 7,5 8 7 8 8
20 Gianni Gevers - Navarro de La Fazenda (by Secret x Donnerhall) - 77 ---- 7,5 7 8,5 7,5 8
4-year olds
1. Lynne van Erp - Montrachet (by Toto Jr. Tuschinski) - 87 --- 8,5 9 8 9 9 -- 100 --- 187
2 Amber Hage - Mercurius ACM (by Dream boy x Gribaldi) - 85 --- 8 9 8,5 8,5 8,5 -- 95 --- 180
3 Ingrid schenk - Massimo (by High five x Dayano ) - 88 --- 9 9 9 8 9 -- 90 --- 178
4 Lisa van den Heuvel - Murdock VE (by Ferguson x Negro) - 84 --- 9 7,5 9 8 8,5
5 Alvaro Conesa de Oliveira - Irvin (by Inspire x Negro) - 83 --- 8 8 9 7,5 9
6 Charlotte Fry - Maxson (by Johnson x Negro) - 83 --- 7,5 8 9,5 8 8,5
7 Lisa van den Heuvel  - Midnight VE (by Blue Horse Farrell x Johnson) - 82 --- 7,5 8 9 8 8,5
7 Yoeki Bos - Mazzimo Grande van de Waalsehoeve (by Toto Jr. x San Remo) - 82 --- 7,5 8,5 8,5 8 8,5
9 José van haaren - Miss D (by Sir donerhall x Negro) - 80 --- 7 9 8,5 7 8,5
10 Aniek de Laat - Morkus (by Toto jr x Jazz) - 79 --- 8,5 7,5 7,5 8 8
11 Aniek de Laat - Miami M (by Galaxie x Ferro) - 79 --- 8,5 8 7,5 7,5 8
12 Amber Hage - Moana van Bria (by Toto Jr. x Fidertanz) - 78 --- 7 8 7,5 8 8,5
13 Jos Hogendoorn - Maverick (by Grand Galaxy Win x Connaisseur) - 78 --- 7 8 8 8 8
14 Maxime Osse - Milan (by Dream boy x Tango) - 77 --- 7 8,5 7,5 7,5 8
15 Gianni Gevers - Michelin SVH (by Daily Diamond x Welt Hit II) - 75 --- 8,5 7 6,5 8 7,5
16 Elsemiek de Man - Maddock HM (by Dream Boy x Contango) - 74 --- 6,5 7,5 8 7,5 7,5
17 Maxime Osse - Molinari (by El Capone x Democraat) - 72 --- 7 7 7,5 7,5 7
18 Marlotte de Man - Madame Bioux HM (by Incognito x Florencio) - 69 --- 5,5 7,5 8 6 7,5
19 Tiên Gebhard - Menneke (by Daily Diamond x Jazz ) - 69 --- 7,5 7 6,5 6,5 7
20 Tiên Gebhard - Melinda (by Sorento x Metall ) - 67 --- 7 7,5 6 6 7
21 Fanny de Klerk - Mission Possible DK (by Impression x Tango) - 58 --- 5,5 6 6 5,5 6
22 Floor de Bie - Masterpiece DB (by Indian rock x San remo) - 58 --- 6 5,5 7 5 5,5
Yentl Braam - Maestro CC (by Habanna Prestige VDL) - - DNS
Complete results: 3-year olds - 4-year olds
Related Link
Fuzette and Endyrava Win 2013 KWPN Young Dressage Talents Competition