Austria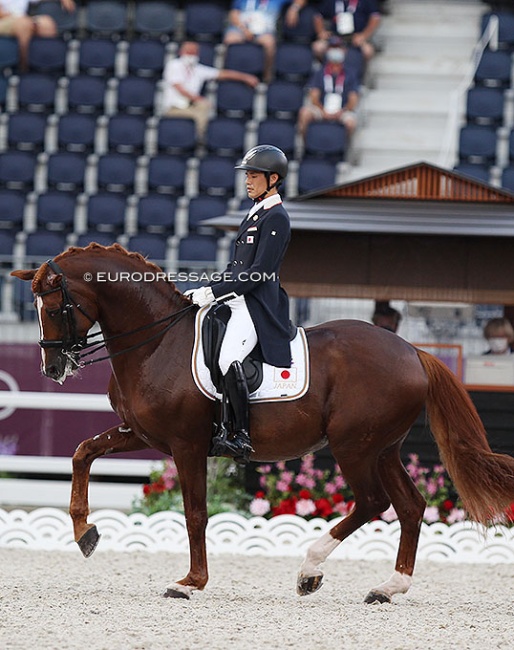 Kazuki Sado's Japanese Olympic team horse Ludwig der Sonnenkönig has been sold to Austrian aspiring Under 25 rider Nicola Ahorner. 
Ludwig der Sonnenkönig is a 15-year old Oldenburg stallion by London Swing x Liberator x Directeur. He is bred by Christian Richter. 
Start in Germany
Initially owned by Marianna Pinyol Garcia, the horse made its show debut in 2010 under Anna Pfeilsticker, who took him up to L level until 2013. 
The stallion sold to British Sam Duckworth who first competed him at M-level in Neu Anspach in May 2014. Duckworth rode him through Grand Prix level and showed him in the Louisdor Cup qualifiers in Hagen and Donaueschingen until the end of 2016. 
Move to Denmark
Ludwig der Sonnenkonig moved to Helgstrand Dressage in Denmark to be sold.
He was first competed in Denmark by Joao Moreira and in the autumn on 2017 the ride was allocated to Danish Under 25 rider Victoria Vallentin, who became one of the Danish Grand Prix shooting stars of 2018.
Vallentin and Ludwig der Sonnenkonig were in the running for a team spot for the 2018 World Equestrian Games in Tryon, but were bested by Betina Jaeger on Belstaff in the CDIO Aachen head-to-head WEG team qualifier. As a consolation, Vallentin was sent the 2018 European Under 25 Championships in Exloo instead of Tryon, where she won Short Grand Prix test bronze.
In 2019 the pair won the Danish Under 25 Championships. 
Leased to Japan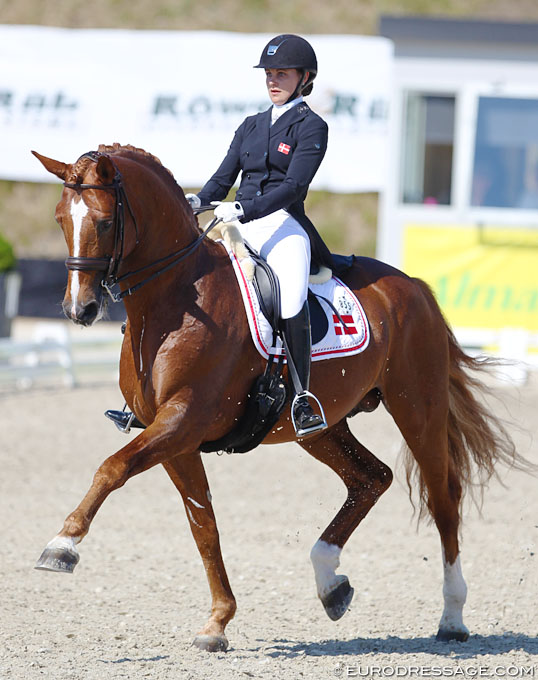 In September 2019, Kazuki Sado's sponsor, the  Japan Racing Association, leased Ludwig der Sonnenkonig from Helgstrand Dressage as Kazuki's 2020 Tokyo Olympic hopeful. The lease was extended by one year as soon as the Olympics got postponed to July 2021 due to Covid-19.
The pair took a blazing start, showing in 2019 at CDI's in Waregem, Exloo and Randbol before leaving for Florida and competing at three CDI's in Wellington. Then there was a six months break during the corona outbreak. They returned to the arena in Hagen in September  2020 and showed in Oldenburg, Hagen and Exloo. 
Sado and Ludwig became Japan's best scoring pair on the European show circuit with a highlight ride at the CDIO Compiegne, where they posted 69.674% in the Grand Prix and 76.155% in the Kur.
Unfortunately at the Olympics in Tokyo the horse was overtrained and entered the arena for the Grand Prix test tired, but still trying his heart out. They scored 62.531% in the Grand Prix, their last show together.
Sold to Austria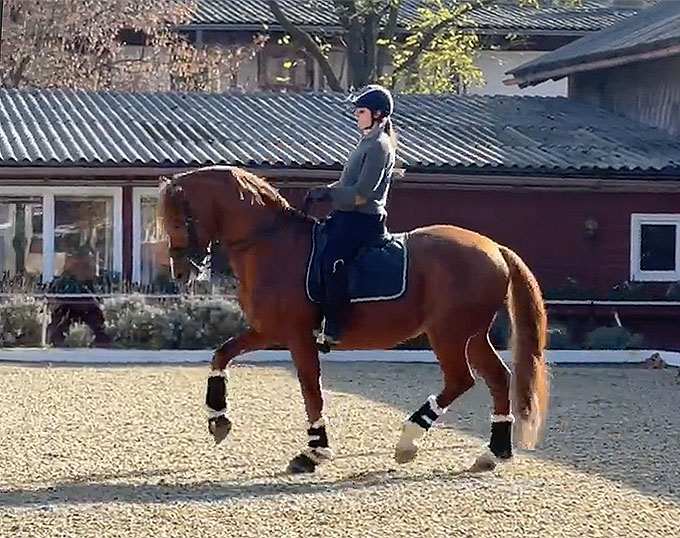 Ludwig has now been sold to Austrian Nicola Ahorner, who in 2020 purchased the European Under 25 Kur Champion Foco Loco W. She now has two experienced irons in the fire to jump start her career in the Under 25 Grand Prix division. 
"We adore him and he already has a full blown fan club at our barn," Ahorner told Eurodressage. "I took him over very recently. He'll accompany Foco Loco."
Nicola recently switched trainers, from Christian Schumach to Karina Prochaska. Until 2017 she trained with Belinda Weinbauer.
Photos © Astrid Appels
Related Links
Eurodressage Photo Database: Ludwig der Sonnenkonig
Foco Loco W, European Under 25 Champion, Sold to Nicola Ahorner
A Second Chapter for Foco Loco W: Danish Under 25 Schoolmaster
Ludwig Der Sonnenkonig, New Ride for Kazuki Sado