WBFSH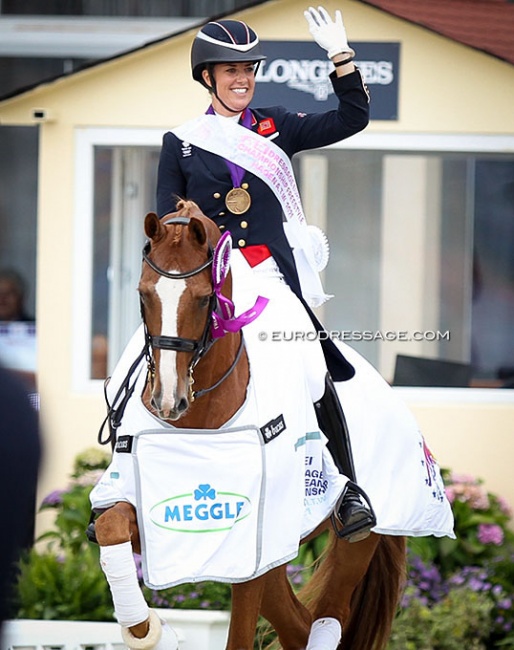 The KWPN breed society topped the 2021 WBFSH World Ranking List for Dressage, while the Tralehner mare Dalera BB is the number one ranked dressage horse at the end of the year. 
KWPN was unable to maintain the stellar trifecta they achieved last year as leading studbook in all three Olympic disciplines. This year, Selle Français topped the eventing ranking and Belgian Warmblood the show jumping ranking. 
KWPN Continues to Dominate
The KWPN studbook topped the dressage ranking for 2021 with a total of 14,430 points.  Since 2017 the KWPN society has been topping the ranking non-stop. 
The six internationally competed Grand Prix dressage horses that contributed to this ranking were Charlotte Dujardin's Gio (by Apache x Tango), Charlotte Fry's Everdale (by Lord Leatherdale x Negro), Carl Hester's En Vogue (by Jazz x Contango), Jessica von Bredow-Werndl's Zaire E (by Son de Niro x Jazz), Steffen Peters' Suppenkasper (by Spielberg x Krack C) and Juliette Ramel's Buriel KH (by Osmium x Krack C). 
"Willing to Work and Courageous"
KWPN Chairman Andries van Daalen responded to the news of KWPN's 2021 number one spot: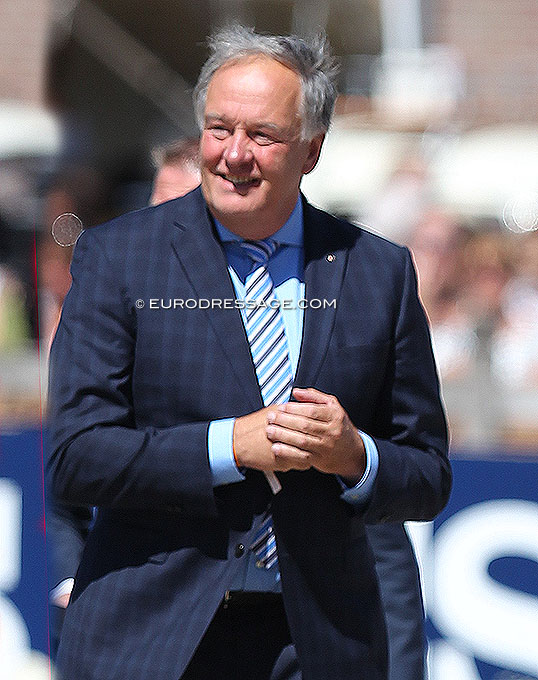 "We are proud of the KWPN breeders and the horses they bred," he said. "For many years now, the KWPN has ensured that Dutch breeding leads the sport all over the world with horses that are willing to work and courageous, physically and mentally strong and bred for performances at the highest level, while being reliable, easy to handle and beautiful."
Van Daalen continued, "The studbook prides itself in its dressage horses' correct, pure, active and powerful gaits, in which balance and self-carriage come naturally. Above all, this is a studbook known for continuous innovation to provide valuable information and services to its members. Breeding values are calculated for sport, movement, conformation and health characteristics. A breeding value is an estimation of that genetic disposition. The conformation breeding values indicate how a stallion (or mare) passes on the various conformation aspects, the breeding values for the sport signal how a horse breeds in the dressage sport or in showjumping."
Hanover and Oldenburg Make Top Three
The Hanoverian breed was second in the 2021 WBFSH Breed Ranking for Dressage with 13,228 points, followed by Oldenburg with 12,510 points. 
The Hanoverian breed society had Grand Prix horses Total US (by Totilas x Sir Donnerhall), Sanceo (by San Remo x Ramiro's Son II), Showtime (by Sandro Hit x Rotspon), Faustus (by Falsterbo x Forrest xx), Tarantino (by Toronto x Carbid) and Mount St. John Freestyle (by Fidermark x Donnerhall) as contributors to their second place. 
For Oldenburg, their third place was achieved by scores from Weihegold (by Don Schufro x Sandro Hit), Dante Weltino (by Danone x Welt Hit II), Sir Donnerhall II (by Sandro Hit x Donnerhall), Fiderdance (by Fidertanz x Don Schufro), Fidertraum (by Fidertanz x Rubinstein) and Dono di Maggio (by Dimaggio x Santander). 
Dalera BB, 2021 WBFSH World Number One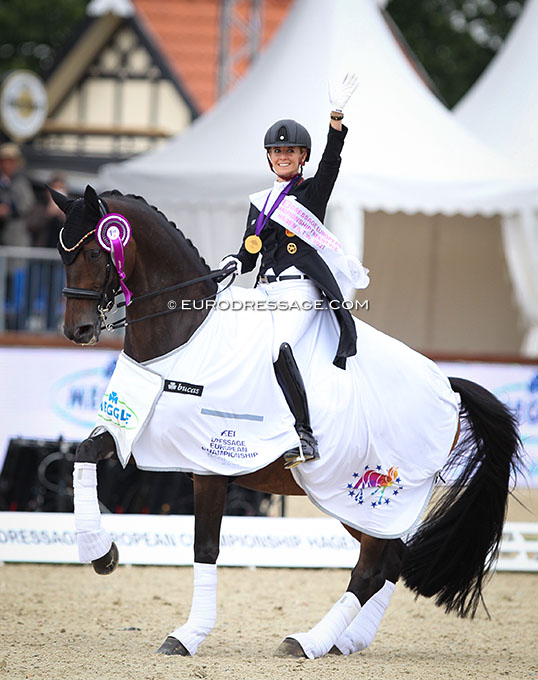 The highest scoring dressage horse in the ranking was Jessica von Bredow-Werndl's Olympic and European champion Dalera BB (by Easy Game x Handryk), who scored the highest total of 3029 points. Owned by Swiss Beatrice Burchler-Keller, the bay mare Dalera BB helped the Trakehner studbook to a 13th place in the 2021 WBFSH Breed Ranking (10th in 2020). 
The number two on the Dressage Horse Ranking was Westfalian Bohemian (by Bordeaux x Samarant), who under Danish Cathrine Dufour finished fourth at the Olympics and got double individual silver at the 2021 European Dressage Championships. He scored 2782 points. Bohemian is owned by the Zinglersen family.
The number three is Charlotte Dujardin's KWPN gelding Gio (by Apache x Tango), who scored a total of 2705 points. He won bronze at the Olympic Games and kur bronze at the Europeans this summer. He was owned by the rider in partnership with Renai Hart, but recently sold to Annabella Pidgley. 
Complete studbook ranking here. 
Photos © Astrid Appels
Related Links
KWPN and Weihegold Top 2020 WBFSH Dressage Ranking
KWPN and Verdades Top 2018 WBFSH Dressage Ranking
KWPN and Weihegold Top 2017 WBFSH Studbook and Dressage Horse Ranking
Hanoverian Society and Desperados Top 2016 WBFSH Studbook and Dressage Horse Ranking 
Valegro and KWPN Top Final 2015 WBFSH Dressage Horse and Studbook Ranking
Valegro and KWPN Top the 2014 WBFSH Dressage Breeding Ranking
KWPN Tops 2013 WBFSH Breeding Ranking for Dressage and Show Jumping
KWPN Society and Valegro Lead 2012 WBFSH Dressage Ranking
KWPN Leads 2011 WBFSH Ranking in Dressage
Totilas Takes KWPN to the Top in 2010 WBFSH Ranking
Hanoverians Win 2006 WBFSH World Breeding Dressage Ranking