Oldenburg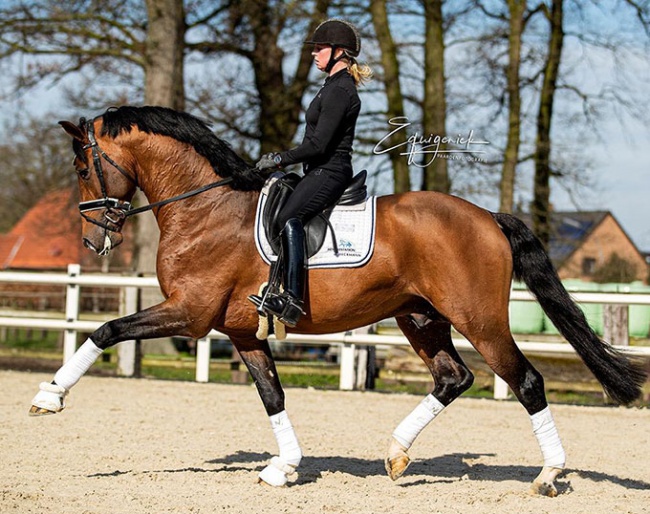 The popular Oldenburg breeding stallion Vaderland and his peer Filou have moved in training with Dinja van Liere. Both stallions are managed by Reesink Horses. 
Roller Coaster Career for Vaderland
Vaderland is a 5-year old Oldenburg stallion by Vitalis out of Vechta (by Krack C x Contango). He is bred in The Netherlands by Piet Crum
He was presented at the 2018 Westfalian Stallion Licensing under the banner of Dutch stallion keeper Eugene Reesink, but owned by investor Jan-Pieter Dalsem. Vaderland was one of three (!!) premium stallions that were unusually all proclaimed reserve champion at that licensing.
He sold at licensing auction for 370,000 euro to a mystery client from Belgium, but it soon became obvious that this was a non-sale. Vaderland moved to  Matthieu Beckmann's station to stand at stud.
Two months after the auction, the Westfalian society announced that Vaderland had lost his licensed status because the horse had tested positive to the sedative acepromazine at the licensing. Two months later the stallion was re-presented at the late licensing drug-free and re-accepted. In 2019 he was the 7th most used breeding stallion for the Westfalian verband with 57 foals born in 2020. The next year he climbed to sixth place with 79 foals Westfalian registered in 2021, excluding the foals registered with different breed societies. 
Vaderland did his 14-day suitability test in Adelheidsdorf in April 2019 and scored 8.74 for dressage and 6.35 for show jumping, finishing on a total of 7.83 points. In 2020 he did his first sport test in Verden and scored 8.48 points. 
So far a sport career has been secondary for this stallion. He was first competed in August 2020 by Annika Korte and placed third in the Oldenburg young horse championship as a 4-year old. In 2021 he did just one show, the Westfalian Championships
Filou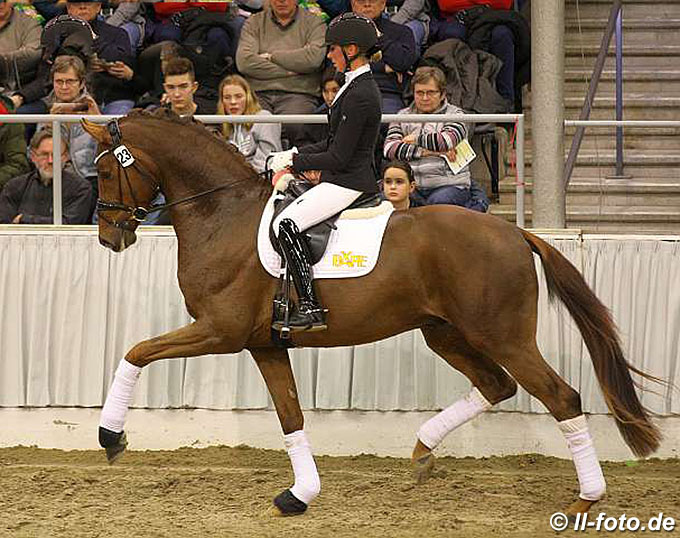 Filou is a 5-year old Oldenburg stallion by For Romance out of Pandora (by Sir Donnerhall I x Lavauzelle xx). He is bred by Christine Arns-Krogmann. 
Presented by Reesink Horses, the liver chestnut was approved for breeding at the 2018 Oldenburg stallion licensing. He first stood at stud at Ingo Pape's in partnership with the Celle State stud. The German equestrian federation has Pape and Reesink listed as owners.
He did his 14-day stallion suitability test in Adelheidsdorf in September 2019 and scored 8.84 for dressage and 7.58 for jumping to finish with a total fo 8.35 points. In March 2020 he did his first sport test, but dropped out. In October 2020 he did the 50-day performance test in Adelheidsdorf and earned 8.35 points.
Filou has only been very lightly competed in sport in Germany. In 2019 he appeared at the Oldenburg Young Horse Championships in Rastede under Jessica Lynn Thomas, where he finished 13th with 7.7 points.
Dinja van Liere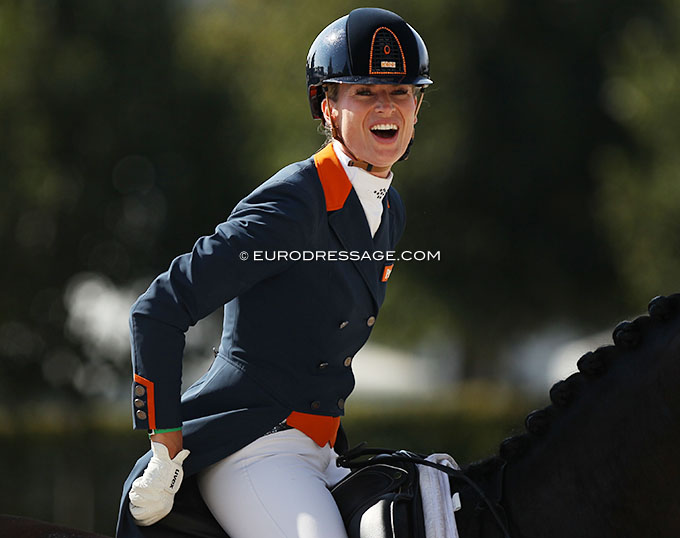 Both young Oldenburg breeding stallions have now moved to The Netherlands to begin their training under Dutch team rider Dinja van Liere, who has been riding for Reesink Horses since the summer of 2020. 
"Both are very handsome and very sweet," said Dinja. "Also under saddle they are nice and stead, in fact very uncomplicated. I was to ride them straight away and immediately had a connection."
She continued, "Vaderland is a real powerhouse. Filou is massive, very imposing and very chique. I haven't made a long-term plan with the stallions. First I'll slowly become a combination, see where all the buttons are. If they develop well, I'll start on the lateral movements and changes and then we'll see how it goes. Maybe prepare them for the World Championships, but we're not that far yet."
Photos © Equigeniek - LL-foto
Related Links
Dinja van Liere Hired as Head Rider at New Reesink Horses Stallion Station
Vaderland Provisionally Approved Pending Doping Test
Vaderland Tests Positive to Sedative at 2018 Westfalian Stallion Licensing
Vivat Rex, Most Popular Sire in Westfalen in 2020, Zoom in 2019
Oldenburg Riding Horses Selected for 2020 Bundeschampionate
Danciero, Champion of the 2018 Westfalian Stallion Licensing