F.O.C.U.S.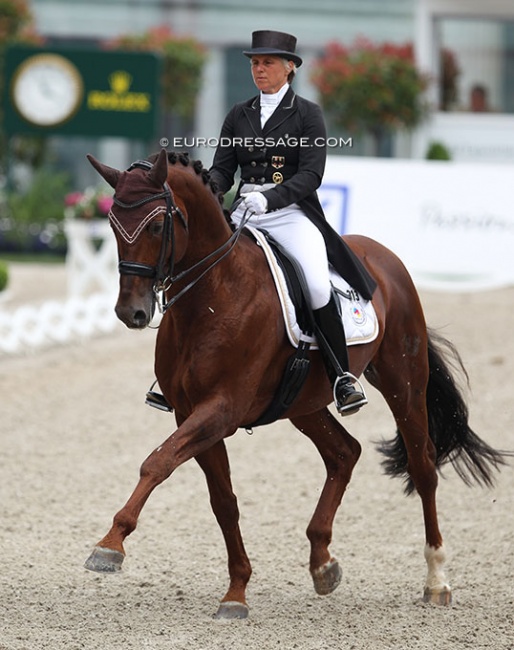 Round the turn of the last decade - 2010 and 2011, the ever smiling, platinum blonde German dressage rider Uta Gräf experienced her big career break through. At Grand Prix level she was shining with Le Noir, and in the young horse classes a handsome liver chestnut stallion named Damon Jerome brought her greatest glory in the young horses classes.
Gräf developed the medal winning Damon Jerome to Grand Prix level, but he disappeared off the radar in 2019. Where is he now? 
Licensed Stallion
Damon Jerome was a Rhinelander stallion by Damon Hill out of Jennice (by Guy Laroche x Elfenprinz x Horrido). He was bred by Willi Schneider. 
He was first licensed as a 3-year old by the Rhinelander-Phalz Saar breed society in Zweibrucken in October 2008. In 2012 the actual Rhinelander breed society approved him in Wickrath.
He did his 30-day stallion performance test in November 2008 in Zweibrucken and scored 8.23 for dressage and 7.71 for show jumping. 
That same year he was first competed in the riding horse classes by Guido Krime and Katrin Hoffmann. 
Uta Gräf and Don Jerome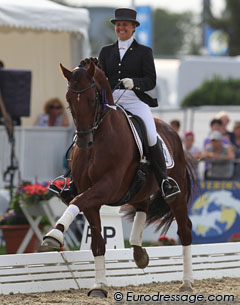 Owned by his life-long owners Valerie and Thomas Hitschold, the stallion was sent into training with Uta Gräf.
Uta made her show debut on the 4-year old in Miesau in May 2009. In September of that year they competed at the Bundeschampionate in Warendorf. 
His name at the show was "Don Jerome" and not Damon Jerome. He finished 15th in the 4-year old stallion class.
Reserve World Champion, Reserve Bundeschampion
In 2010 Gräf and "Damon Jerome" made their big break through. They were selected to represent Germany at the 2010 World Young Horse Championships in Verden. 
In Verden  the not so well known Uta Gräf impressed the big name professionals, audience and judges with her beautiful, classical presentation of the stallion, who is nicknamed DJ. They were second in the preliminary test with 8.82 points. In the finals the horse had a little less sparkle and dropped out of the medals to fourth place with 8.74 points.
At the 2010 Bundeschampionate a month later, Gräf spectacularly won the preliminary round in the 5-year old dressage horse class, but in the actual Finals they dropped to 16th place after issues in the walk.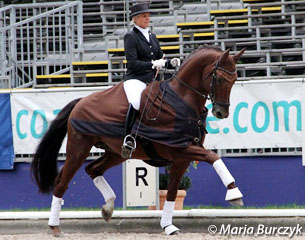 In 2011 everyone knew who Gräf and Damon Jerome were, so when they returned to Verden for the World Championships, they were a force to be reckoned with. They finished seventh in the preliminary test for 6-year olds with 8.4 points and this time in the finals they stepped it up and scored the silver medal with 8.68 points. He got  8.5 for trot and canter, 9.0 for walk, and 8.7 for submission and general impression.
At the 2011 Bundeschampionate in Warendorf they went all in. They posted a winning  9.1 points in the preliminary round, but in the finals were beaten by Benicio by a hair's breadth and ended up with silver on 9.30 points.
Moving On Up
As one of the most decorated young horses in Germany a bright future at FEI level was expected of Damon Jerome.  He was gelded to be focused on sport mid-way his career and only briefly stood up for stud.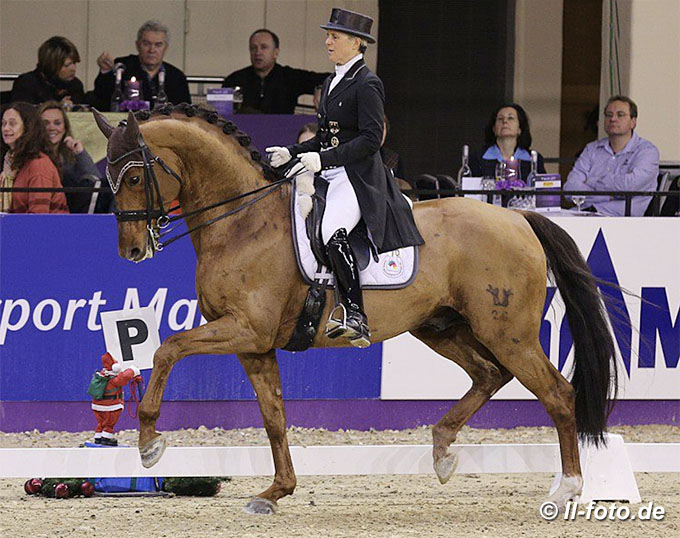 In 2012 he was introduced to small tour level competition and did the Nurnberger Burgpokal Qualifiers, qualifying for the prestigious finals in Frankfurt. There he was third in the warm-up round with 72.976%, but in the finals small issues with the changes and final halt reduced the score to 73.902% and they placed seventh. 
In 2013, Gräf and Damon Jerome returned to the Nurnberger Burgpokal Final having achieved the highest qualification score of the season, 75.707 % in Mannheim. They faced heavy competition in Frankfurt that year from future German Olympic team horses Weihegold (Isabell Werth but then ridden by Beatrice Buchwald) and Showtime (Dorothee Schneider). They were fifth in the warm-up round with 72.049% and were 11th in the finals with 68.390%.
2013 was also the year in which the pair made its international show debut at FEI level, placing sixth in the small tour at the CDIO Aachen and winning the Intermediaire I at the CDI Perl. 
Big Leap to Grand Prix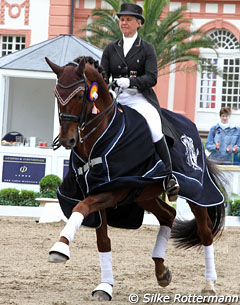 Damon Jerome did not make the smoothest transition to Grand Prix level. Although he was classically schooled and could perfectly execute movements which some flashier and more famous horses are never be able to do - to this date I have not seen a better giving and taking of the rein than how Graf and DJ did it in a clinic - the piaffe was a problem point for the horse.
Damon Jerome did not show in 2014 and made his come back in the summer of 2015. In the medium tour at the CDI Perl, he scored 68.7% in the Inter A and 64.6% in the Inter B. 
In 2017 it was decided to drop DJ back down to small tour level. He competed at a local event in Koblenz in April 2017 and posted two 69% scores at the CDI Darmstadt in September 2017, his last international in his career.
Where is He Now?
After Darmstadt it was decided that it was time for owner Valerie Hitschold to enjoy her horse. 
Valerie and DJ made their show debut at S-level in April 2018 at the local show at Fröhnerhof. The pair enjoyed their time together and had fun at small tour level at local shows that year and through 2019, collecting numerous trophies and top placings.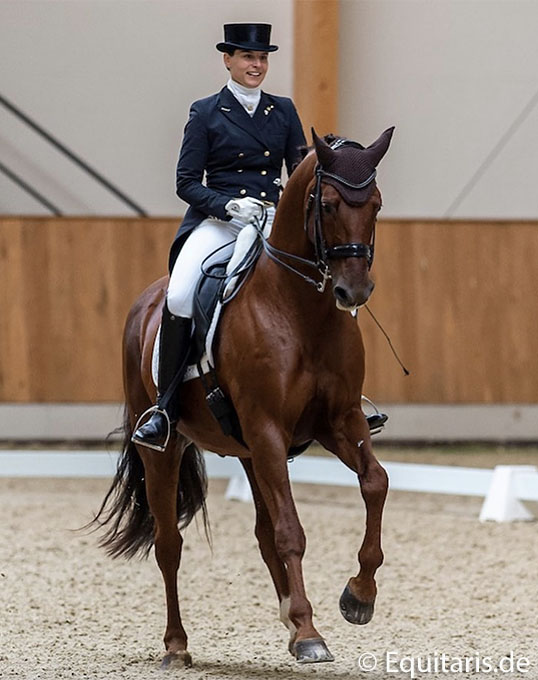 The combination's penultimate show was in Riesenbeck in September 2019, where they competed in the German Amateur Championship and finished fifth. Two weeks later they did their last competition together at Liederbach. 
At the end of 2019 Damon Jerome sustained an injury of which the prognosis for a pain-free life was impossible. With deep sadness, the Hitscholds had to decide in the best interest of the horse to put him to sleep.
"We owe this horse so much – having been lucky to discovery him as non-professional dressage horse "lovers" when he was 3 and following his development from the very beginning, he was really a once in a lifetime horse for all of us," Valerie Hitschold told Eurodressage. "After his international career with Uta, he "carried" my to 9 S-level victories and multiple placements on national level and a fifths place at the German Amateur Championships twice. He was a family member and all of us where and are still suffering so much after this tragic loss.""
Photos © Astrid Appels - LL-foto - Silke Rottermann - Equitaris
Related Links
Eurodressage Photo Database: Damon Jerome
Beatrice Buchwald and Weihegold OLD Win 2013 Nurnberger Burgpokal Final
Kur Debutante Jenny Lang Dances into Winner's Circle at 2013 CDI Mannheim
Uta Graf and Damon Jerome Dominate 2013 CDI Wiesbaden Prix St Georges
Crowd Favourite Benicio Takes Gold at 2011 Bundeschampionate
Uta Graf and Damon Jerome H win Opening Class 2011 Bundeschampionate
Astrix Marches to Second Gold and World Champion's Title by Winning 6-Year Old Finals
Uta Graf and Stefan Schneider, a Kingdom for a Horse
Astrix Enables Second World Championship Gold for Scholtens
Astrix: Little Star, Big Winner at 2010 World Young Horse Championships