U.S.A.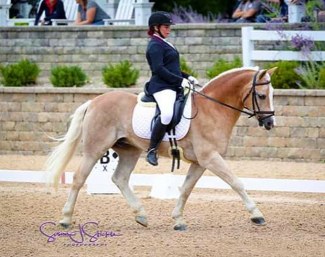 Adrenalin Rush SBF, the Haflinger that was a Christmas present and became the 2017 U.S. FEI Pony Champion, has passed away age 18. 
Born in the U.S.A.
Adrenalin Rush SBF was by Artiest van de Wortel out of Okarina GFI (by Nobelius x Aras x Wildmoos).
He is bred in the U.S.A. by Brian and Jodi Winkler with the sire being imported from The Netherlands and the dam from Austria. 
In 2008 Adrenalin Rush SBF sold to Fae Leffler and she began competing him at training level. In 2009 the pair earned 7th place in the USDF Adult Amateur division Year End awards. 
Christmas Present
Suzannah Rogers from Nesmith, SC received Adrenalin Rush SBF as a Christmas present in December 2015.
Rogers was inspired to reach FEI pony level after she had gone on a trip to Wellington, Florida through her trainer Sandra Bussey-Turner and Kathryn Butt to see Katrina Sadis compete the American FEI pony level trailblazer Poldy.
Rogers set her first goal of riding "Rush" in the 2016 Dressage Pony Cup national show in Lexington and the USDF Region 3 Championships, where they finished in the middle of the pack at First level. A clinic with Lendon Gray (of Dressage4Kids) in February 2017 inspired her to keep working on achieving her dreams.
2017 U.S. Pony Champion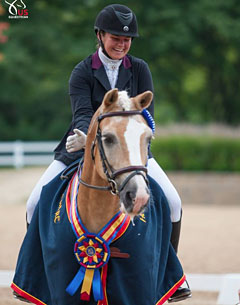 That dream came true when 16-year old Rogers, officially in her last year on ponies, won the 2017 U.S. Pony Championships at Lamplight on the Haflinger Adrenalin Rush SBF, having scored 63.8465% in the Pony Team Test and earned a 64.106% in the Pony Individual Test.
In 2018 the pair participated in Lendon Gray's Winter Intensive Training (WIT) Program in Wellington, Florida at Kim Van Kampen's Hampton Green Farm from January to March of 2018.and continued to compete at second level and won the 2018 USDF All Breed Award for Second Level Musical Freestyle. In 2019 the pair had moved up to Fourth level.
Untimely Passing
Adrenalin Rush SBF was the pony that inspired Rogers to pursue a career as an FEI level competitor. In 2021 she made her international show debut at Young Riders level in Wellington, Florida aboard the cross bred Friesian Paladine of Elysium (by Abe von Reh out of Percheron dam Lacey).
He was euthanized on 17 November 2021.
Despite two decades of strong efforts made by many pony dedicated organisations, including Dressage4Kids, international FEI pony sport still fails to lift off in the U.S.A. Less than a handful of riders compete ponies in FEI pony level classes at international shows in the U.S.A. although at national levels adults on ponies are more common. This makes it all the more special in the U.S.A. for those children riders who make it their goal to compete in these classes and make it to the USEF National Championships. 
Photos © Sue Stickle
Related Links
Rogers and Mingari Win Division Titles at 2017 U.S. Youth Riders Championships
Linder Wins 2017 U.S. Junior Rider Championship, Fodor 2017 U.S. Children's Champion