2021 CDI-PJYR Aachen Dressage Youngstars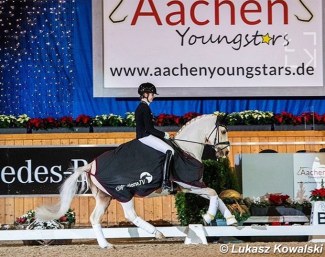 Top-class dressage sport and a festively decorated indoor arena – these are the ingredients of the 2021 CDI Aachen Dressage Youngstars, the high-quality dressage show with a star-studded cast that brings the year to a close at the CHIO Aachen grounds.
Just under 80 participants from 14 nations took part in the competitions from Thursday to Sunday 25 - 28 November 2021.  The show was also open to spectators, under the prerequisite that there were either fully vaccinated against or recovered from COVID-19.
"We are very pleased that we were able to offer the young riders a nice concluding event, especially this year where so many shows had to be cancelled," stated Birgit Rosenberg, spokeswoman of the board of the organisers, the Aachen-Laurensberger Rennverein e.V. (ALRV).
Pony Riders: Rose Oatley vs. Julie Schmitz-Heinen
Three-time German Champion, three-time European Champion, number one in the world ranking list and now two-time winner in Aachen. Just like  in 2019, Rose Oatley won two of three rounds in the pony division, facing the toughest competition from team mate Julie Schmitz-Heinen on Carleo Go, who won the team championship test.  However, the 14-year-old Oatley and Daddy Moon went on to win the individual test and Kur to Music and now carries the title of Aachen Indoor Champion 2021. On Sunday, she rode to victory on on a score of 84.942 percent, ahead of Julie Sofie Schmitz-Heinen (80.850) and Mia Allegra Lohe with Tovdal`s Golden Future Imperial (80.417).
Rose is the daughter of Kristy Oatley – a dressage rider who has already represented Australia at four Olympic Games. The mother and daughter are a good team, even if Rose gave a diplomatic answer when asked if her mum's comments are sometimes too critical: "She has something to say about everything," she grinned.
Children: Lennea Höfler wins Individual Test, Lara Lattermann overall Indoor Champion
Lennea Höfler secured the victory in the Children's individual test on Sunday aboard her Dorian Gray, but is already dreaming of her future: "I took a really good look around the Deutsche Bank Stadium and took some photos, competing there is a goal I'd like to achieve one day," she laughed overjoyed after her victory at the Aachen Dressage Youngstars. Finishing first in the concluding competition was a fantastic feeling: "I am elated, I had only hoped that we would manage it somehow, but the fact that we actually pulled it off, is a dream come true." 
Lennea won with a score of 79.653 percent, which gave her a clear lead ahead of Lara Lattermann, whose end result with Soleil de la Coeur was 77.065 percent. Hence, after her victory on Saturday, Lara Lattermann also claimed the title of Indoor Champion of the Children. 
Junior Riders: Allegra Schmitz-Morkramer Makes Come Back for Two Trophies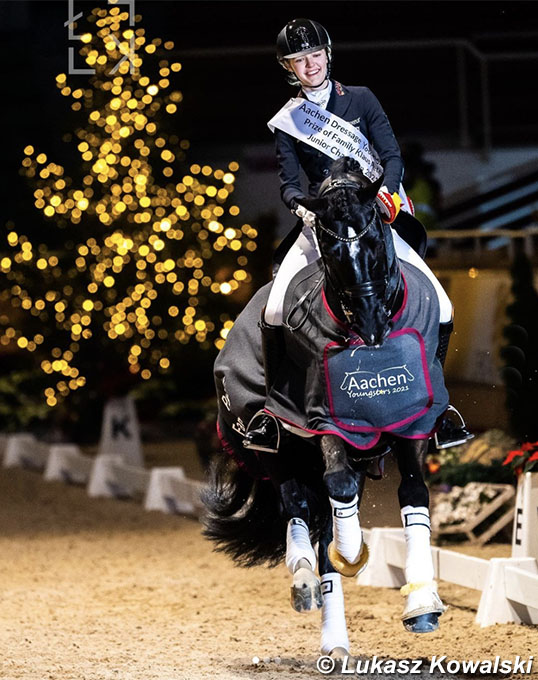 "Allegra" is Italian and means "happy". That is spot on. Allegra Schmitz-Morkramer rode to victory in the junior kur to Music. On a score of 78.875 percent, together with her new partner Libertad, a 16-year-old which she has had in the barn for over two years but with whom she just made her internationa show debut in Aachen. Allegra had her fellow competitors trailing behind.
The multiple European and German Champion headed the field ahead of Lena Merkt with Sarotti Mocca-Sahne (77.942) in second place and Lana-Pinou Baumgürtel (77.125) who finished third with Founder. Prior to the Aachen Youngstars, Allegra's plan was to "ride three nice tests". The plan certainly succeeded, two first places, one second, which meant she also secured herself the victory in the Prize of the Klaus Peters Family and the title of Indoor Champion 2021.
Young Riders: Jana Lang Makes it a Triple
The tears flowed in the prize-giving ceremony: Jana Lang could hardly believe she had won. The team European Champion of the Juniors excelled in all three classes, although it was her international debut in the Young Riders classification. In the concluding Freestyle competition, Lang and her sports partner Baron (by Johnson), notched up an impressive 81.333 percent.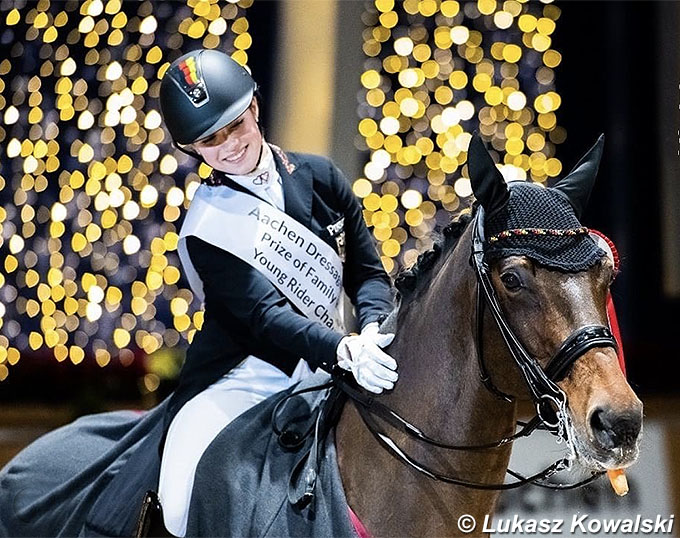 "I performed the freestyle routine for the first time ever today. I didn't have any expectations beforehand; I just wanted to perform some good tests and gain a bit of routine. Which is why I am all the more overjoyed at the outcome. I am speechless," the rider beamed.
Three classes, three victories, so it wasn't difficult calculate the result: In addition to the three golden rosettes, Lang also collected the coveted sash, a trophy and the title: Young Riders Champion 2021. Second and third place in the Freestyle also went to Germany: Helena Schmitz-Morkramer and DSP Lifestyle finished second on a score of 79.083 percent, ahead of Lucie-Anouk Baumgürtel and Hugo FH in third place, who also switched to young riders' level after the summer.
Photos © Lukasz Kowalski
Related Links
Scores: 2021 CDI-PJYR Aachen
Kullmann, Allard, Biermann, Allround Winners of the 2018 Aachen Dressage Youngsters
Rohmann and Holzknecht Top Divisions at 2017 CDI-PJYR Aachen
Treffinger and Top Queen H on Song at 2017 CDI-PJYR Aachen