KWPN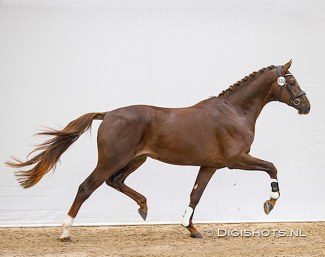 Seventeen colts has received a ticket to the 2022 KWPN Stallion Licensing after the first pre-selection day for dressage bred colts, which are hosted at the KWPN headquarters in Ermelo, The Netherlands, on 1 - 10 December 2021. 
The 2022 KWPN Stallion Licensing traditionally takes place in 's Hertogenbosch the first weekend of February. In 2021 the licensing had to move behind closed doors to Ermelo due to the corona pandemic. At the moment all systems are set to have an open licensing in Den Bosch but time will tell.
Five days have been scheduled for the pre-selection of the dressage colts from 6 - 10 December. 
On the first day, the licensing committee consisting of Bert Rutter, Johan Hamminga and Wouter Plaizier, accepted 17 of the 52 entered colts
"It went a bit sluggish this morning, but in the afternoon we started to see stallions with the complete package," said Rutten. "We selected youthful, well modelled colts with a good self carriage and hindleg activity."
The colts selected on the first day of the pre-selection are:
Outstanding (by Maracaná x Charmeur)
Masterpiece (by Millenium x Bordeaux)
Onnassis Hokshoeve (by Morricone x Donnerball)
Ouzo (by Nespresso x Uphill)
Olympus VDT (by Romanov  x Ferro)
Oberyn Red Viper ZL (by Romanov  x Sir Sinclair)
Of Ice and Fire US (by Romanov  x Davino V.O.D.)
nn. (by Schwarzgold x  Partout)
Oakin (by Secret x Don Schufro)
One to Remember (by Secret x Vivaldi)
Omega (by Springbank II VH x Krack C)
MSJ Springbreak (by Springbank II VH x Ampère)
Oreo (by Totilas x Florencio)
Our Totilas M (by Totilas x Sandro Hit)
Total Romance (by Totilas x For Romance)
Tiptop van de Kempenhoeve (by Trafalgar x Borsalino)
Oliver Twist (by Valverde x Johnson)
Photo © Digishots
Related Links
Hamminga to Succeed Van Woudenberg on KWPN Licensing Committee
Forty-Four Colts Licensed, Five Premium at the 2021 KWPN Stallion Licensing