2021 Japanese Dressage Championships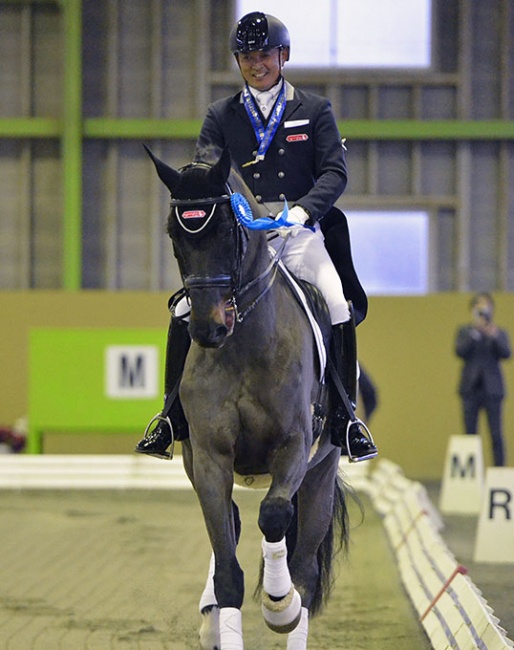 Kiichi Harada became the winner of the Grand Prix Championships held at the 2021 Japan National Dressage Championships on 10 - 12 December 2021. 
The senior Grand Prix division featured 10 combinations this year which rode two rounds: the Grand Prix and GP Special. 
Gold for Harada
The title and gold medal was won by 49-year old Kiichi Harada aboard the 18-year old AES registered Fairytale S (by Reve d'Or x Wendekreis). The pair has been one of Japan's long-lasting Grand Prix combinations and they celebrated national glory at the Championships this year. He was second in the Grand Prix with 66,891% and topped the Special with 70,205%, bringing his total mark to a winning 137,096 points.     
Harada was member of the Japanese team at the 2016 Olympics in Rio de Janeiro, claimed his first national title in 2015 and since then has been a major player at Grand Prix level in Japan with several horses. Fairytale S, who is bred by in Belgium by Raf van Dijk and was developed to FEI level by British Maureen Dwyer, is one of two Grand Prix Harada gets to ride. In 2020 he campaigned Fairytale S alongside his long-time partner, the now 19-year old KWPN gelding Egistar (by Cabochon x Kaiserstern xx) in Wellington, Florida, for team selection for the Tokyo Games. Unfortunately the postponement of the Games by one year made him drop out of contention. He did not show internationally in 2021. 
Silver and Bronze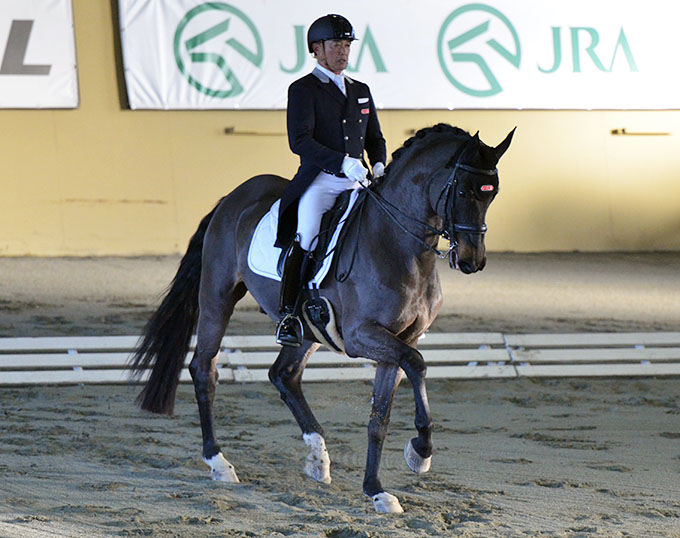 The silver medal went to 39-year old Naoko Hieda, who has been competing at international Grand Prix level since 2011 but never competed in CDI's outside of Japan. With the 11-year old Westfalian bred Fantastico (pedigree unknown), she won the Grand Prix on 67,152% and was second in the Special with 69,440% to finish as runner-up with 136.592 points. 
Internationally well known Grand Prix rider and Tokyo Olympic team rider Shingo Hayashi saddled Ryunosuke Kuroda's 19-year old Westfalian Rostropowitch NRW (by Rockwell x Coriograf B) for the Nationals and finished in bronze medal position. With 66,848% in the Grand Prix and 67,055% in the Special he finished third overall with 133.903 points. Rostropowitch was trained and competed at international Grand Prix level by Christoph Koschel until 2015 when he sold to the Kuroda family. The new owner competed the horse in 2016 in an attempt to qualify for the Rio Games and since then has only done two more CDI's: 2017 CDI Cappeln and the 2019 CDI Nieuw en St. Joosland. 
Last year's national champion, Toshiya Kawabata placed sixth this year with his 17-year old Oldenburg bred Manolete (by Caprimond x Donnerhall).
Photo © Japan Equestrian Federation
Results - 2021 Japanese Grand Prix Championships
1     Harada Kiichi - Fairytale S -  66,891   -  70,205  - 137,096    
2     Hieda Naoko -  Fantastico -  67,152   -  69,440 - 136,592    
3     Hayashi Shingo  - Rostropowitsch Nrw -  66,848  -   67,055 -  133,903    
4     Hasegawa Yusuke -  Zingar Northside  -  64,891    - 67,995 -  132,886    
5     Okada Kazumasa -  Rochee K - 64,022   -  68,490 -  132,512    
6     Kawabata Toshiya -  Manolete - 65,065  -  66,300 - 131,365    
7     Nakamura Tomoko - Don La Carlos - 61,848   -  65,210 - 127,058    
8     Kato Hisayuki -  Otello -   62,022   -  64,795 - 26,817    
9     Tomo Shinichi -  Weilong- 60,348  -   62,810  - 123,158    
10     Kawakami Ai -  Winnetou D  - 60,565  -   61,150 - 121,715    
Related Links
Yokoyama, Tahara, Yoshida and Kawabata Win 2020 Japanese Dressage Championships
New Comer Toshiya Kawabata Wins 2017 Japanese Grand Prix Championship
Kiichi Harada Wins 2015 Japanese Dressage Championship
Shingo Hayashi Wins 2014 Japanese Dressage Championships
Mieko Yagi Wins 11th Japanese Dressage Champion's Title
Yuko Kitai Claims 2012 Japanese Dressage Champion's Title