Belgian Warmblood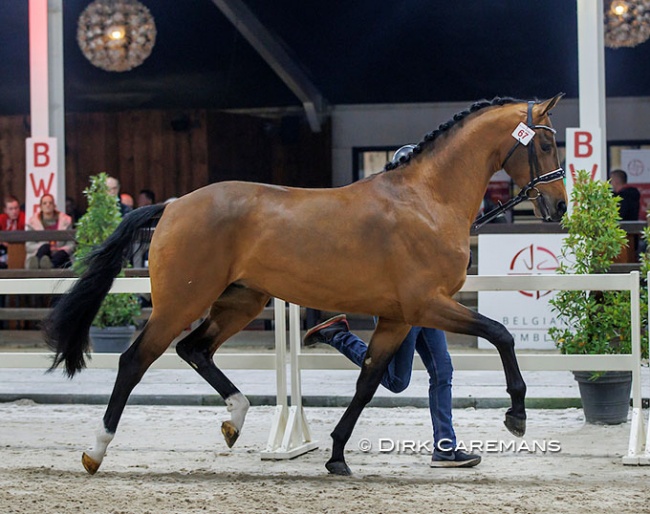 Five 3-year old dressage bred colts have been selected to move on to the third phase of the 2022 Belgian Warmblood Stallion Licensing. Two of them are BWP registered, three are registered with a different breed society.
The second phase of the annual BWP licensing took place 13 - 15 January 2021 at equestrian center Azelhof in Lier, Belgium. 
No less than 88 show jumping bred colts and eight 3-year old dressage colts were entered for the second phase. 
The third and final phase of the licensing takes place 17 to 19 March 2022 at Sentower Park in Opglabbeek, Belgium. 
The following colts were accepted for the third phase; 
3-year olds - BWP registered
Thor Van 't Swillenhof (by Secret x Gribaldi) - Breeder: Van Eyck  Jozef   - Owner:  Franckx Jan
Titalis Van De Kempenhoeve (by Vitalis x Stedinger) - Breeder: De Kempenhoeve  - Owner: Davy Gielis & Mieke Dries
3-year old - foreign registered
Beethoven (by  Belissimo M x Furst Heinrich) - Breeder: Marcel Schmidt - Owner: Cam Van Den Oetelaar & Stal Jansen en Jansen
Odiel (by Toto Jr x Redford) - Breeder: Lenaerts  Johnny  - Owner: Stoeterij Van De Kasteeldreef
Romanov's Fiesta  (by  Romanov x Sandro Hit) - Breeder:  Swinkels  - Owner: De Ijzeren Man Bv
At the third phase these five colts will be joined by five further dressage bred, older colts that will be assessed for licensing as well. The older colts are: 
Older - BWP registered
Saphiro (by First-step Valentin x  Polidiktus Vd Helle) - Breeder: Jorissen Philippe  - Owner: Laevens    Kevin
Sandor Hit Van 't Steenputtenhof (by Special Agent Amour x  Sir Donovan) - Breeder: Geert Van De Zande & Marleen Moeyersons  - Owner: Stal 't Steenputtenhof &  Ki Bloemenhof
Santiago De Chili (by Special Agent Amour x Layout) - Breeder: Bosch Paul & Jorissen Philippe  - Owner:  Jorissen    Philippe
Older - foreign registered
Netallic (by Franklin x Jazz) - Breeder: Tolner T  - Owner: Isabel Cool
Torino Hesa (by Totilas x Florencio) - Breeder: Hesa  - Owner: Xavier Schulkens
Photo © Dirk Caremans
Related Links
Sunnyboy van de Kempenhoeve, Champion of the 2021 Belgian Warmblood Stallion Licensing
Quinten Begijnhoeve, Champion of the 2019 Belgian Warmblood Stallion Licensing
Pegase van 't Ruytershof, Champion of the 2018 BWP Stallion Licensing
Ons Noud, Dressage Champion of the 2017 Belgian Warmblood Stallion Licensing
Naxcel V Named Champion of the 2016 Belgian Warmblood Stallion Licensing
Mac Donovan, Dressage Champion of 2015 Belgian Warmblood Stallion Licensing
Kozinsky van den Dries Approved at 2014 Belgian Warmblood Stallion Licensing
Kasanova de la Pomme, Champion of the 2013 Belgian Warmblood Stallion Licensing
Jappeloup van het Dauwhof, Champion of the 2012 Belgian Warmblood Stallion Licensing
Inshallah de Muze, Champion of the 2011 BWP Stallion Licensing