Prinsjesdag Foal Auction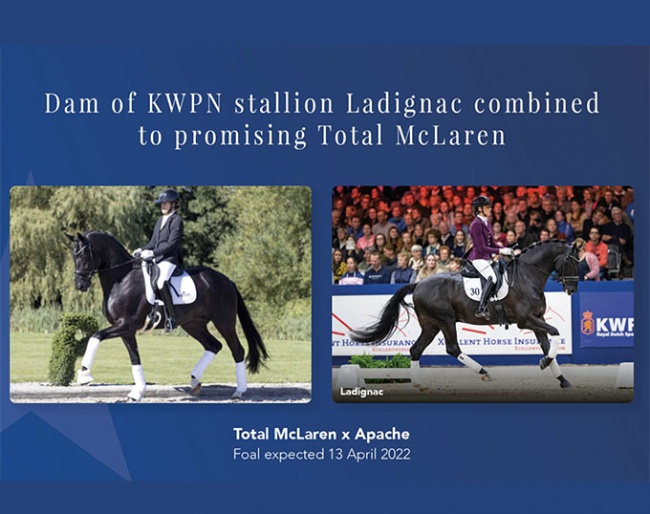 The first online auction of 2022, organized by the Prinsjesdag Foal Auction team, has produced excellent results as a small collection of in utero foals and semen straws found new owners across the globe. 
The majority of the collection were jumping embryos and the top selling lot was the embryo by show jumper Emerald out of the dam of Sterrehof's Ushi. A Portuguese buyer paid 19,000 euro. For 18,000 euro a Chacco Blue embryo from the line of Usha van 't Roosakker goes to a Belgian investor
There were eight dressage lots on offer: the in utero foal by Total McLaren out of the Apache dam of the KWPN stallion Ladignac (was the most popular. For 11,000 euro this embryo leaves for the United States. This foal to be born is bred by Nathalie Smeets.
The Desperados x Ferro embryo had a knock down price of 10,000 euro and goes to Germany.
The Indian Rock x Lord Leatherdale  and the Damon Hill x Florencio both fetched 12,000 euro and go to Denmark. The Ibiza x Negro embryo sold for 9,000 euro
A semen straw of Donnerhall caught the eye and will stay in the Netherlands for 4,750 euro. A straw of Florestan sold for 1,250 euro to a Dutch client.
On Tuesday 20 September, the live foal auction of Foal Auction Prinsjesdag is scheduled at the National Equestrian Center in Ermelo. A top lot of dressage and jumping foals will be auctioned then.
Related Link
Prinsjesdag Embryo Auction on 25 January 2022 - The Power of Performance
2021 KWPN Foal Champion Rosatrichta Best Seller of 2021 Prinsjesdag Foal Auction
Riva-Noeska, Best Seller of 2021 Prinsjesdag Spring Online Foal Auction
Brits and Americans Invest in Dressage Future at 2021 Prinsjesdag Embryo Auction