Australia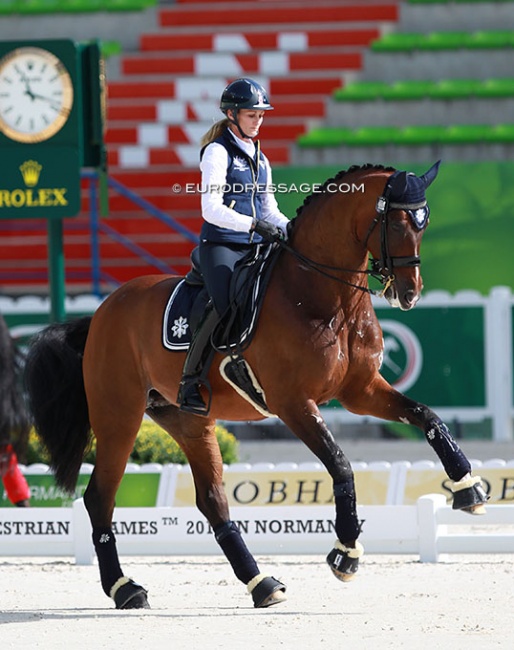 Australian former Grand Prix team rider Maree Tomkinson has begun a new chapter in life by moving to Germany. The plan is for three years, but Tomkinson leaves the time frame wide open in order for her "restless soul" to settle down.
Maree Tomkinson
Maree grew up in Papua New Guinea, in a non-horsey family but always knew she wanted a life with horses.
Her international career began on Lanzaro (by Lavall I x Ladalco) with whom she helped secure a team spot for Australia at the 2008 Olympics and was nominated as team reserve.
Diamantina  (by Diamond Hit x Campari M)  became her career making dressage horses. She rode the 2008 World Young Horse Championships in Verden with her, won the 2012 Australian Grand Prix Champion's title and represented her country at the 2014 World Equestrian Games in Caen. In 2021 she returned to the World Young Horse Championships in Verden with Friday, a home bred Furstenball out of Diamantina. Her most recent Grand Prix horses are DJM Donna Elena (by Don Schufro x Bolero) and Longvue Florencio (by Florestan x World Magic)
Tomkinson ran Hidden Valley Equestrian Center in the greater Melbourne area. She is also a national riders representative with Equestrian Australia.
Restless Soul
Tomkinson has decided to give her life a drastic change and begin a new chapter in Germany.  She has rented out her yard to two friends, who will take care of her retired horses. She sold most of her possessions in a flash sale, and packed up shop. 
Maree explained on social media that her big move to Europe is "the price we pay for a restless soul."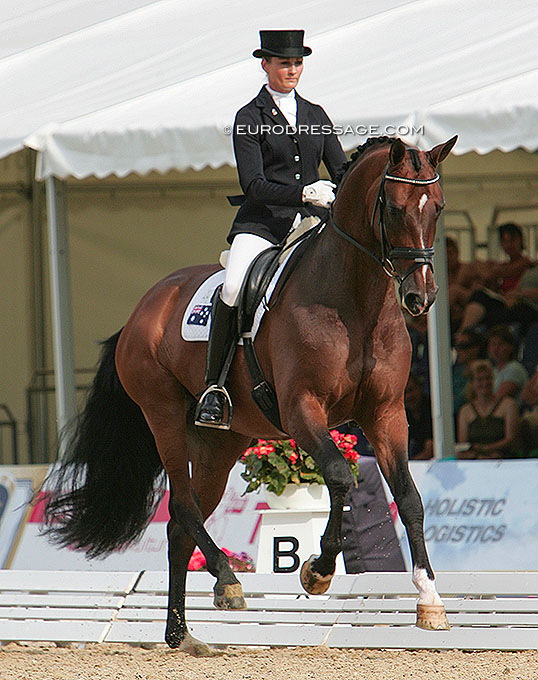 She added that "it's a long way to go and a big change to make to try and mend a broken heart. It's just one of the many reasons to re-start a life. I spent three years in Germany in 2006, 2007, 2008 training myself and my horses, doing my apprenticeship!  This time we need support that I cannot find in Australia, diversity and options. All things the international sport can offer. We are under no delusions that we can do anything other than work hard, train well and give our horses the best opportunities possible. We just want to be the best we can be……. Nothing more, nothing less."
To Eurodressage, Maree confirmed her move to Germany, where she will base herself in Krefeld and train with Ton de Ridder.  "The plan is for three years and then we will see what happens after that," she explained.
When asked about the broken heart she referred to on social media, she said that "this is a long story" which had to do with the loss of family members and pets over the years. 
"Loneliness will take your spirit," she said bravely. "Sometimes when you cannot find happiness within you must look for it around you at least to start with."
Photos © Astrid Appels
Related Links
Maree Tomkinson: "It's Our Sport and We Need to Take it Back"
Imagine II, Tito, Fangio, and Quincy B Win 2021 Australian Young Horse Championships
Tomkinson and DMJ Donna Elena Win 2019 CDI Sydney Grand Prix Special
Maree Tomkinson on Cloud Nine after Winning 2012 Australian Grand Prix Title
Tomkinson Claims Grand Prix at 2012 Australian Dressage Championships