2022 CDI-W Motesice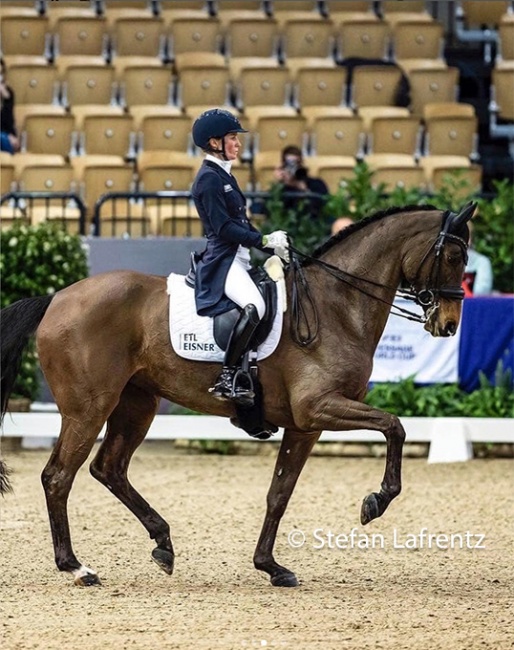 By riding in the last Central European CDI-W Motesice, Slovakia, on 13 March 2022, German Helen Langehanenberg secured her ticket to the World Cup Finals in Leipzig.
Langehanenberg was chasing her final World Cup points at the CDI-W Neumunster in February, but pulled out her mare from the freestyle when she was off in the warm-up. Two weeks ago she wrote on her social media, "we drove her home - well wrapped up like a double raw egg (not just a "normal" raw egg as usual). And already at home there was nothing to see. My husband David checked Annabelle centimetre by centimetre in his clinic - and gave the green light. I'm so relieved! Now we concentrate on our next planned start in Motesice, Slovakia."
Motesice would be Helen's final chance to clinch a World Cup ticket.
Rule Change Forces Last Minute Campaign Change
The 2022 CDI-W Motesice took place on the same weekend as the last Western European League world cup qualifier in 's Hertogenbosch, The Netherlands, where a high level starters' field including Olympic champion Jessica von Bredow-Werndl and team gold medal winner Isabell Werth had their mandatory starts to confirm their entry to Leipzig. 
In February the FEI made a sudden rule change to the World Cup qualification system, citing that the points of only three qualifiers instead of four counted for the final ranking. They reason for the change was the cancellation of five qualifiers this season due to Covid-19.
This particularly had an impact on German Frederic Wandres, who led the ranking with four starts, but saw himself drop down the list when one of his results was taken away. As Wandres is currently based in Wellington, Florida, for the winter, the only option for him to keep his spot for Leipzig was to fly back home to Europe and show either in Den Bosch or Motesice, which he chose not to do.
Langehanenberg Wins in a Field of Two
This gave plenty of room to fellow country mate Helen Langehanenberg to make the calculated decision to enter for the CDI-W Motesice instead of Den Bosch, where she easily won the Kur to Music aboard the Holsteiner mare Annabelle (by Conteur x Linaro).
Facing just one other rival, Polish Katarzyna Mikczarek on the Lusitano Guapo, Langehanenberg scored 77.905% for the victory. The win adds 20 ranking points to Helen's total, which makes her jump over Wandres in the ranking and claim her spot in the Finals.
Three Per Country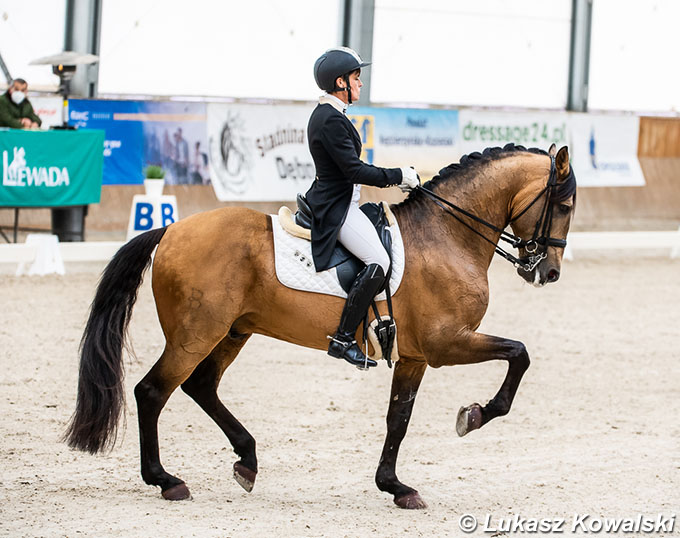 Only three riders per country are eligible to compete in the World Cup Finals and nine riders from the Western European league get to go.
After winning Den Bosch, Von Bredow-Werndl leads the ranking with 60 points, Helen Langehanenberg stands second with 53 points and Wandres will drop out despite standing in third place with 52 points. Isabell Werth is qualified as title defender. 
The other seven top ranked Western European combinations are: Cathrine Dufour (52), Patrik Kittel (49), Nanna Merrald (47), Juan Matute (42), Morgan Barbançon (40), Thamar Zweistra (40), and Charlotte Fry (32).
The other spots are allocated to Central Europe (2 - Glinka & Milczarek), North America (2 Holzer & Buffini), and the Pacific League (1 - no league finals were held). Furthermore one starting place will go to a non-league rider (which usually is Yvonne Losos de Muniz from the Dominican Republic) and one extra starting place is allocated based on world rankings.
The show organizer is also eligible to invite one more home athlete, but as Germany already has a quotum of 3 riders qualified, the starting place will be allocated to the athlete/horse combination(s) with the highest ranking (as a combination) on the February of the current year FEI Dressage World Ranking List, and who have participated in at least one (1) CDI-W.
More rankings can be viewed on Dressage-News.
Photos © Stefan Lafrentz - Lukasz Kowalski
Related Links
Scores: 2022 CDI-W Motesice
Eurodressage Coverage of the 2022 World Cup Finals
2022 CDI-W Gothenburg Called Off, Fifth World Cup Cancellation
Von Bredow-Werndl and Dalera Continue Winning Streak at 2022 CDI-W Neumunster