Sweden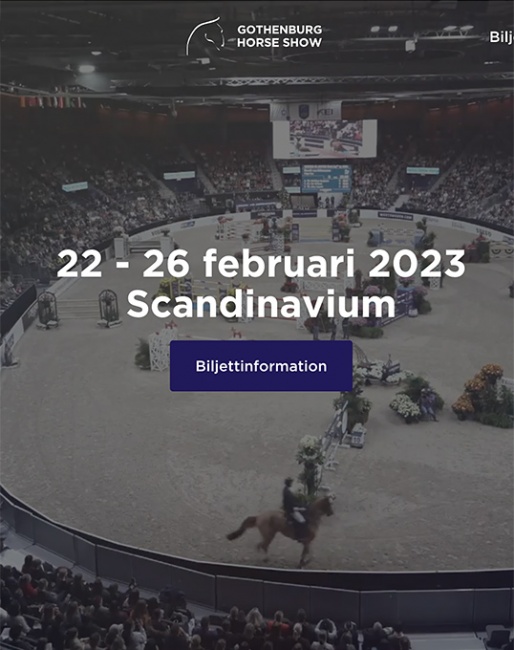 The 2022 CDI-W Gothenburg has been cancelled. This is already the fifth Western European League world cup qualifier of the 2021-2022 show season that has been called off.
Gothenburg was scheduled for 23 - 27 February 2022.
Covid Restrictions
The show organizers stated that the options of having 500 spectators per section or of postponing the event was not be logistically feasible.  
"We have considered every possible alternative, but unfortunately, this is the only decision we can arrive at. We are truly saddened to do so," said Gothenburg show director Tomas Torgersen. "Out out of respect for our partners, suppliers, riders, officials and audience members, we can delay this decision no longer. Gothenburg Horse Show is close to so many people's hearts, and we want to thank everyone for their support and understanding."
Tickets purchased will be valid for the 2023 event or refunded. 
Season with Six Qualifiers
The 2021-2022 Western European League World Cup season has been heavily thinned out with cancellations from Stuttgart, Salzburg, Mechelen, and Amsterdam.  
Four qualifiers have already taken place:  Herning, Lyon, Madrid and London.
The CDI-W Neumunster (GER) on 19 - 20 February 2022 will take place behind closed doors. The 2022 CDI-W 's Hertogenbosch on 10 - 13 March is still on and will be the last qualifier before the finals in Leipzig on 6 - 10 April 2022.
Related Links
2022 CDI-W Neumunster Behind Closed Doors
2022 CDI-W Amsterdam Cancelled, Fourth World Cup Qualifier Called Off for 2021-2022