2022 CDI-W Werribee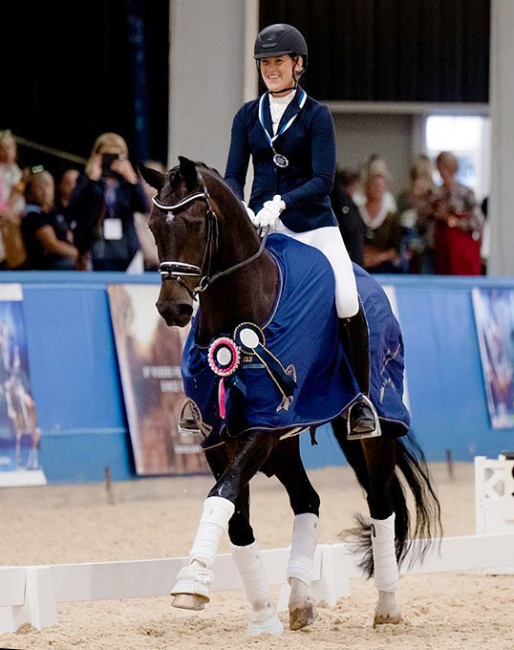 The 4-year old JMH Frankly, the 5-year old WillingaPark Miana, the 7-year old SPH Fortino and the 7-year old WillingaPark  Fangio became the winners of the 2022 Australian Young Horse Championships held in Werribee on 25 - 27 March 2022.
At the end of the chamionship, SPH Fortino received the Champion of Champion's title.
The event in Werribee, which is called Dressage and Show Jumping with the Stars,  is sponsored by Performance Sales International (PSI). The Championship consisted of two rounds: a warm-up preliminary class and a finals round in which the titles were decided.
4-YO: JMH Frankly
The 4-year old division was won by 31-year old Emma Hayward aboard the Australian bred JMH Frankly (by For Romance x Sunny Boy). The pair received 86.600 points from judges Umbach, Seefried and Ventura to take a commanding lead and earn the title. The gelding got 8 for walk, 8.5 for trot, 9 for canter, 8.8 for submission and 9 for perspective.  Frankly's dam Larapinta Athene was competed by Nicole Touzel and Anna Fullarton in the late 2000s before she turned broodmare. JMH Frankly became the highest placed Australian bred at the Championship. 
Janet Seccull and the Australian bred Bloomfield Valentini (by Versace x Brentano II x Western Star) became the runners-up with 82.200%. The mare received 8.2 for walk, 8.1 for trot, 8.4 for canter, 8 for submission and 8.4 for perspective. Valentini's sire Versace (by Vivaldi x Ferro) was the reserve champion of the 2013 Oldenburger Saddle Licensing, where he was presented under the name "Viva Vechta". He later sold to Australia, where he's standing at stud 
The third placed pair was Sydney Evans on the Australian bred liver chestnut mare U Beauty Queen (by U-Genius x Brentano II) with 78.400%. The mare got 7.7 for walk, 7.5 for trot, and 8 for canter, submission, and perspective. U Beauty Queen is by the British based stallion U-Genius (by Carl Hester's Uthopia and out of the full sister of Valegro). 
5-YO: WillingaPark Miana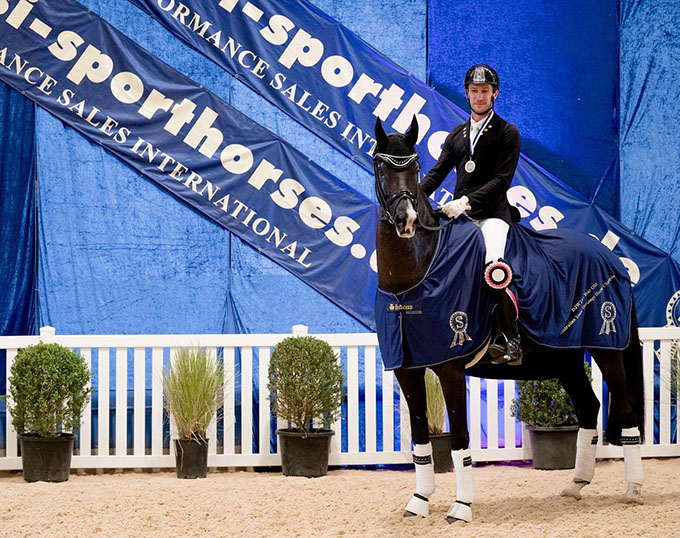 The 5-year old title became an easily cashed prize for Jayden Brown aboard the KWPN mare Miana (by Franklin x Bordeaux).  The pair topped the board with 84.400% after receiving 7.7 for walk, 9 for trot, 9.2 for canter, 7.5 for submission and 8.8 for perspective from judges Hardner, Umbach, and Seefried. Bred by J. Naber in the Netherlands and imported by Terry Snow of Willinga Park as an intended broodmare, Miana is a ster mare with the KWPN society and was purchased from Joop van Uytert and Nico Witte. 
New Zealand's John Thompson became runner-up with Aston MI (by Antobello x Baroncelli). on a score of 81.800%. The horse got 7 for walk, 9 for trot, 8.6 for canter, 7.8 for submission and 8.5 for perspective. Aston MI is bred out of Danish mare Midtgaards Bibione (by Baroncelli x Michellino)
Nina Boyd and the Hanoverian bred Furstine (by Furstenball out of state premium mare Dancing Queen) landed third place with 80.800%. The mare got 8.3 for walk, 7.9 for trot, 8 for canter and submission and 8.2 for perspective. Fürstine sold as a foal in the Verden Foal Auction to Amanda Clark and Danielle French and was imported to Australia as a 3-year old.
6-yo: SPH Fortino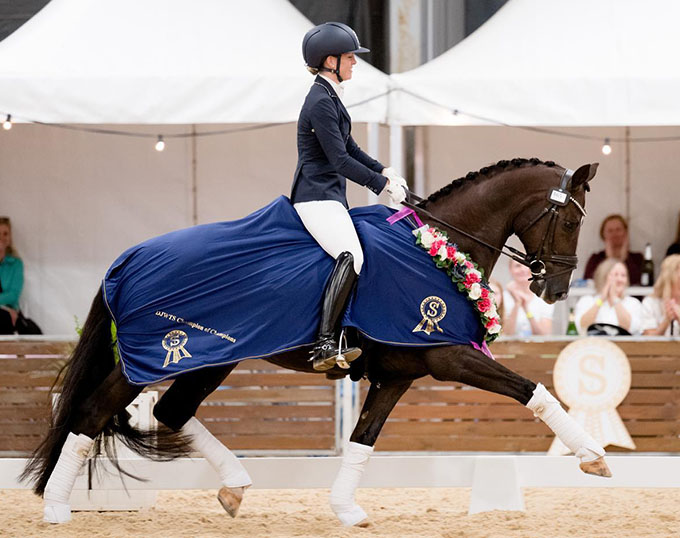 Robbie McKinnon and SPH Fortino (by Bluefields Floreno x Welfenadel) took charge of the 6-year old division and rode to the title with 86.000%. Judges Gardner, Seefried and Umbach rewarded the horse with 8.5 for walk, 8.9 for trot, 8.5 for canter, 8.4 for submission and 8.7 for perspective. Fortino is bred by Andrea Beatty and out of celebrated broodmare Donna Carina (by Welfenadel) who also produced international Grand Prix horse and PSI auction highlight SPH Dante. 
Jayden Brown and Terry Snow's imported Oldenburg bred Tito (by Top Gear x Florencio x Sir Donnerhall) landed second place with 83.300%. The horse earned 8.5 for walk, 9 for trot, 8.4 for canter, 7.5 for submission and 8.5 for perspective. 
Matthew Lord piloted the Australian bred Carool Charmer (by Charmeur x Regardez Moi) to a third place with 81.000%. The horse got 8.8 for walk, 7.6 for trot, 8.2 for canter, 7.7 for submission and 8.2 for general impression. He is bred by Belinda Berkel out of Carool Rosabel (by Regardez Moi x Jive Magic). 
7-YO: WillingaPark  Fangio
The 33-year old Jayden Brown, head rider at Willinga Park, collected his second title of the weekend in the 7-year old division aboard Terry Snow's imported Oldenburg stallion Fangio (by Flanell x Laurentio). The combination scored a total of 76.529% with the liver chestnut stallion receiving 7.7 for walk, 8 for trot, 7.6 for canter, 7.8 for submission and 8 for perspective. 78.200% and 74.857% were the technical marks for his test. Fangio is bred by Paul Schockemöhle in Germany out of Weingold (by Laurentio x De Niro). He was also champion of the 6-year old division in 2021. 
Elliot Pattersen and Emma Weel's Australian bred Oldenburg mare Riveroak Vogue (by Vivaldi x Sandro Hit) finished in second place with 75.186%. They received 7.8 for walk, 7.5 for trot, 8.2 for canter, 7.6 for submission and 7.8 for perspective. Their technical marks differed quite a lot with 77.800% and 72.571%
The third placed combination was Susan Elekessy on Callum Park Damascus (by De Niro x Regardez Moi) who posted 73.629%. The Australian bred got 7.5 for walk, 8 for trot, 7.7 for canter, and 8 for submission and perspective. Their two technical marks went from 78.400 to 69.857%!
Champion of Champions: SPH Fortino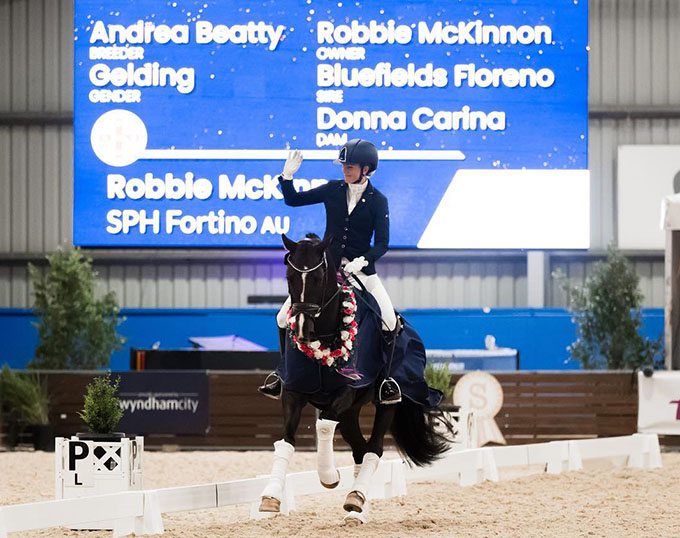 The 2022 Australian Young Horse Championship came to a conclusion with the "Champion of Champion" battle in which guest rider, German Charlott Schurmann, rode all four age champions.
Schurmann declared SPH Fortino the overall champion.
Photos © Click Capture
Results - 2022 Australian Young Horse Championships
4-year olds
1. Emma Hayward - JMH Frankly (by For Romance) - 86.600
2. Janet Seccull - Bloomfield Valentini (by Versace) - 82.200
3. Sydney Evans - U Beauty Queen (by U-Genius) - 78.400
4. Jackson Stern - Santas Girl (by Secret) - 78.400
5. Lindsey Ware - Viconia KR (by Vivaldi) - 78.200
6. Brooke Wheeler - JenJan Furst Arrival (by First Love)- 76.600
7. Sydney Evans - Ellanbrae For Diamonds (by For Romance) - 76.000
8. John Thompson - Johnny B Goode MI (by Just Wimphof) - 75.000
9 .Sarah Farraway - Remi Furstensong (by Furstenball) - 74.400 
Elliot Patterson - Bloomfield Viviani (by Versace) - ELI
5-year olds
1. Jayden Brown - Miana (by Franklin x Bordeaux) - 84.400
2. John Thompson - Aston MI (by Antobello x Baroncelli) - 81.800
3. Nina Boyd - Furstine (by Furstenball) - 80.800
4. Maddison Growcott - Bzqantas (by Questin R) - 77.600
5. John Thompson - Baron MI (by Bordeaux) - 76.200
6. Charlie Welsh - Ellebrae Felton Gold (by Fidertanz) - 75.400
7. Rhianon Pettigrove - Keystone Bellefleur K (by Benicio) - 73.200
8. Tara Galjar - Regal Wolks Magic (by Wolkenstein II) - 71.000
9. Lizzie Wilson Fellows - HB Furst Choice (by Furst William) - 70.800
10. Jane Toohey - Aberdeen MI (by Aber Hallo) - 69.600
6-year olds
1. Robbie McKinnon - SPH Fortino (by Bluefields Floreno x Welfenadel) - 86.000
2. Jayden Brown - Tito (by Top Gear x Florencio) - 83.300
3. Matthew Lord - Carool Charmer (by Charmeur x Regardez Moi) - 81.000
4. Fiona Smith - Bluefields Denoir (by Dark Fire) - 80.200
5. Jackson Stern - Bloomfield Sekuona (by Sezuan) - 79.000
6. Alexis Hellyer - Fidibus (by Floriscount) - 78.200
7. Lizzie Wilson Fellows - Lets Charmeux (by Charmeur) - 76.600
7-year olds
1. Jayden Brown - Fangio (by Flanell) - 76.529
2. Elliot Patterson - Riveroak Vogue (by Vivaldi) - 75.186
3. Susan Elekessy - Callum Park Damascus (by De Niro) - 73.629
4. Karen Blythe - Sonic K (by Stedinger) - 72.843
5. Jason James - Total Zensation (by Zonik) - 66.786%
Related Links
Imagine II, Tito, Fangio, and Quincy B Win 2021 Australian Young Horse Championships
Sonic K, Willingapark Emotion, Bertone and Bluefield's Doris Day Win 2019 Australian Young Horse Championships
Aber Halo MI, Yarramee Fonzie, Iresias L, Penny Hill Park Sophia, SPH Renaissance win 2018 Australian Young Horse Championships
Iresias L, Karizmah Billionaire, SPH Renaissance Win 2017 Australian Young Horse Championships
Freestyle MS, Santiago, Donna Elena Win 2016 Australian Young Horse Championships
SPH Renaissance, Donna Elena, Solo Feliz Win 2015 Australian Young Horse Championships
Three Winners Stand Out in Full Field at 2015 Australian Young Horse Championships
Sugarloaf Sirhara and Rosewater Driving Miss Daisy Win 2012 Australian Young Horse Championships
San Jose, Champion of Champions at 2010 Dressage with the Stars