Oldenburg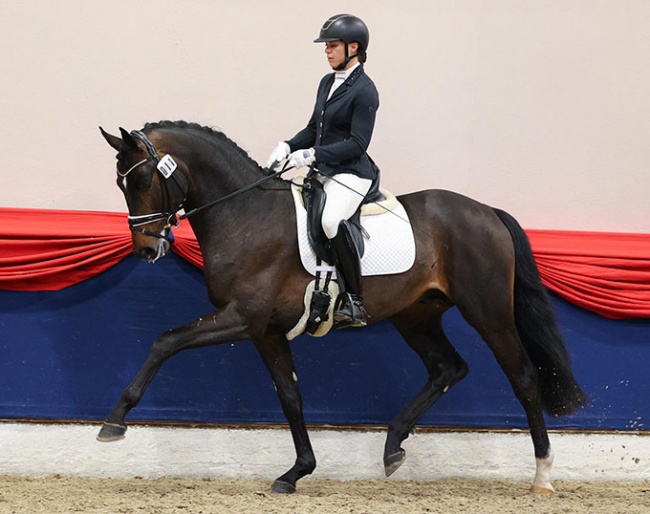 The Oldenburg stallion Escanto Ps became the high scoring stallion in the shortened 2-day suitability test held in Vechta on 6 - 7 April 2022.
In 2022 the German Equestrian Federation and its breed societies are holding a pilot project of a "shortened suitability tests" over two days as a possible replacement for the 14-day stallion suitability test.  The first "mini-test" was held in Warendorf two days ago and Vechta was the second station this year. 
Twenty-five 3 and 4-year old dressage stallions were being presented for this suitability test although around 30 were entered for the testing.
The 3-year olds have barely turned three this spring and most of them already have a stringing licensing process, disco style pumped up stallion show, and first breeding duties down their belt. Read more detailed impressions on Horses.nl. The colts were test ridden by Philipp Hess on the second day.
Escanto PS
The Oldenburg bred Escanto PS (by Escamillo x Furstenball x Totilas) became the high scorer of the testing. Bred and owned by Paul Schockemöhle, he scored a whopping 9,43 points which far exceeded the high score achieved in Warendorf (8.64 points by Dutch Dream).
He received 8.8 for trot, 9.5 for canter, 9.3 for walk, 9.7 for rideability and 10 for willingness to work.
Escanto is exquisitely bred out of Schockemöhle's best mare lines. Dam Fairytale PS also produced the licensed stallion Fair Deal (by Franklin). She is also the sister to licensed stallion Fürst Toto and half sister to stallion Donier (by De Niro). In the sixth generation there is Fiesta (by Pik Bube), who produced Don Schufro.
The stallion was privately licensed at home!
This is Naqueen and Feliciano
The second best score was 9.04 points, achieved by two stallions: This is Naqueen and Feliciano.
This is Naqueen is KWPN bred and by Trafalgar x Samba Hit I. He was originally named Naqueen, but upon his NRPS licensing got the new name "This is Naqueen". Bred by  Jürgen van der Meijden and owned by the Dutch Holstud, he got 9.5 for trot, 9.3 for canter, 8.3 for walk, 9 for rideability and 9.2 for willingness to work.
Feliciano (by Floricello x Boston x Lord Sinclair) tied in second place. Bred by Josef Bauer and owned by Walter Wadenspanner, this stallion received 9.2 for trot, 9.5 for canter, 8.5 for walk, and 9 for rideability and willingness to work. He is DSP approved at a private home licensing as well.
For Kingdom
The third best score was produced by the British bred Hanoverian and Oldenburg licensed For Kingdom (by For Emotion x Dimaggio x Caprimond). He got 8,92 points. He received 8.6 for trot, 9.2 for canter, 7.8 for wak, and 9.5 for rideability and willingness to work.
For Kingdom was already the high scorer of the 2022 Stallion Sport Test in Verden. He is bred by Lynne Crowden of Woodlander stud in the U.K. and was originally named Woodlander Fort Worth. He is now owned by Pascal Kandziora from Germany.
Big Names
There were quite a few "big names" entered for this testing. 
The Oldenburg licensing champion Incredible (by Indian Rock x For Romance), who has been temporarily pulled from stud duty due to lacking semen quality, competed in this testing and scored 8.32 points. The dark bay got 7.8 for trot, 9.5 for canter, 7.3 for walk, and 8.5 for rideability and willingness to work.
The reserve licensing champion Fifty Fifty (by Furst Toto x Royal Classic) finished with a higher score, 8.84 points after receiving 8.6 for trot, 8.7 for canter, 8.2 for walk, 9.3 for rideability and 9.5 for willingness to work.
One Two Three (by Vivaldi x D-Day), the full brother to Vitalis, finished with a total of 7.55 points. The KWPN premium stallion Opoque (by All at Once x Davino VOD) got 8.34 points with 7.8 for trot, 8.6 for canter, 8.2 for walk, 8.5 for rideability and 8.7 for general impression. 
The Swedish bred Skyline to B (by St. Schufro x Ampere), who stands at Lodbergen this season, scored 8.76 points. 
Complete results here. 
Photo © LL-foto
Related Links
Dutch Dream, High Scorer of 2022 Shortened Suitability Test in Warendorf
German Studbooks Divided on 2022 Stallion Suitability Test Format, United Against Doping
For Kingdom and Ibiza Dream, High Scorers at the 2022 Stallion Sport Test in Verden
Incredible and Vogue Temporarily Pulled from Stud Duty at Start of 2022 Breeding Season