Westfalian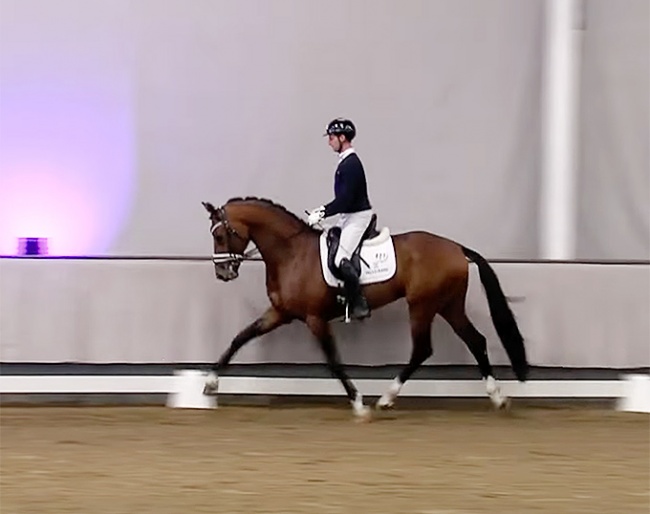 The 3-year old Vogue and the 4-year old Imperial became the high scorers of the shortened, two-day suitability stallion suitability test held in Münster-Handorf on 26 - 28 April 2022.
Shortened Suitability Test
In 2022 the German Equestrian Federation and its breed societies are holding a pilot project of a "shortened suitability tests" over two days as a possible replacement for the 14-day stallion suitability test. The "mini test" has been wildly popular amongst stallion keepers in Germany, Denmark and Holland who prefer to keep the stallions at home for maximum breeding availability and spare them at a young age from too much riding. 
Twenty-six stallions competed in the shortened suitability test in Münster-Handorf: twenty 3-year olds and six 4-year olds. The colts were test ridden on the second day by guest judge rider Philipp Hess.
Vogue
In the group of 3-year olds, the Westfalian licensed Vogue (by Vitalis x Fidertanz) received the top score of  9.33 points. He scored 8.2 for walk, 9.5 for trot and canter, 9.8 for rideability, and 9.5 for willingness to work. Vogue is bred by ZG Werth and Danish owned as he was put into the Westfalian licensing auction, where the top bidding price of 940,000 euro was put on the board to officialize the sale to Helgstrand. 
The runner-up was the Westfalian premium stallion Escaneno (by Escamillo x Veneno), whose breeding status was shortly revoked after testing positive to doping. He was then re-presented and accepted. He scored a total of 9.03 points with 8.3 for walk, 9 for trot, 8.5 for canter, 9.8 for rideability and 9.5 for willingness to work. Escaneno is owned by Tobias Schult. 
Helgstrand's Geronimo G (by Glamourdale x Escolar) placed third with 9.01 points in total. He received 8.4 for walk, 9 for trot, 9.2 for canter, 9.3 for rideability and 9 for willingness to work. He is bred by Gestüt Grasekamp.
Imperial
Sissy Max-Theurer's Imperial MT (by Ibiza x Davignon) topped the board in the 4-year old division. The third ranked stallion at the licensing scored 8.72 points in total with 8.5 for walk, 8.4 for trot, 9 for canter 8.8 for rideability and 9 for willingness to work. Imperial is bred by Alfons Baumann.
Zumba (by Zoom x Rocky Lee) was the second best performing four-year old. He totalled 8.7 points with 8.2 for walk and trot, 9.4 for canter, 8.8 for rideability and 9 for willingness to work. 
Complete scores here.
Related Links
Dutch Dream, High Scorer of 2022 Shortened Suitability Test in Warendorf
Escanto PS, High Scorer of 2022 Shortened Suitability Test in Vechta