Denmark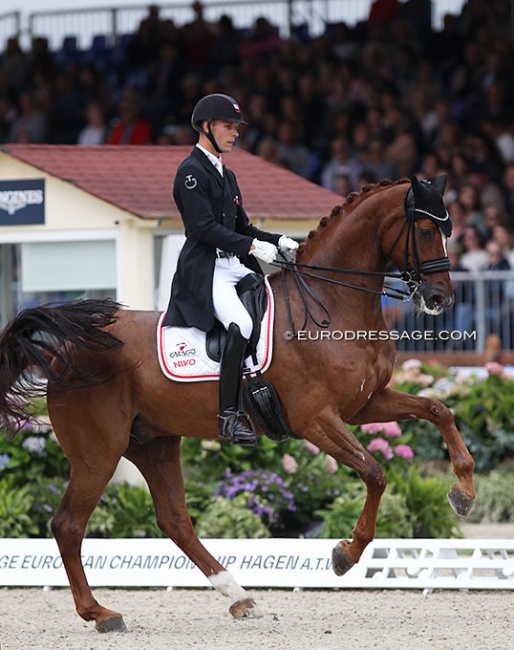 Marshall Bell, the Danish team horse which Daniel Bachmann Andersen rode at the 2021 European Championships in Hagen, has been sold to Austria.  Co-owner Andreas Helgstrand brokered the sale of the 10-year old gelding to Austrian U25 rider Nicola Ahorner.
With the sale of the short listed Danish team horse for the 2022 World Championships in Herning on home turf in August, an important slot has been opened for team selection, which Helgstrand is coveting with his 8-year old stallion Jovian. 
Damm-Frydenberg
Marshall Bell is a Danish warmblood gelding by Don Romantic out of Medini Bell (by Michellino).  He is bred by Tina Christoffersen and Nicolai Jepsen. 
Originally owned by Danish horse dealers Vivi and Christian Vang Lauridsen (CVL Horses), the horse was first competed as a 5-year old at national level in Denmark by Michala Damm-Frydenberg, who took him up to MB level in 2019. 
Bachmann Andersen
In 2020, Daniel Bachmann Andersen got the ride on the liver chestnut and first showed him at national small tour level in August 2020. 
He soon moved him up to Grand Prix in the autumn and qualified in Germany for the 2021 Louisdor Cup Finals for developing Grand Prix horses. He placed seventh in the Finals in Frankfurt in December 2020.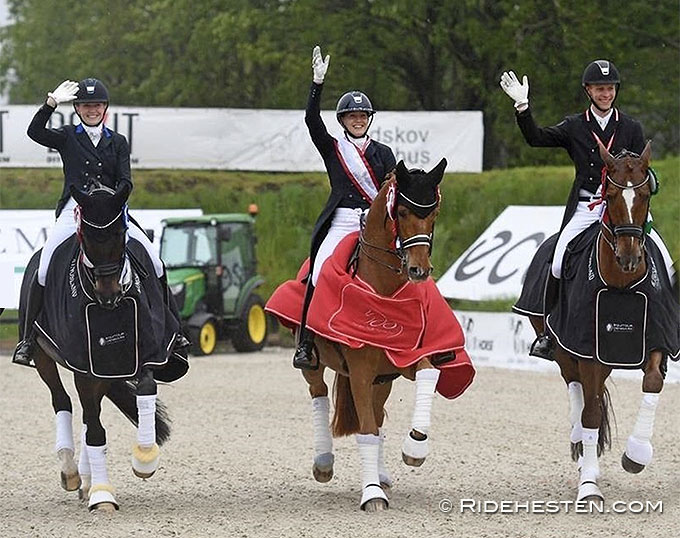 He made his international Grand Prix debut at the CDI Hagen in April 2021 and posted 72.935% in the Grand Prix. In May he won bronze at the 2021 Danish Championships and in June at the CDI Herzlake, they scored 72.826%. In July they got 73.044% at Herzlake. 
They were selected on the Danish team for the 2021 European Championships in Hagen, where they clocked 76.366% in the Grand Prix, got team bronze, and landed 7th place in the kur to music finals. 
In 2022 the combination scored 75.413% in the CDI Herning Grand Prix and 76.261% in the CDI Hagen Grand Prix. 
Sold Abroad
Daniel Bachmann Andersen and Marshall Bell were in the running for a team spot for the Danish team for the 2022 World Championships this summer, but that dream of riding for a gold medal has gone up in smoke. 
Horse dealer Andreas Helgstrand already had purchased a half ownership share in Marshall Bell in May 2021 and together with co-owner Christian Vang Lauritsen saw no reason to wait until after Herning to sell the horse. 
"I sold half of Marshall after he was third in the (2021) Danish Championship," Christian Vang-Lauridsen told Eurodressage. "I had a very bad year before that in which three horses died, one of them a very good Grand Prix horse, so when Andreas asked if he could buy half I chose to spread the risk."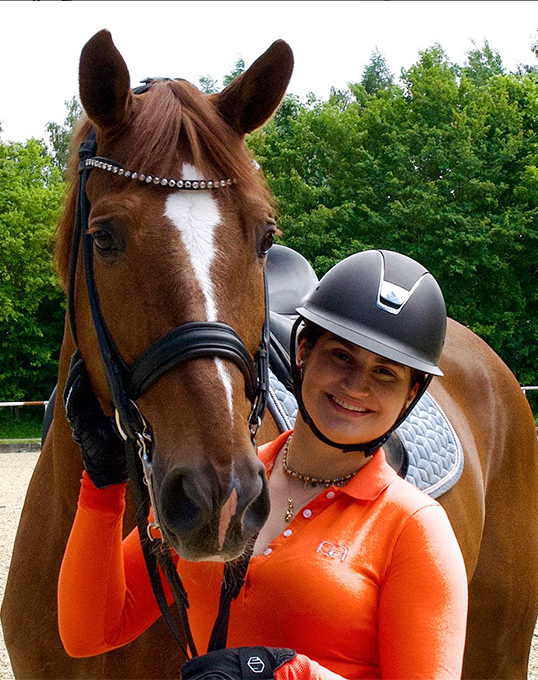 In a press release issued today about the sale of the horse, Helgstrand communicated that, "The owners of CVL Horses, Vivi Vang-Lauridsen and Christian Vang-Lauridsen from Denmark, who own Marshall-Bell, offered Helgstrand co-ownership of the horse, who will now join the stable of the talented U25 rider, Austrian Nicola Ahorner."
Bachmann told Eurodressage that he had no contract in place to secure his ride on Marshall Bell until after Herning. 
"When Andreas came up with the client we agreed to sell," Vang-Lauridsen explained. "We are developers of GP horses and selling is part of the business. We are very thankful for the fantastic job Daniel has done and look forward to the shows with our other GP horses we have with Daniel."
Ahorner Preparing her Grand Prix Path
This is already the fourth Grand Prix horse the affluent Ahorner family has purchased at Helgstrand Dressage in two years time. They also bought Foco Loco W, Belstaff, and Ludwig der Sonnenkonig. The latter sadly passed from colic just a few months after he was acquired.
"I am really grateful for this opportunity and so thankful to have my family's and team's support that allows me to add a horse like this to my string," Ahorner stated. "Horses like this present new opportunities to advance my training as a rider, but more importantly, I will work hard everyday on myself to do this horse justice. I'm so excited by this challenge."
Helgstrand Under Fire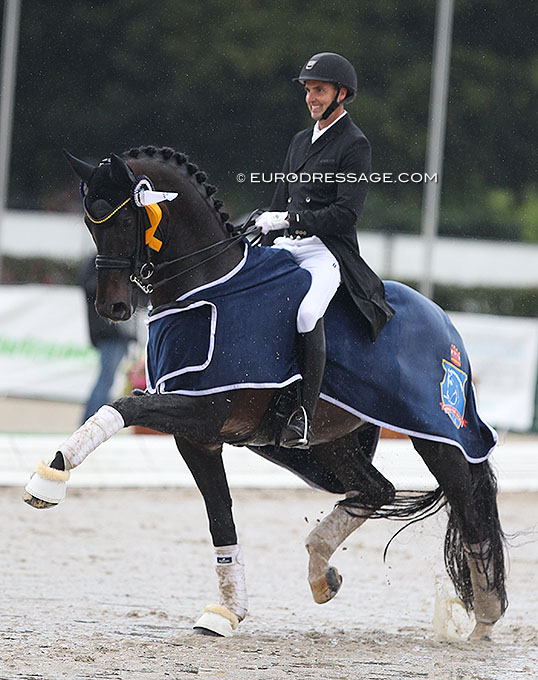 Helgstrand confirmed yet another high profile sale to Ahorner in a press release today, substantiating his strength in horse dealing and his firm hold on a country's team selection through sales. All this happened in the week in which Danish newspaper Nordjyske has been running a series of disconcerting articles (article 1 - 2 - 3 - 4) featuring disgruntled co-owners who felt cheated in horse deals with Helgstrand as he did not communicate the real sales prices of their horses, nor provided them with the proper documentation or communication in the sales process. The story was also picked up by the Danish tabloid Ekstrabladet.
Helgstrand's response to Nordjyske's articles: was: "I do not mind that some little Lise says she wants 200,000, if I want to sell for 100,000. They can get no more for that horse than I. I know that."
This is not the first time that Helgstrand hit the news with peculiar horse deals: in 2013 there was the Donna Unique case of the missing million and in 2014 there was the Casio case. 
Photos © Astrid Appels
Related Links
Van Liere Wins Duel Against Wandres in 2022 CDI Hagen 4* Grand Prix
Von Bredow-Werndl Carries Germany to Team Gold at 2021 European Dressage Championships
Daniel Bachmann Relocates from Kleppenhus to Julianelyst
Danish Grand Prix Squads for 2021 Announced
Story of Donna Unique's "Missing Million"