New Zealand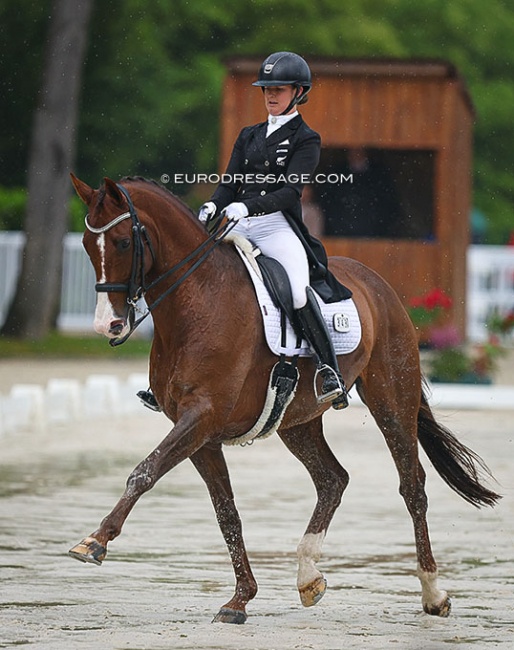 New Zealand is the first country in the world to officially announce its first selected riders for the 2022 World Championships Dressage in Herning, Denmark, on 6 - 11 August 2022.
The New Zealand Equestrian Federation has selected two individual riders for Herning, both are based offshore: Melissa Galloway and John Thompson. 
Melissa Galloway
Melissa Galloway (29) and the 11-year old New Zealand bred Windermere J'Obei (by Johnson x Pompei xx) have been based in The Netherlands since November. They had an almost perfect start to their European campaign with qualifying scores and personal bests at their first outing at a CDI3* Opglabbeek in Belgium.
Windermere J'Obei W has been with his doting rider since he was two. He is owned by the rider in partnership with Anne and Rodney Parkes.
"I owe so  much to him," she said. "I am extremely excited to have been selected for my first World Championships. It is something I have always dreamt of and to be actually selected is very special and surreal."
Doing it with her "incredible horse" who she had been on the journey with for so many years, made it even more special. She also thanked her husband Lachy and family. "They have supported me from day one and always believed that I could achieve this dream."
John Thompson
John Thompson (33) was also "absolutely thrilled" to be named aboard 10-year-old Dutch warmblood stallion Chemistry (by Connaisseur x Johnson), who he had discovered in The Netherlands as a four-year-old.
"We have taken this adventure together moving him from a young horse to now doing his third season of Grand Prix," he said. "It has been a lot of hard work, with early mornings and long nights in between."
While John had always had high hopes for the black stallion, Chemistry had exceeded that at every level. "It has been a dream of mine to compete at the World Championships and to do it on a horse I have trained myself is even more special."
Chemistry's owners the Kyros family had been hugely supportive of their goal to get to the champs. "It has been great to share this whole adventure with them, my family, partner and our team at home who have been there every step of the way."
Born in New Zealand, he moved to Australia with his family at age 12 to support his brother as he pursued a career with the Australian Ballet. In 2016 he returned to New Zealand and ran a training business with ex-fiancée Holly Leach, before relocating back to Australia round 2020. He is now head rider at Katherine Farrell's Mulawa Stud.
Early Announcement, Door Open for Third Combination
ESNZ high performance general manager Jock Paget says the dressage representatives have been named early to ensure they start early preparation for the World Championships. "It is an exciting time for dressage in New Zealand," he says. "We have momentum in the discipline and want to build on that. These are two are real stand-outs for us."
The door has been left open for another combination to meet the criteria for the championships, while Gaylene Lennard and Jax Johnson made themselves unavailable for selection.
"The ideal would be for us to have a (dressage) team at the championships and then have a crack at getting qualified as a team for the Paris Olympic Games," says Jock. "That would be history-making for New Zealand. We have never had a dressage team at an Olympic Games, but if we can't go as a team, we will support our individuals on their journey."
Photo © Astrid Appels
Related Links
Eurodressage Coverage of the 2022 World Championships Dressage
New Zealand's Nr 1, Melissa Galloway, Relocates to Van Olst in The Netherlands
Thompson, Galloway, Way Make Up New Zealand's High Performance Future Squad for 2022
New Zealand's Gaylene Lennard Earns World Championship MER Score at 2022 CDI Taupo