New Zealand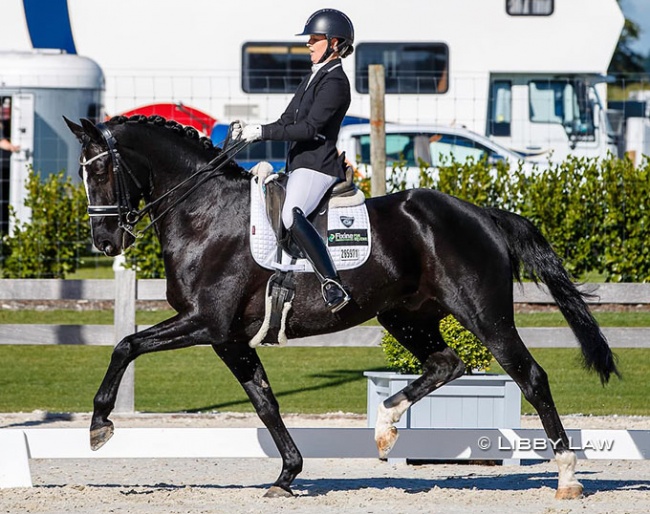 New Zealand's highest scoring Grand Prix rider of the moment, Melissa Galloway, has made the life-changing decision to relocate to The Netherlands, where she will take up an assistant riding job at Van Olst Horses. 
Galloway is bringing two horses, Grand Prix horse Windemere J'Obei (by Johnson x Pompeii Court xx) and the 7-year old Integro (by Negro), with whom she will train with Anne Van Olst and Charlotte Fry with the 2024 Paris Olympics firmly set as target.
Almost to Tokyo
The 28-year old Galloway tasted the Tokyo Olympics on her lips when she became the best scoring New Zealand rider in 2020. The year before Wendi Williamson had clinched an individual starting place for New Zealand, but the postponement of the event by a year due to the corona pandemic gave opportunity to Galloway to ride herself into the picture as NZL's hottest ticket for Tokyo.
She had initially planned to travel to Gareth Hughes in the U.K. in February 2021 to prepare herself for the Games. In Europe she would have the chance to train and compete as all CDI's in New Zealand (and Australia) were cancelled due to Covid-19. Unfortunately the U.K. move did not happen as the logistics were too overbearing due to the Equine Herpes Virus raging in Europe at the time, as well as Brexit.
The New Zealand slot was passed on to Malaysia and eventually went to Singapore.
Back to Europe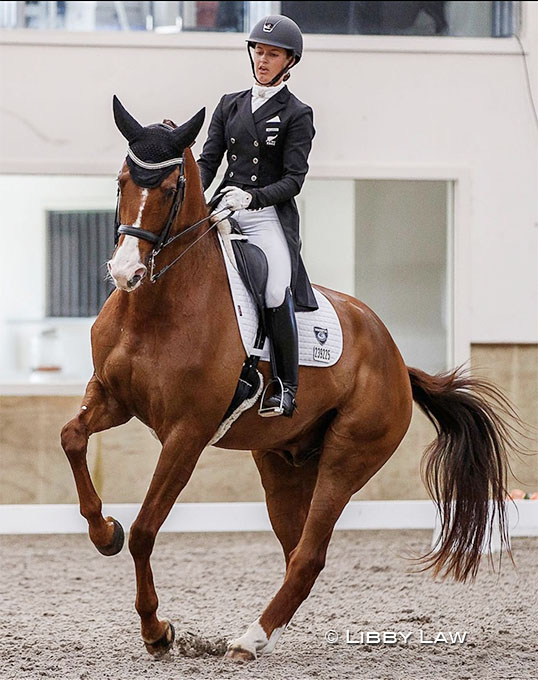 This will not be Melissa's first time in Europe. At age 17, Galloway left school  to commit herself to horse riding.  A year later she moved to Germany to train horses and broaden her riding experience with Hubertus Hufendiek, whom she had met while he was living in New Zealand. She was only meant to go for two weeks but ended up staying for a year.
She returned down under and started her own business at the family stable, Windermere, in Tuamarina, a small settlement in Marlborough, where the population is just under 250. On Windemere J'Obei Galloway surged to the top in 2020, clinching the National Grand Prix Champion's title and Horse of the Year title. 
Melissa is well aware that to make even more headway in international dressage sport, she needs to be in Europe. She has therefore accepted a job at Van Olst, which she described as "an opportunity of a lifetime." Her coach Vanessa Way arranged the position through Carl Hester. 
"We'd been talking about me going over there at some stage for quite a few years, but the most important thing was finding the right place," Galloway said in an interview with Jess Roberts. "Because all my horses are Dutch bred, and also I could base my horses there, potentially ride for them and have a job, which is very rare, to be able to go somewhere and actually be paid, otherwise it's a very expensive thing to do!"
En Course for Paris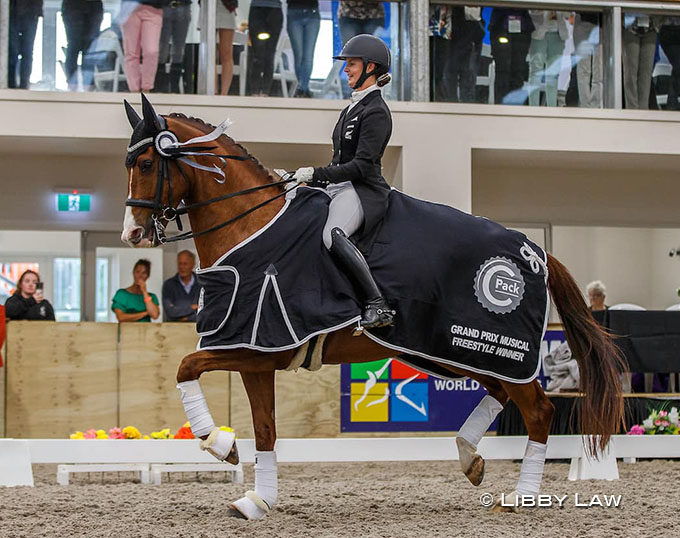 By being based in The Netherlands, Galloway will have access to top training and competitions.  
"Being a stable rider, riding, going to shows, competing and riding young horses. I'v said I'm happy to do whatever needs doing, I'm ready to take anything that comes my way," said Melissa about this new door that has opened for her.
At Van Olst there are 80 horses under saddle and 75 rising 3-year olds coming in this winter for selection and saddle breaking. 
Melissa will be accompanied by J'Obei and Integro. Her second Grand Prix horse Johanson W (by Johnson x Kilomanjaro) sold earlier this year to another New Zealand rider and her 4-year old Zephora W (by Johnson) sold to Australia. Melissa's husband Lachey will stay in New Zealand for now as travelling back and forth to New Zealand is very difficult due to very strict covid quarantine in NZL.
Melissa is committed to stay at least until 2024 and has the 2022 World Equestrian Games in Herning on her radar, although Paris 2024 is the ultimate goal.
Photos © Libby Law
Related Links
Olympic Slots Reshuffled after Wave of Withdrawals, Riders Declining to Go to Tokyo
Melissa Galloway, New Zealand's Strongest Ticket to the 2021 Olympics, Aims to Move to the U.K.
Jefferies and Galloway Take Titles at 2020 New Zealand Dressage Championships
Melissa Galloway Wins the 2020 New Zealand Horse of the Year Show