Opinions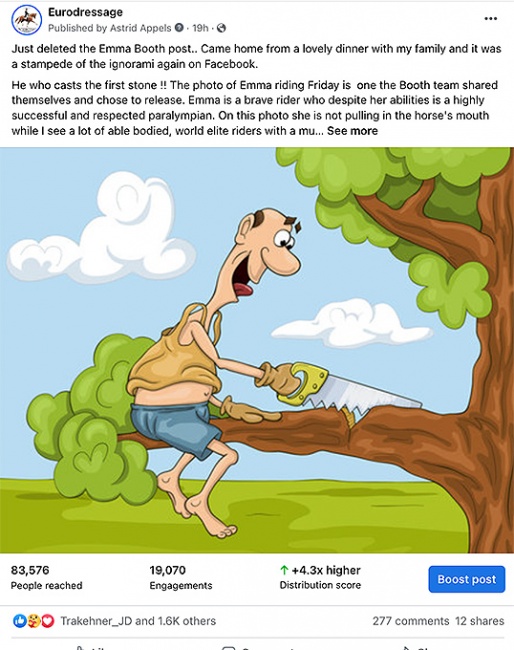 Yesterday, Eurodressage posted an article about Australian paralympian Emma Booth receiving the ride on two of Maree Tomkinson's horses in an effort to qualify for the 2022 World Para Championships in Herning this summer. 
Eurodressage selected a photo which Booth/Tomkinson themselves had chosen as illustration to announce the news. It shows Emma riding Friday. The horse is in a nice uphill frame, poll the highest point and soft in the contact. Booth, who became paraplegic after a near fatal car accident in 2013, leans backwards in the saddle as she has not the same core strength as able bodied riders and this keeps her balanced in the saddle. The horse shows no hinderance from her seat. 
Eurodressage also cross-linked the article on Facebook and within a few hours time several hundred reactions were spiked with the toxicity of a groupf of keyboard warriors making insulting, unfounded, ignorant comments. We have never shunned debate on Facebook about training systems and riders and they often become (over)heated, but when ignorami, who fail to even click on the link and read the story, post deeply insulting remarks about a para rider, who nearly died in a car crash and now shows more bravery in the saddle and a better connection with the horse's mouth than some world elite riders, we decided to pull the plug on that post and delete it from Facebook.
Today two established British equestrian athletes rung in on the toxic level of debate on social media, particularly Facebook.
Erin Orford
Erin Orford is a British international para dressage rider who has competed at the World Equestrian Games and European Championships.
Baffled by people's need to tear other riders down on social media. It may not be face to face but it is still a form of communication, they'll see it, their friends will see it - it's probably going to get back to them. I doubt many people would wander up to a rider you don't know at a show and start criticising them...
An article celebrating a new amazing opportunity for a Para rider and they just comment on their position taken from a picture. Guess what, when you're riding at that level you have a lot of EXPERTS in your team giving you feedback and advice, from trainers, physios, strength and conditioning coaches, team coaches and more, not to mention the rider's own knowledge and experience. If you've spotted something, they probably already know and are either working on it or there's a reason for it.
Regardless of any physical limitations, we're all out there trying to do our best and work to be the best that we can be. Most riders are more critical about themselves than they would be about anyone else so give everyone a break, celebrate achievement and effort before anything else. To that rider, congratulations and good luck, and to everyone who's experienced online abuse - if their opinion was that valuable they probably wouldn't be giving it out for free!
Picture of me riding because I think I might have this perfect position thing nailed..
Laura Tomlinson
Laura Tomlinson is a British Olympic team gold and individual bronze medal winner. She has a regular column in Horse & Hound and today's is titled "Stop ripping riders to shreds online."
She wrote: 
"As a rider with four children, I have very little time to worry about what is said on social media, but it has come to my attention that for many riders at different levels, including the very top tier, life can be made very unpleasant by people's aggressive comments online."
She addressed the nasty comments Matthias Rath received on social media with Olympic champion Jessica von Bredow even intervening.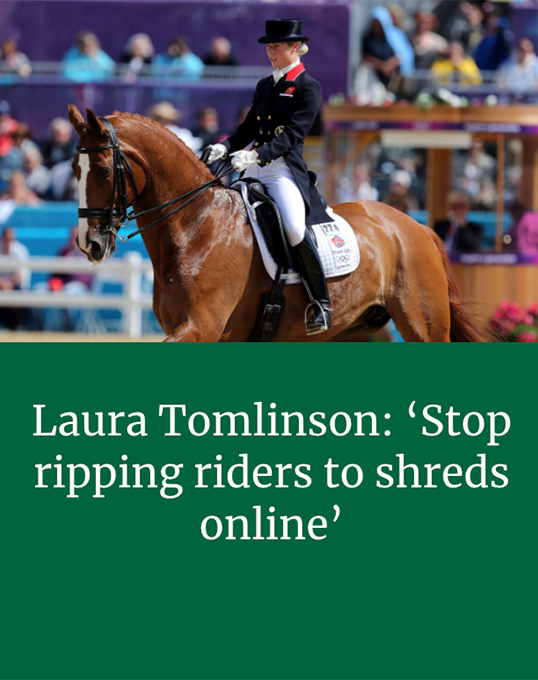 Laura opines, "Where most of us in the know would say, "What a harmonious test with an open frame," many of the critics are seeing the opposite – and some disagree with a horse being in tack at all or used for riding in high-end competition. The problem is not just the "haters", and how they can impact upon people's mental health for the good of their "crusades", but also how competitive equestrian sport is perceived as a whole."
Tomlinson hits the nail on the head that viewers of the sport need better commentary in order to be more educated about the sport. She makes several suggestions, and advocates "fair" critique in dressage. 
"Often I feel the keyboard warriors assume that the top rider in question believes they were perfect, and that it's the critic's job to tell them they are not. But in reality, riders tend to be their own biggest critics. In dressage we sign up to being judged in the ring, but we do not sign up to be ripped to shreds online by cowards and often people who know very little of what they are talking about. As a mother, it worries me to see how mean people can be when hiding behind a screen."
She continues, "I agree that horses don't have a voice and in some, rare, circumstances, someone must speak up for them, but that's what stewards are for, as well as critical yet respectful journalists and commentators who are equipped with the facts – not just keyboards."
Read the full column on Horse & Hound.