Denmark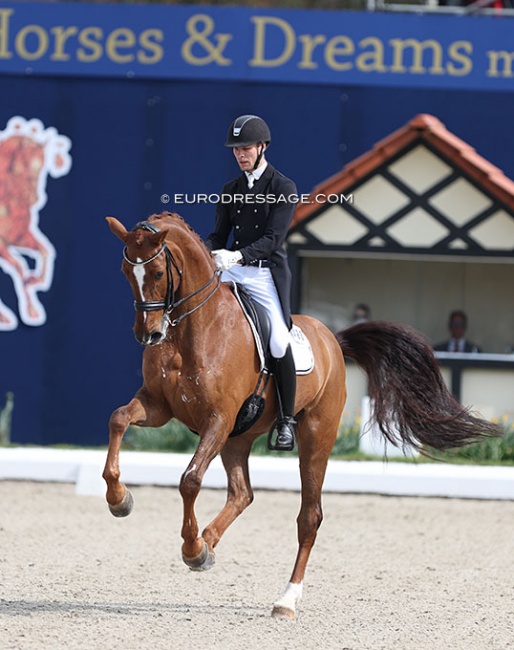 Nicola Ahorner, the brand new owner of Danish 2021 European Championship team horse Marshall Bell, has reached an agreement with previous rider Daniel Bachmann Andersen for the Dane to campaign Marshall Bell for two more months with the goal to ride at the 2022 World Championships Dressage in Herning.
Bombshell
Former Co-owners Andreas Helgstrand and Christian Vang Lauridsen dropped a bombshell on 26 May 2022 when they announced the sale of Marshall Bell to Austrian Under 25 rider Nicola Ahorner.
Daniel Bachmann was a clear Danish team candidate for 2022 World Championships and saw his Herning dream go up in smoke as the owners of his horse decided to sell three months before the Championship. 
The sale of Marshall Bell sparked much controversy as it created more team selection potential for co-owner Andreas Helgstrand, who himself is pursuing a spot with Jovian or Queenparks Wendy. With a German team weakened because of the absence of Olympic champion Jessica von Bredow-Werndl, Denmark is the clear favourite for team gold on home turf.
A disappointed Daniel Bachmann experienced a reality check of top level horse ownership with no fixed riding contract in place: one can loose the ride anytime when enough money is laid on the table. In this case the owners chose commercial value over glory and honour in sport.
Controversy over Horse Deal with Helgstrand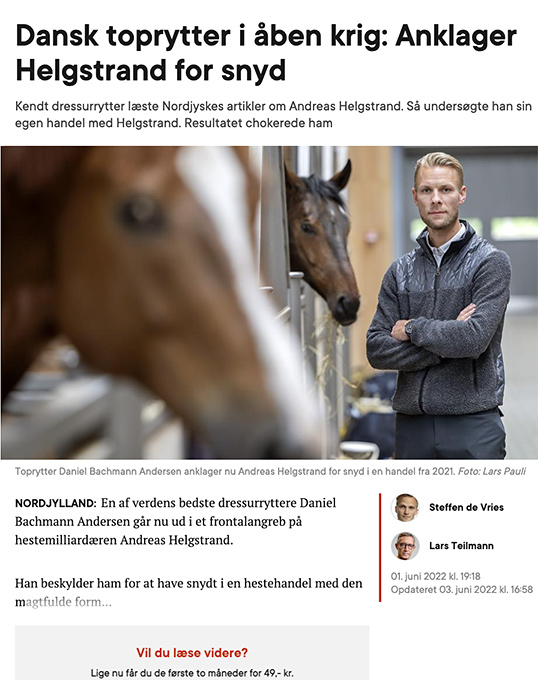 Shortly after the sale, Bachmann spoke to Danish newspaper Nordjyske in which he expressed his concern over a horse deal he made with Andreas Helgstrand after numerous horse owners and breeders, who all co-owned horses with Helgstrand, stepped forward and alleged fraud and cheating (article 1 - 2 - 3 - 4 - 5 - 6).
Bachmann bought 50% ownership of the horse Gaston (by Grand Galaxy Win) from Helgstrand in January 2021 for 560,000 DKK plus VAT (approx 75,285 euro). Helgstrand co-owned the horse with Jan Pedersen, president of the Danish Warmblood Society AND World Breeding Federation of Sport Horses.  After Daniel read the numerous complaints of co-owners in Nordjyske, he decided to call Jan Pedersen and ask what money he got.
Pedersen told him that Andreas sold 100% ownership of the horse to Daniel Bachmann and that the horse had cost 500,000 DKK, so he paid Pedersen 250,000 DKK. Andreas Helgstrand, however, kept his own share of the horse and re-sold the other half on to Bachmann for more than double what he had paid Jan Pedersen.
Nordjyske confronted Jan Pedersen with this alleged cheating, but the president of the most important breed confederation in the world gave a lukewarm response, stating this is a "private" affair. To Danish magazine Ridehesten, Pedersen made an official statement that "all ambiguities (with Helgstrand are) cleared up." To Dutch magazine Horses.nl, Pedersen added, "it might look like I'm protecting Andreas Helgstrand. I do not have this intention, but I also don't feel obliged to bring this private affair out in the open."
Hope Rekindled
Today - 7 June 2022 - Bachmann's hop to potentially ride at the World Championships has been rekindled. Ahorner decided to give him the ride on Marshall Bell for the summer.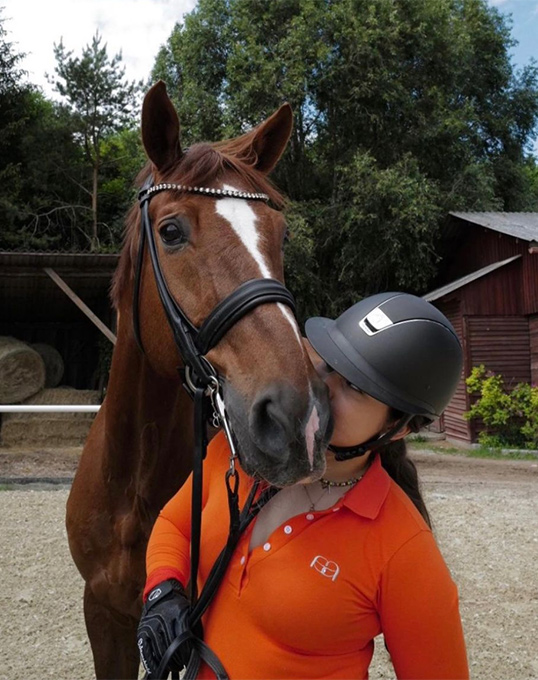 "Last week, Daniel visited us to check he was settling in his new home and to help me and Marshall adjust to this new chapter. Daniel is an absolute pleasure to know and I really appreciated him taking the time to do this and be there for both of us. There is a special bond between Marshall and Daniel which is a joy to see," Nicola stated.
She continued, "on discussions with my family, we have asked Daniel if he would like to continue the campaign for Herning with our full support and blessing, to which he has accepted. Horses like Marshall are a privilege for me to own and I could not do that without the support I have, which I am extremely grateful for. But horses like this, have often had several people in their life who have contributed to their character and success; this is very clear here. Marshall continuing his journey with Daniel over the coming months will be exciting for us all and whatever the outcome, my new chapter with Marshall can wait, while we watch Daniel and Marshall try for a team spot they have worked so hard for."
Daniel took to social media and posted, "I have been given the fantastic opportunity by Nicola Ahorner and her family to continue the journey towards the goal of Herning 2022 with Marshall. I am truly over the moon, grateful and honoured that you are allowing us to continue our partnership over the summer. We will aim to make all involved with this super horse very proud."
Photos © Astrid Appels - screen shot - private
Related Links
Helgstrand Sells Marshall Bell, Danish Team Candidate for Herning, to Austria
Daniel Bachmann Relocates from Kleppenhus to Julianelyst