2022 World Championships Dressage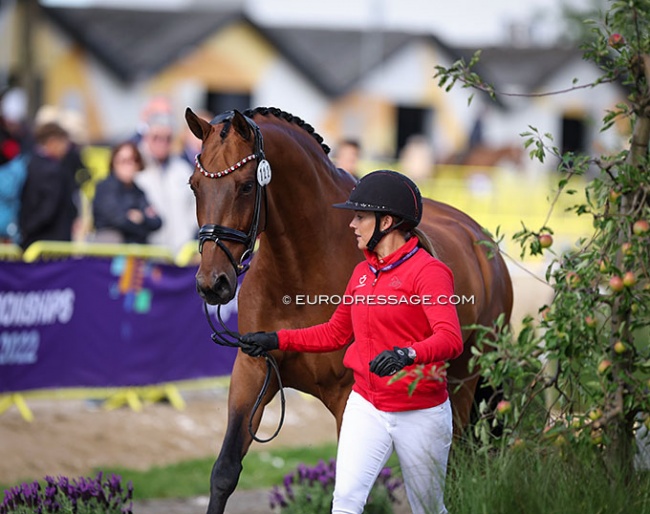 All horses but one passed the horse inspection on Friday morning 5 August 2022 at the 2022 World Championships Dressage in Herning, Denmark. No less than 93 horses were trotted up and all were accepted. One horse was given an extra day time due to a fever and will be presented on Saturday morning. 
The Trot Up 
The "trot up" is a mandatory phase before any international competition or major FEI Championship begins. The president of the veterinary commission and of the ground jury both inspect the fitness of the horses and approve them if they are fit to compete. The horse's FEI passport is also checked as well as their micro-chip before they are presented in hand in front of the jury. 
The horse inspection is always a fun and elegant, but rather nerve-wracking phase of a championships. The grooms prepare the horses to perfection, this time all braided, and the majority of riders appear in their official team outfits. Some horses get especially excited to be run in hand and throw in a buck or leap, but most of them are well behaved and politely deliver the task.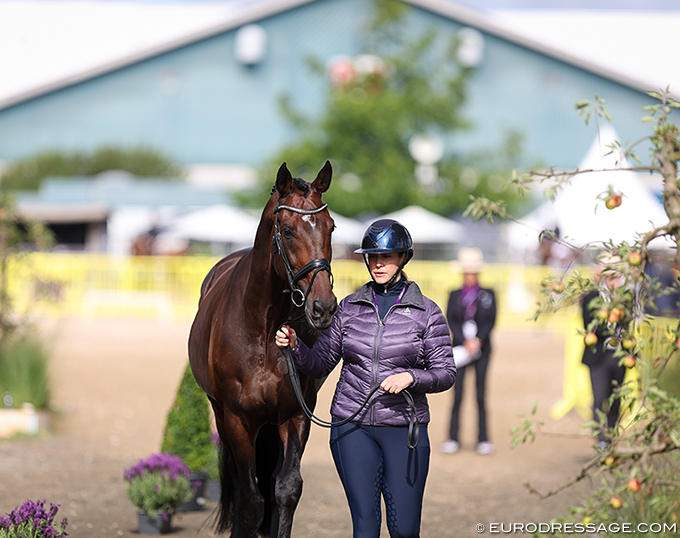 There were no real explosive reaction from any horses, although some struggled to run in a straight line and others were either  a bit too slow, or a bit too fast. Most riders presented their own horses, but occasionally stallions were shown in hand by the grooms for better control. Steffen Peters' Suppenkasper frolicked about and destroyed a planter with lavender with a kick.
The Herning trot up took place behind the stable complex, quite a walk from the show arena. It was in a quiet, grassy area next to some warm-up arenas and offered the good surrounding for the inspection. The horses were trotted up on a sandy surface, the strip looking shorter than usual but that might be an impression. 
All But One Pass
Originally 95 horses were entered, but Japanese Akane Kuroki was a last-minute withdrawal due to covid. Ninety-three were presented to Dr. Nicolai Jarløv (DEN), the president of the Veterinary Commission, and Susanne Baarup (DEN),  the President of the Ground Jury, in the presence of her team of judges.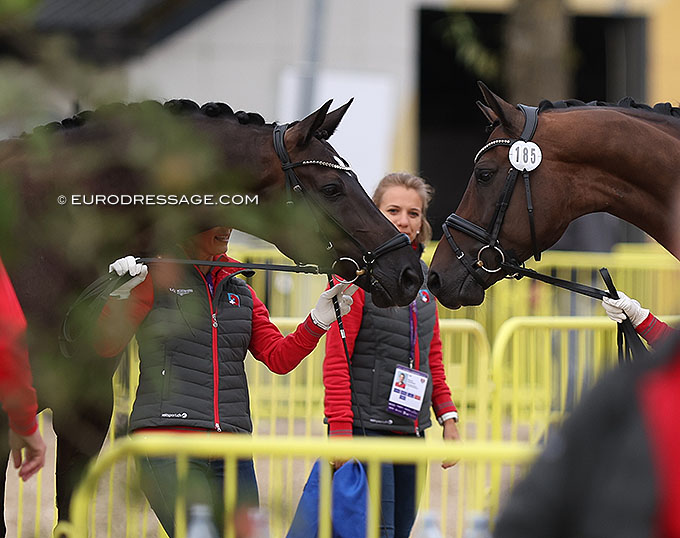 Four horses had to trot up several times: Domien Michiels' Intermezzo van het Meerdaalhof, Katarzyna Milczarek's Gaupo and Charlotte Lenherr's Sir Stanley (three times). Even Daniel Bachmann's Marshall Bell had to run twice, but that was because the horse was too fresh and hard to assess the first time. 
A few horses looked "iffy" but the presidents were in no mood to spoil the party for anyone and accepted all horses for the competition. 
New Zealand Team On the Edge
One horse was not presented this morning: Gaylene Lennard's Jax Johnson. 
The New Zealand equestrian federation posted as a statement, "Jax Johnson had a slightly raised temperature overnight so in consultation with the Ground Jury and the veterinary team, as a precautionary measure, he will present tomorrow as he is not scheduled to compete until Sunday."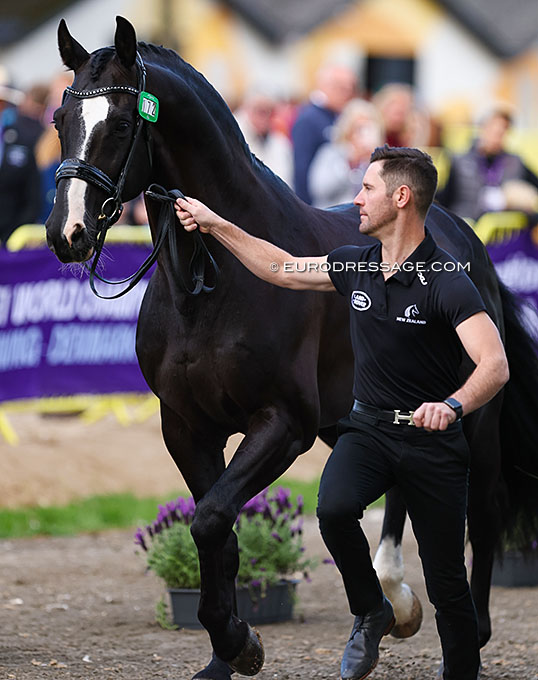 The New Zealand bred Johnson x Anamour is currently held in isolation as a health pre-caution. The horse has been swabbed and blood tested and already in the afternoon it was reported that Jax' temperature had dropped and the swab came back negative. 
Depending the horse's developing health status, it will get the opportunity to be inspected on Saturday morning at 7 AM and if passed, will he will join the starters' list. If Jax Johnson does not pass or is not presented, New Zealand will lose its team and Melissa Galloway as well as John Thompson will continue as individuals.  New Zealand had returned as a team to the World Championships for the first time since 1998.
The Draw: Japan first to Go, USA Last
 in the draw conducted by Technical Delegate Janet Lee Foy from the USA and President of the Ground Jury, Denmark's Susanne Baarup, this afternoon, the places on the starting grid were decided. 
The captains of each country with a stake in the team competition had handed in the order of go for their riders, prior to the draw. In total 19 nations have a team on the start list although three nations only have three combinations, these are Japan, New Zealand and Norway.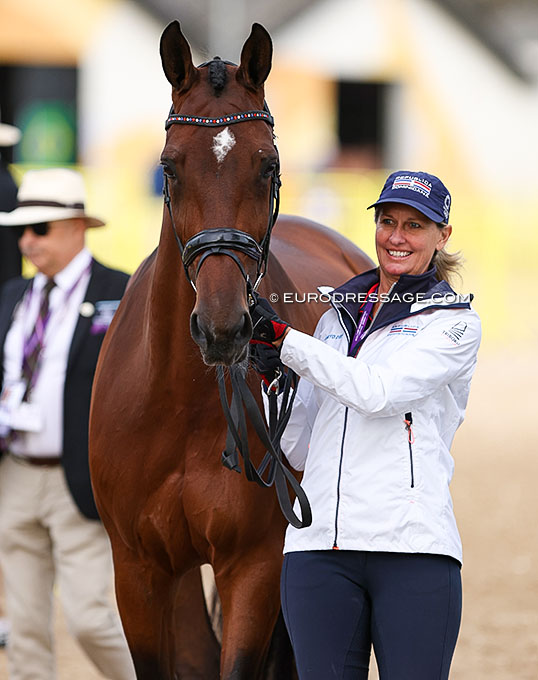 Japan, New Zealand, Norway, Switzerland, Portugal, Finland, Austria, Ireland, Poland, France, Spain, Belgium, Great Britain, Australia, The Netherlands, Denmark, Sweden, Germany and USA will compete in that order.
When there is no team in place and a combination starts as an individual the draw is conducted according to individual riders ranking. There are many nations represented in the start field with two riders from India and a single rider from Armenia. Highest ranking individual rider is Yvonne Losos de Muñoz with her gelding Aquamarijn, partnering together for the Dominican Republique. 
America's Ashley Holzer and her 12-year-old mare, Valentine, will bring the first-day action to a close just before 20.00.
Complete starters' list for the Grand Prix. 
Text and Photos © Astrid Appels  - NO REPRODUCTION ALLOWED (NO SCREEN SHOTS!)
Eurodressage photographed all dressage riders competing at the 2022 World Championships. If you are want to use our photos for social media or prints, email us first.
Related Link
Eurodressage Coverage of the 2022 World Championships Dressage