Danish Warmblood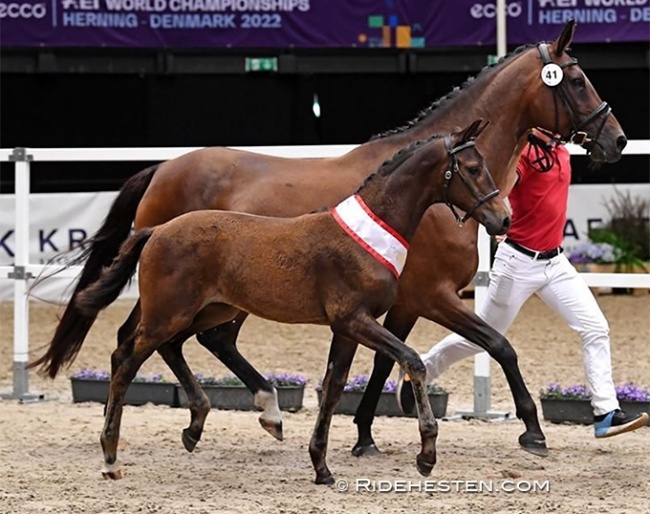 Filly Terpling's Tiffany and colt Dream Catcher A were named the dressage champions of the 2022 Danish Warmblood Foal Championship in Herning, Denmark, on 9 August 2022. 
Fourteen fillies and 13 colts were invited to the National Championships which took place in Herning during the 2022 World Championships instead of the national equestrian centre in Vilhelmsborg. The invitees were the top two ranked foals at the seven regional foal shows across the country. 
The foals were assessed by Bjarne Nielsen, Johnny Sorensen and Claus Hansen. 
Dream Catcher A
Seven colts were invited to the champion's ring to compete for the title. The winner was Dream Catcher A. (by Dynamic Dream x  Sunny-Boy), who is bred by Dorte Andersen. Danish warmblood breeding consultant Karina Christiansen described the winning colt as "a fantastically handsome and modern model, long-legged, very noble and harmonious with a very good expression and masculine touch."
The other six finalists were Francisco-Bell (by Floriscount x Michellino - bred Tina & Nicolai Jepsen), Gørklintgårds Maverick (by Gørklintgårds Million x  Blue Hors Zack - bred by Jørgen Ravn), Maskedals Remee (by Revolution x  Sezuan - bred by Helle Møller Andersen & Per Christensen), Strauss (by So Perfect x Tailormade Temptation - bred by Hanne Hertzberg, Lena and Ulrik Kristensen), Marquis Lightfoot (by So Unique x  Franklin - bred by Annette Lyngs and Torben Damsbo) and Björklund Valentinoe (by Valverde x Sir Donnerhall  - bred by Lisa Gade).
Terpling's Tiffany
In the filly category the judges selected a group of six foals in the running for the champion's title. The winner was Terpling's Tiffany (by Total Hope x Zonyx ox), bred by Heima Poulsen.  Christiansen praised the black filly for being "a small rubber ball with an extremely flexible topline" and "equipped with three excellent gaits that are cadenced and always uphill."
The other five filly finalists were  Triple A's Daphne (by Hesselhøj Donkey Boy x  Stedinger - bred by Amira Aasted Jespersen), Springborg's Guatemala (by Dynamic Dream x Diamond Hit - bred by Stutteri Springborg), Francetta (by Franklin/ Sezuan - bred by Henrik Hansen), Gammel Mølle's Five Weeks (by Highfive Fuglsang x Blue Hors Leredo - bred by Susanne Gangsted), and Jestis La Masia (by Blue Hors Monte Carlo x Aljano - bred by Kirstine Decker and Jens Søgaard).
Following the Foal Championship, several of them were auctioned for high prices. 
Photo © Ridehesten
Related Links
Gravity, Best Seller of the 2022 Danish Warmblood Elite Foal Auction
Vilard's Frina and Grand Quest-Bell Named Danish Warmblood Foals of the Year 2019
Remember Me and Diaz Skovvang Named 2018 Danish Warmblood Foal Champion
Svalegards Hot Boy and Faretti Named 2017 Danish Warmblood Foal Champions
Francisca Lightfoot and Bogegardens Santiago Bernabeu, 2016 Danish Warmblood Champion Foals
Delicious, Mildura, Schwarze Schwalbe, Tebaldo Winners of 2015 Danish Warmblood Elite Show
Strandagergards Sirocco and JJ Sasha, 2014 Danish Warmblood Foal Champions
Horgaard Tabasco and Springborgs Gateway, 2013 Danish Dressage Foal Champions
JJ Filippa and Tailormade Attraction Named 2012 Danish Dressage Foal Champions
JJ Fuji and Ellely's Tornado Named 2011 Danish Dressage Foal Champions
Dancing Boy and Stigma, Danish Dressage Foals of the Year 2010
Bjerggaards Don Perignon, 2006 Danish Warmblood Foal of the Year and Top Auction Foal