2022 U.S. Dressage Championships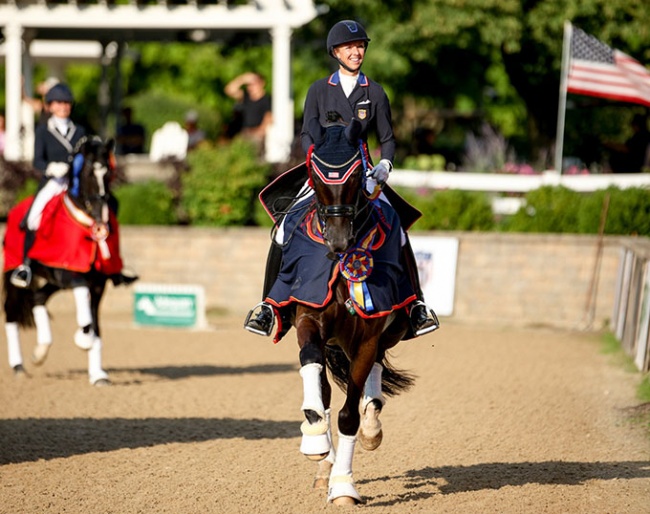 A rainy morning gave way to a shining day of competition at the 2022 U.S. Dressage Festival of Champions on Thursday 25 August 2022. Laura Graves and SenSation HW led the U.S.Small Tour Championship from start to finish to win in impressive fashion.
The USEF Intermediaire I Dressage National Championship came to a close with the exciting freestyle portion of the competition.
Title for Graves with Last Minute Freestyle
Laura Graves (Geneva, Fla.) and SenSation HW, Carol and Scott McPhee's 2013 Westphalian gelding (by Sunday x Dancier), performed a masterful freestyle to finish second in the class with a score of 76.005%. The week's performances from Graves and SenSation HW earned high marks from the judges and clinched the National Champion title with an overall score of 75.104%.
"It was the second time I have ridden this freestyle and the first time in this big atmosphere, big for him anyway, he certainly thought so," said. "It is just the beginning. I'm super proud of him for the test he put in at the beginning of the week. I'm moving forward and excited about it."
Graves had her freestyle designed last minute.
 "We put it together last minute because that's how I roll," she said. "I don't like to ever count my eggs before they hatch, so when we were kind of seeing that I was in a good place to qualify for this, I decided I better put together a freestyle. I always go to Terry Gallo who lives right nearby me in Florida. She is able to come and see my horses and help me pick out music that I like, the owners are happy with, and suits the horse. It was also in our mind to pick music that could be morphed into something bigger so we can use pieces of it moving forward to hopefully to become a Grand Prix horse.
When asked how it feels to be back in the spotlight with a new U.S. champion's title, Laura replied, " I'm always so excited to stand in the top three with women because I just think it is so amazing for us to support each other. It is such a difficult industry, and just to see smiling faces and people who are really supportive of you. That, for me, has topped this week so far."
Sensation is familiar with the Lamplight show grounds. Under Michael Bragdell, he was 7th at the 2017 U.S. Young Horse Championships, won as a 5-year old in 2018 and as a 6-year old in 2019.  In 2020 he moved to Laura Graves' barn, who took two years to mould the horse to her hand before. Their CDI show debut in Wellington in March 2022 did not go as planned and the pair withdrew from the Prix St. Georges. Three weeks later they successfully rode down the centerline at the CDI Ocala to place second in the PSG with 72.353%. 
Silver for Emily Miles and Daily Show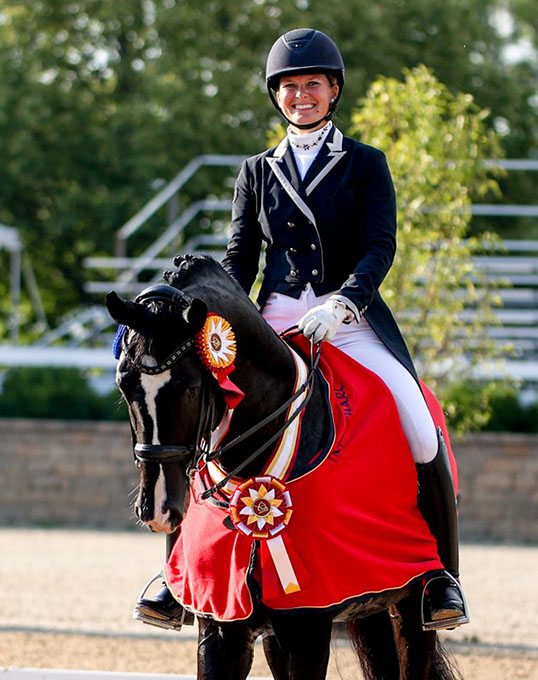 Emily Miles (Paola, Kan.) and Daily Show, Leslie Waterman's 2014 Hanoverian stallion  (by Danciano de Malleret x Stockholm), won the Intermediate I Freestyle with a score of 77.300% and earned the Reserve National Champion title with an overall score of 73.301%. 
"To be able to ride that freestyle tonight and to put pedal to metal and say, 'Come on, buddy. Let's do this!' And he was like, 'Cool. Let's do it!' That's an amazing feeling," said Miles. "It is a really special freestyle for me because it is [her former mount] WakeUp's freestyle and the music is the music that I got my first dance with my husband, so there's a lot wrapped up in that freestyle. The first time I rode it [recently], I pretty much broke down and cried the entire test and it was terrible. So, I'm very proud that I did not do that today. But [Daily Show] lived up to that and I'm sure WakeUp is looking down here and thankful tonight. Erin Boltik designed it, and she is a schoolteacher from Minnesota."
Miles and Daily Show represented the U.S.A at the 2019 World Young Horse Championships in Ermelo, where they were 24th in the 5-year old consolation finals. This spring they made their CDI debut at small tour level in Katy, Texas, booking a triple victory. 
Rigdon and Iquem are Bronze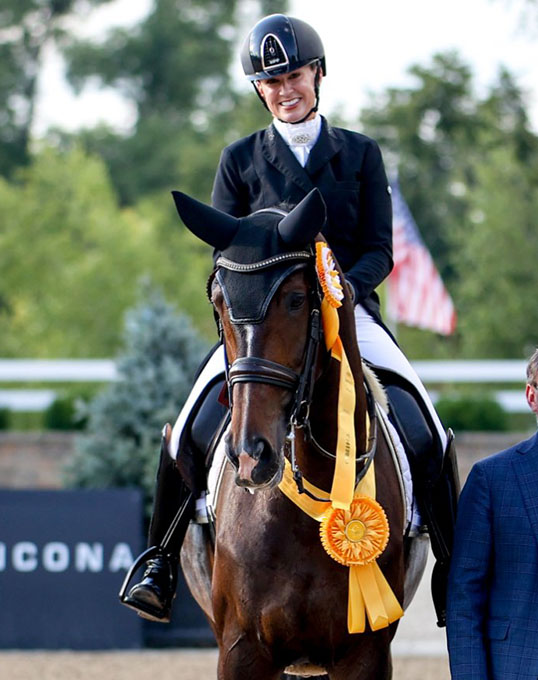 Rebecca Rigdon (Cardiff by the Sea, Calif.) and Iquem, her 2013 KWPN mare (by Charmeur x Moreno), scored 69.710% in the freestyle and were third overall with an overall score of 71.350%.
"Today wasn't our best day. But that's okay," said Rigdon. "The music was loud. It is only the second time I have done a freestyle and the first time in this environment. She is a very, very hot mare, and I have had her since she was coming four [years old]. This is, honestly, the most confident she has ever been at a show, so I am beyond proud of her. She has really put her big girl pants on and she's doing it. We got ahead, and then all of the sudden, our gaits were three times bigger than normal. Anyway, it is what it is, but I was very happy with the I-1 and Prix St. Georges."
Text USEF press release, edited by Eurodressage - Photos © Sue Stickle and US Equestrian
Related Link
Scores: 2022 U.S Dressage Championships
Laura Graves and Sensation HW Top Prix St. Georges on First Day of 2022 U.S. Dressage Championship
Graves and Sensation HW Maintain Lead in 2022 U.S. Small Tour Championship