2022 World Championships for Young Dressage Horses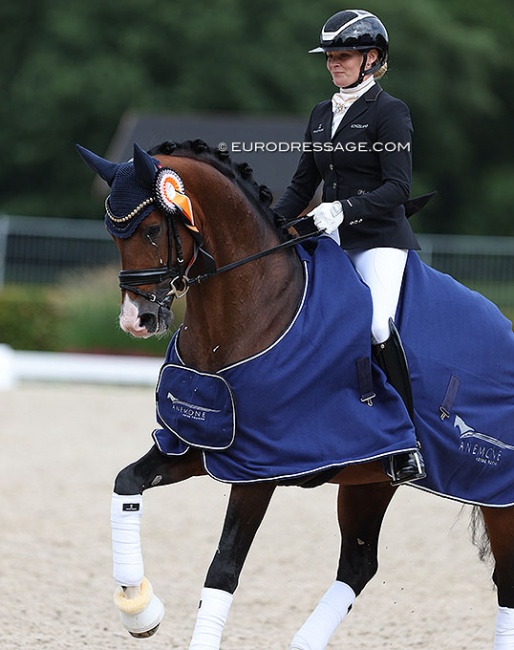 - Text and Photos © Astrid Appels (this article expresses Appels' eye-witness account and opinion about the competition).
The 6-year old preliminary test at the 2022 World Young Horse Championships in Ermelo on Friday morning 9 September 2022 seemed to be a speed class which turned out in favour of last year's World Champion, Hesselhoj Down Town.
Why Oh Why?
For the second day of competition persistent rain showers were forecast yet again, but in the end the weather turned out better than predicted with just a few combinations getting showered, while the rest rode in perfectly agreeable conditions. 
What was less acceptable was the not so brilliant decision of the show organisation to move the 6-year old qualifier to the B-arena further away from the main stadium where the 5-year old consolation final was taking place. VIP table holders, who had digged deep into their pockets, for a prime seating and entertainment, now had to stand ringside (in the rain) as the only (covered) tribune available was packed with people, who were afraid of potential rain weather, from the start.
It was inexplicable why one of the top classes of the week was not taking place in the actual championship stadium? While the B-arena is probably the prettier one with its green hedges, trees, and back country-side background, compared to the sparsely decorated and black-colour dominated arena 1, a lot of young horses were more tense and uncomfortable in this arena with a lot of activity from spectators and passers-by buzzing around it. Many horses spooked and Adelinde Cornelissen's Luqiedo (by Aqiedo) even refused to go on the centerline. He was rung out before he began his test.
Early Birds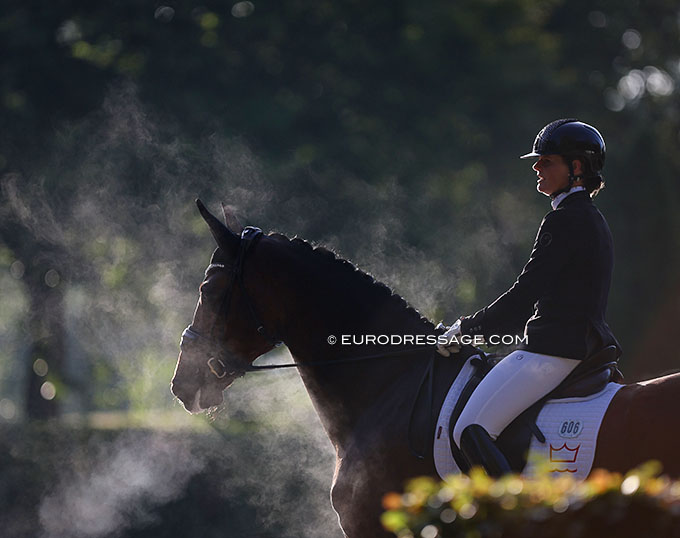 If you wanted to see the cream of the crop of the 6-year olds, one better had to come in at the crack of dawn because six of the top 10 ranked combinations rode early in the morning in the first groups of the class. By the time the final group was going in the afternoon, all spectators had fled back to the main stadium to enjoy the covered seating and watch the 7-year old preliminary test, taking place simultaneously! Another genius idea from the OC! Not! 
Susanne Barnow and the Danish warmblood Skovdals Dexter (by Hesselhoj Donkey Boy x Romanov) were the first to go in at 8h30 and immediately put a big score on the board with 8.51 points, which ranked her 8th in the end. The long legged, lean and sporty looking gelding showed plenty of ground cover in his three basic gaits, but was rushed in trot and in did not yet show good self carriage in canter, but there was much to like about him and he just needs more time to develop. He got 8.7 for walk, 8.4 for trot and canter, 8.7 for submission and 8.6 for general impression. Barnow went off course so 0.05 points was subtracted from her total.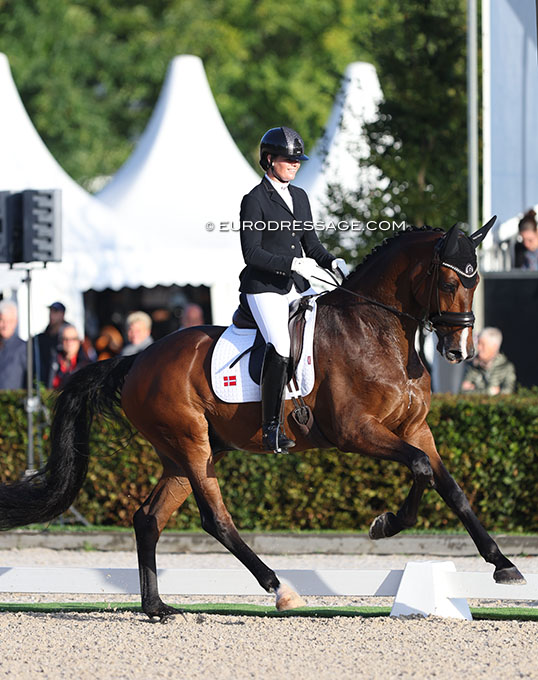 After the first block of riders a few trends were immediately noticeable that marked the riding and judging of the day. The 6-year old preliminary test was a speed class in disguise. Horses enter in working trot, but then in between lateral movements are required to show "collected" trot. They are also required to show a differentiation between medium and extended walk and canter. Many riders seem to ignore the "collected" part and were just flying through the test in fifth gear, showing off the scope in their horse's gaits instead of highlighting their horse's potential to take weight behind, shorten the step, yet remain active and carrying. The faster you went, the higher the notes it seemed as flash seemed to dazzle them all. 
With the best horses going first, the 6-year old judges' panel - consisting of Eddy de Wolf van Westerrode (NED),  Katrina Wüst (GER),  Kurt Christensen (DEN),  Hans Voser (SUI) - used a totally different note scale from yesterday's 5-year old panel and inflated scores were flying through the air. This seemed to happen every year. Two panels that seem to play good cop - bad cop: one strict panel, one generous panel. It's confusing. 
Viva Las Vegas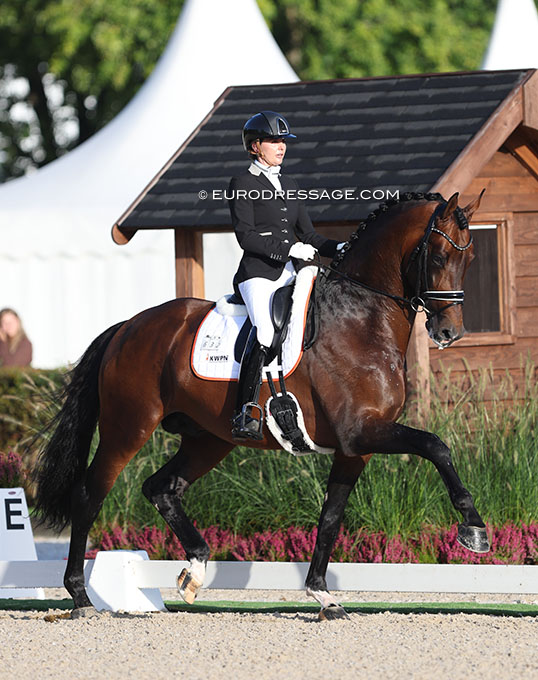 The second placed pair of the day was the third horse to go, Dutch Grand Prix team rider Emmelie Scholtens on the 180+ cm tank Las Vegas (by Ferdeaux x Wynton). Bred by J. Deenen and owned by horse dealer Nico Witte in partnership with Nol Gerritsen, the bay KWPN licensed stallion competed in Verden last year under Franka Loos and was fifth, and this year under Scholtens is the favourite for the title alongside the title defender Down Town.
Las Vegas is a very imposing horse: tall, powerful, naturally uphill and a mega mover. Schotlens put the pedal to the metal and rode the horse in medium trot through the entire trot tour flashing the massive shoulder freedom and ground cover of the horse. In the corners, in which he needed to show collection, he lost balance and skated through. There was a break in canter in the first actual medium trot diagonal. Las Vegas stayed very cadenced in the lateral movements. He had huge overtrack in the medium and extended walk, the clarity of rhythm was OK, not great. The canter is also impressive although he stays quite horizontal in the top line in the extensions even though he is flying across the arena. While last year in Verden, the judges considered his trot his best gait, this year in Ermelo the judges marked the canter as his best. 
Las Vegas scored a total of 9.42 points with 8.2 for walk, 9.8 for trot, 10 for canter (?!), 9.5 for submission and 9.6 for general impression. 
After Las Vegas, the more "mortal" looking Swedish bred gelding Moretti Weltino (by Dante Weltino x Master) came into the arena and he suddenly looked like a pony. Fortunately Ida Nordenberg Küchenmeistern corrected that misconception of Charlotte Haid-Bondergaard's horse and produced a really lovely, friendly test with plenty of potential for the future. Moretti Weltino got 9 for walk, 8.2 for trot, 7.9 for canter, 8.5 for submission and 8.3 for perspective to finish 10th on 8.38 points. 
Title Defender
The title defender, Danish warmblood Hesselhoj Down Town (by Hesselhoj Donkey Boy x Blue Hors Zack) under Swedish Grand Prix team rider Jeanna Hogberg, was 19th to go in a class of 42.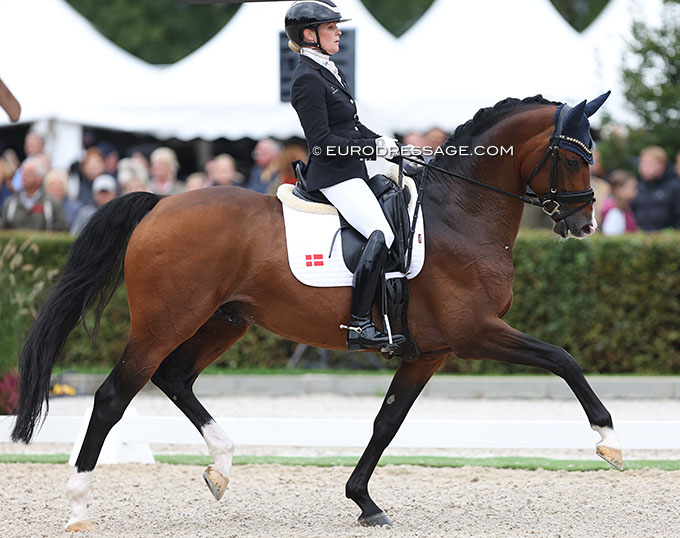 The professional training on the bay stallion, bred by Dorthe and Hans Jorgen Hoeck and owned by Helgstrand Dressage, is apparent. He has developed well, looked more muscled and had more balance in his gaits, even though also Hogberg decided to pick up speed. The trot was incredible forward and fast and the lengthenings had huge ground cover with Down Town really floating on the diagonals. The medium and extended walks were excellent with good marching, much overtrack and a clear rhythm. In canter the horse showed straight flying changes but got croup high in the left extensions. The final centerline was also ridden in a medium instead of a collected trot. 
The judges loved it and rewarded the sympathetic Down Town with 9.6 for walk, 9.5 for trot, 9.2 for canter, 9.5 for submission and 9.6 for perspective. He totalled a winning 9.48 points. 
While Furstenball and Revolution were the best represented sires in the 5-year old division with each four offspring, the Danish bred Hesselhoj's Donkey Boy and Oldenburg bred Dante Weltino stamped the 6-year old class with each four offspring. 
In Pursuit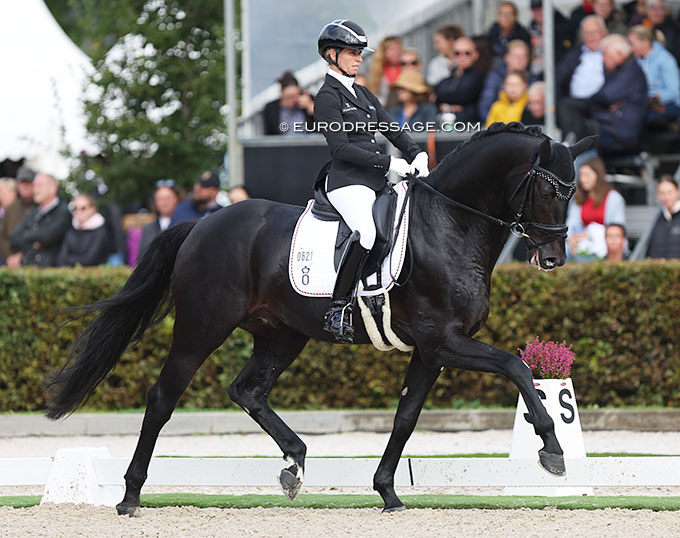 German Eva Möller and Paul Schockemöhle and Andreas Helgstrand's Oldenburg stallion Global Player OLD (by Grand Galaxy Win x Don Schufro) were in pursuit of the two title chasers. 
Bred by Henrik Hansen, the black Global Player stood out by his incredible obedience and willingness to do the job for his rider. Möller was also riding the trot movements at high speed and a little more collection would have been great. The horse was smooth in the half passes though and the extensions were big but at times he dropped in the poll. The medium and extended walk were very nice with superb overstep and rhythm. In the rein back he dragged his feet a bit and one flying change was in two phases. The canter had good balance but in the left extension he lost some elasticity in the back. 
Global Player was ranked third with 9.4 points after receiving 9.4 for walk, 9.5 for trot, 9.0 for canter, 9.5 for submission and 9.6 for perspective. 
Ferguson Again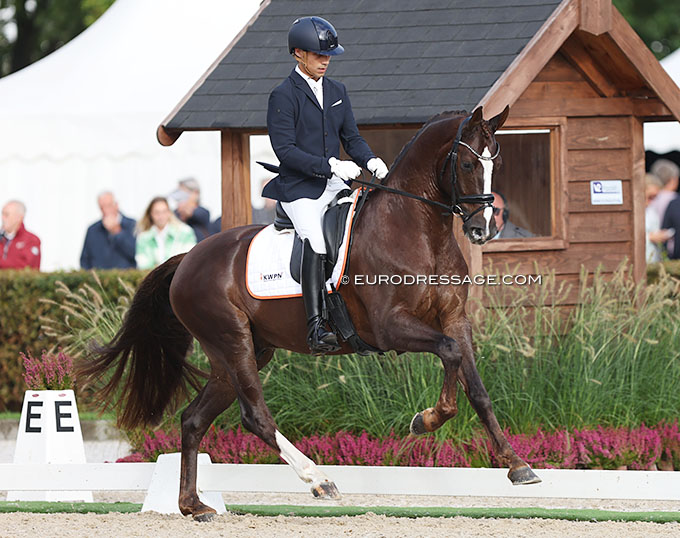 Indonesian entrepreneur Titan Wilaras really made his mark as a breeder at this year's World YH Championships with two of his products in the 5-year old class and two in the 6-year old division: Lord Platinum (by Ferguson x Bretton Woods) and Lightning Star (by Ferguson x De Niro). They were fourth and eleventh.
Dutch based Spaniard Francisco Benitez Sanchez and the liver chestnut Lord Platinum, who is owned by Esther Bakker-Laplooi, Kirsten Beckers, and Wiro Bakker, placed fourth with 8.82 points. The trot was elegant and cadenced, but the horse relied on the rider's hand instead of showing true self-carriage. The extended walk was huge with an ok rhythm. The flying changes were uphill but a bit stuck in the air. This lovely gelding got 9.8 for walk, 8.3 for trot, 8.4 for canter, and 8.8 for submission and perspective. 
Kirsten Brouwer and Lightning Star were bronze medalists last year, but today in the preliminary test the very elegant and talented mare was quite impressed by her surroundings and did not really relax in the body. She ended up 11th with 8.28 points after receiving 8.1 for walk, 8.8 for trot, 8.0 for canter and submission and 8.5 for general impression.
Close Call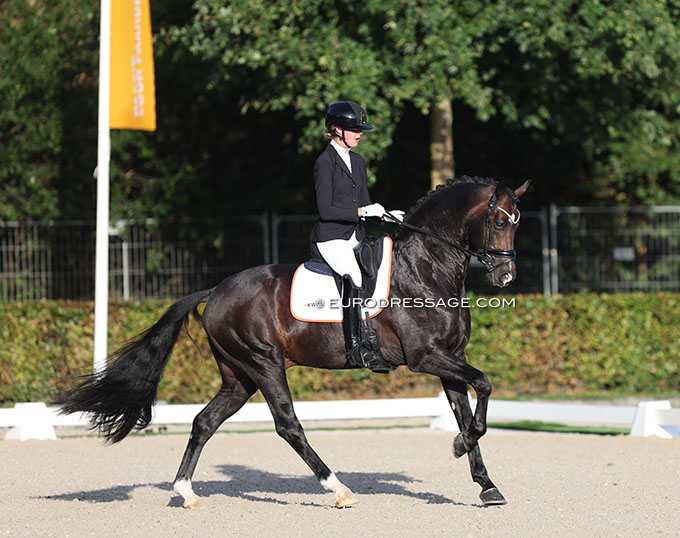 Between the fifth and ninth ranked combination the point difference was minimal (8.60 - 8.46 points) which means that there is still a lot of room to play the board in the Finals. 
The Dutch junior riders team member Jill Bogers rode the strapping Lennox U.S. (by Grand Galaxy Win x Rousseau) to team silver at the 2022 European Junior Riders Championships in Hartpury. Little over a month later the pair also appeared in Ermelo and placed fifth in the 6-year old preliminary test. Owned by Bas Wilschut, Paul Schockemöhle an Joop van Uytert, the dark bay licensed stallion showed a very cadenced trot but an active hindleg that was pushing, but not really carrying. The horse also halted in a stretched position. The canter is lovely with each stride uphill and with super confirmed flying changes. The stallion got 7.7 for walk, 8.3 for trot, 9.2 for canter, 8.8 for submission and 9.0 for perspective. 
German Lisa Horler started for the Austrian quotum on the Austrian warmblood bred mare Get You The Moon (by Goldberg x San Amour). Bred and owned by Dietfried and Lebrecht Angerer, the bay mare is a very noble and feminine looking horse with a quick and engaged hindleg. She scored 7.8 for walk, 8.7 for trot and canter, and 8.8 for submission and perspective to place 6th with 8.56 points.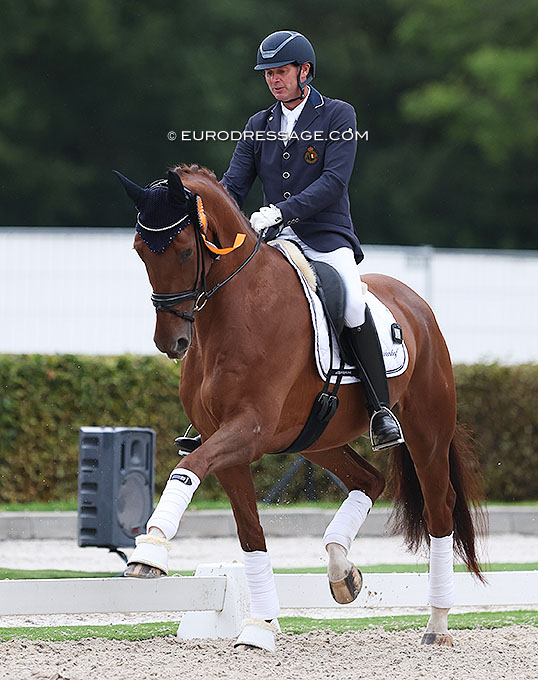 The team of Belgian Tom Heylen and the Belgian warmblood bred Quberon van het Beukenhof (by Johnson x Don Renoir) jumped for joy when they saw 8.54 points and a 7th place flash on the board after their very solid test. The tall chestnut, bred by Liesbeth Molenberghs and owned by the breeder in partnership with the rider, especially impressed in the trot work with a very well carried, rhythmical trot. The horse showed a hindleg able to take weight and collect. Trained by Belgian-German Jan Bemelmans, the combination showed massive progress since their start at the 2021 WCYH in Verden. In Ermelo they got 7.8 for walk ,9.2 for trot, 8.3 for canter and 8.7 for submission and perspective. 
German Lena Waldmann and the heavier set chestnut Hanoverian stallion Dancing Brave (by Don Juan de Hus x Lemony's Nicket) placed 9th with 8.46 points. The stallion, bred and owned by Axel Windeler, showcased a big, ground covering trot but was ridden in hurried style. Also in canter he was chasing the wind and did not appear so balance. The judges must have been impressed by the power in this horse and awarded him with 8.8 for walk, 8.4 for trot, 8.3 for canter and submission and 8.5 for perspective. 
"The Level was High"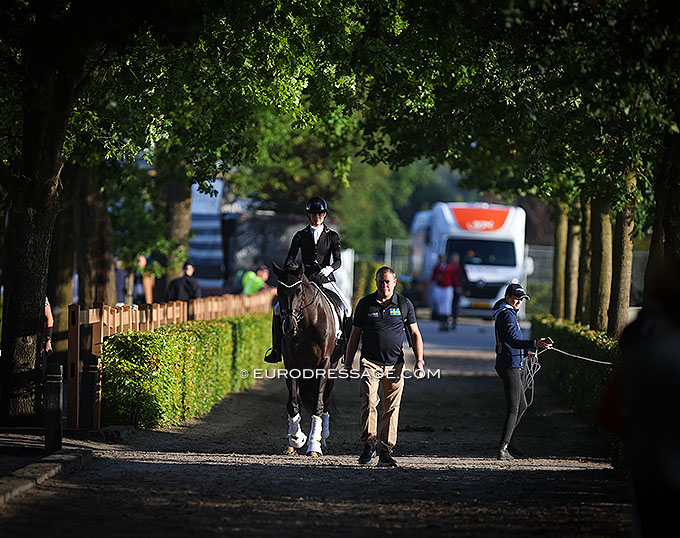 Judge Eddy de Wolff van Westerrode was in awe of the quality of the group.
"The level was high today and the first three combinations are so close in scores. We could already award one ten today and there were so many combinations that were so close to that mark. The top-three was presented in a wonderful manner by three strong riders. The competition is definitely wide open. Anything can happen in the final," said Van Westerrode.
The 6-year old finals are Sunday morning
Photos © Astrid Appels  - NO REPRODUCTION ALLOWED (NO SCREEN SHOTS!)
Eurodressage photographed (almost) all riders competing at the 2022 World YH Championships. If you are want to use our photos for social media or prints, email us first.
Related Link
Eurodressage Coverage of the 2022 World Championships Young Dressage Horses
Scores: 2022 World Championships for Young Dressage Horses