The Netherlands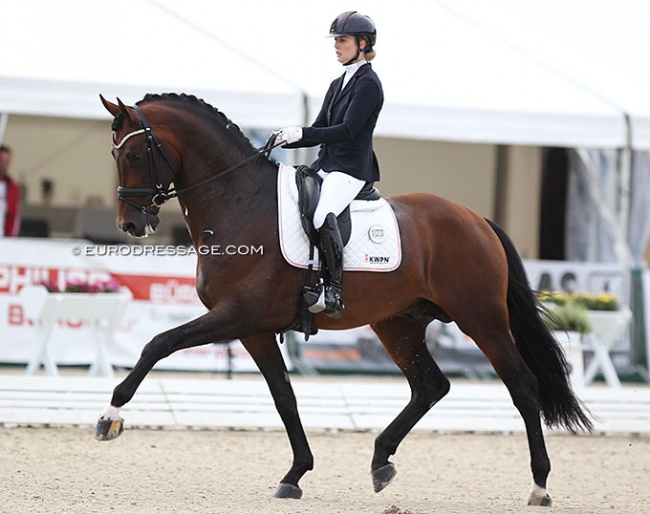 Dutch Grand Prix team rider Emmelie Scholtens has taken over the ride on the licensed KWPN stallion Las Vegas, who was previously competed by Frank Loos.
Las Vegas is a 6-year old Dutch warmblood stallion by Ferdeaux out of Dalia Delin (by Wynton x Houston). He is bred by John Deenen.
Performance Test Winner
Owned by horse dealer Nico Witte and Nol Gerritsen of stallion station De Dalhoeve, Las Vegas was licensed at the 2019 KWPN Stallion Licensing but did not receive the premium label. He was named Lardeaux at the time.
The bay won the stallion performance test in the autumn of 2019 though, scoring 90 points, and was renamed Las Vegas. 
Under Franka Loos the gigantic 1.80m + standing stallion was highly successful on the Dutch show circuit.  The pair won the 2021 and 2022 KWPN Stallion Competition finals and the 2021 Pavo Cup. They represented The Netherlands at the World Young Horse Championships in Verden, where they finished fifth.
Emmelie Scholtens
The ride on Las Vegas has now been given Emmelie Scholtens, whose father-in-law Nico Witte co-owns the stallion.
"It is so nice that my daughter-in-law and brand new mum is going to ride Las Vegas," Nico Witte told KWPN. "The upcoming period Las Vegas will be trained by Madeleine Witte until Emmelie is fit to compete."
Scholtens, who gave birth to her first child Micky Mae on 7 February, is already back in the saddle. She showcased her rising Grand Prix star Indian Rock at the Brouwers stallion show last weekend. Emmelie missed out on Olympic team selection with Desperado due to an injury. 
Photo © Astrid Appels
Related Links
Le Formidable, Champion of the 2019 KWPN Stallion Licensing
My Precious, Las Vegas, Kadiene Win 2021 Pavo Cup Finals
Las Vegas, High Scorer of the 2019 KWPN Autumn Stallion Performance Testing
Las Vegas and Kjento, High Scorers in 2021 KWPN Stallion Competition Finals Alternative
McLaren, Las Vegas, Taminiau Win 2022 KWPN Stallion Competition Finals
Bingo Wheel Turns in 5-year old Preliminary Test at 2021 World Young Horse Championships
Open Range 5-year old World Young Horse Championship Finals, Bull's Eye for Hesselhøj Down Town