2022 World Championships for Young Dressage Horses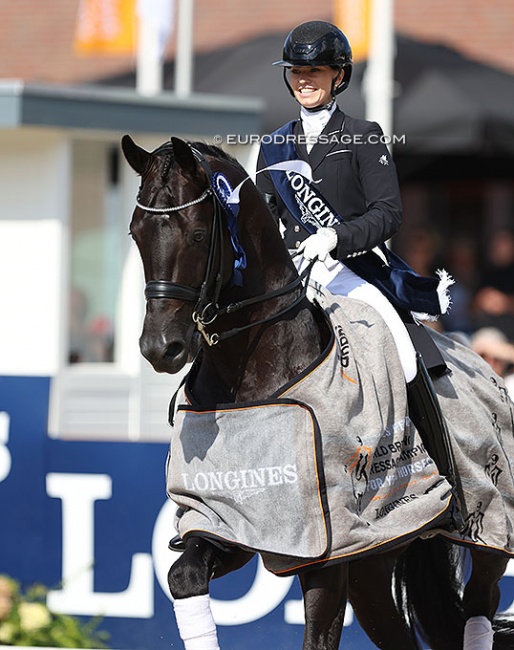 - Text and Photos © Astrid Appels (this article expresses Appels' eye-witness account and opinion about the competition).
They year 2022 has turned into Charlotte Fry's annus mirabilis. After winning double gold at the 2022 World Championships Dressage in Herning on former Young Horse World Champion Glamourdale, the Dutch based Briton reclaimed her WCYH title with Kjento at the 2022 World Championships for Young Dressage Horses in Ermelo.
The 2022 WCYH came to a conclusion on Sunday 11 September 2022. After three days of competition in rainy weather, the sky opened up on Sunday and graced the KNHS/KWPN show grounds with rays of sunlight after a misty morning start. 
Fifteen combinations competed in the 7-year old finals, 12 qualified directly in the preliminary test and the top three scoring pairs of the consolation class moved onto the finals as well. 
Fry Reclaims Title with Kjento
Charlotte Fry has been living on a high this entire summer after career highlight success in Herning on Glamourdale. She arrived in Ermelo with her 2021 World YH champion Kjento (by Negro x Jazz) as the hot favourite for gold and completely lived up to that role. 
With young horses it is always interesting to see how they progress up the levels and not all of them show similar steady progress. Some horses need extra time, or experience a lull in their development. Kjento won the preliminary test on Friday with 84.415 % but the higher demand for collection in the developing Prix St Georges horse programme showed a little in the black stallion's body. The topline tightened a bit more and the rhythm in the walk got compromised at times. However, Fry is born competition rider and seem to thrive on adrenaline. When it matters for medals, the petite lady has nerves of steel.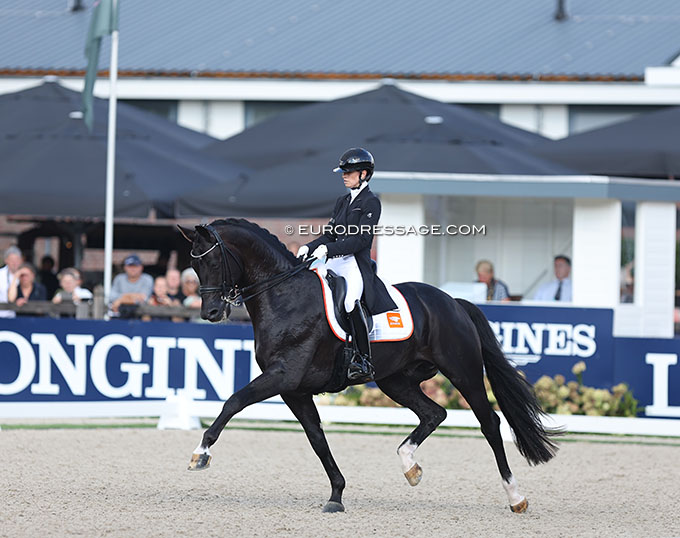 Kjento, who is bred by Ad van Os and owned by Gert-Jan van Olst, won the 7-year old Finals in an imposing way. He began his test with a stretched halt at X and delivered trot work with much cadence, also in the lateral movements, and super suspension and ground cover in the medium and extended trot. The trot was very powerful and forward and the horse seemed to steam ahead into the rider's hand instead of moving fully in self-carriage. In the give and take of the reins, he could have stretched the nose out more and seemed to tilt to the left. The extended walk did not have the greatest of overstep and in the collected walk he became short and rigid in the topline in between the walk pirouettes. In canter, Kjento impresses as much as his stable mate Glamourdale, although the former has a silhouette and locomotion that is a bit more "rounder". The horse is actively jumping from behind and generates much airtime. The uphill extended canters were a highlight. The tempi changes were straight, but one noticed that in the changes to the left the hindleg does not reach as much under as to the right. The pirouettes were a bit big but with even strides. 
The judges' panel, consisting of Alban Tissot (FRA), Juan Carlos Campos (ESP), Peter Storr (GBR), Maria Schwennesen (AUS), and Hans Voser (SUI), rewarded the test with a winning 85.786%. Kjentp got 8 for walk, 10 for trot 9.2 for canter, 9.5 for submission and 9.8 for perspective. HIs quality score was 93.00% and his technical mark 78.572% for the technical execution of the test.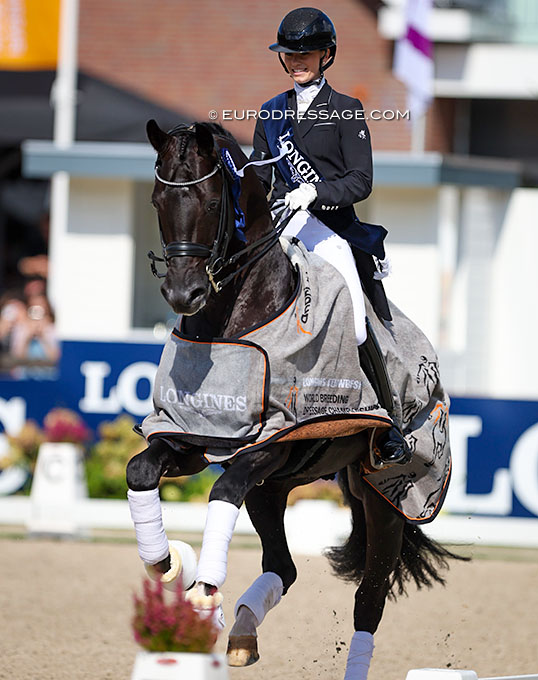 Australian judge Maria Schwennesen provided the live commentary and she praised the stallion for "working very well for you with that power, while still remaining in balance. It's very impressive."
Fry is getting used to winning it all and was thrilled with the title.
"We're just enjoying it while it lasts. It won't last forever," she said about her winning streak. "Kjento has the most incredible character. All he cares about it food. He is super chill as you saw on the prize giving. After we had a nice clear round in the qualifier, today we went for much more power."
Arriving in Ermelo as the reigning World YH Champion, Fry admitted it brought extra pressure. 
"You feel more pressure coming into it," she said. "You have to prove that he still is as amazing as the year before. I didn't have too much to be nervous of. The only bit was there were still four more riders after me (in the Finals test), so I was pacing a lot. I rather go last."
Silver for Destello
Beatrice Buchwald is a familiar face in Ermelo: in 2016 she won the gold medal and title in Ermelo aboard Victoria's Secret. The mare sold to Danish Anna Kasprzak but an injury has sidelined her since then. Six years later, Beatrice returned to Ermelo now named Hoffrogge.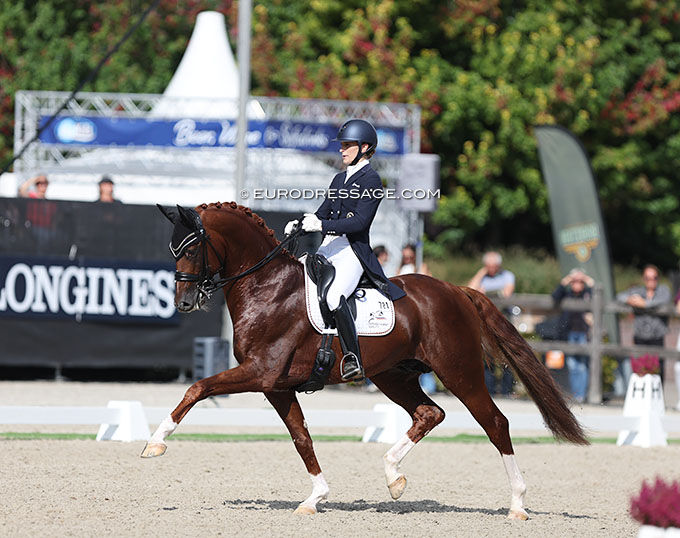 Aboard Sophie Fabri's Oldenburg licensed stallion Destello OLD (by Dimaggio x Furst Fugger) she was third in the preliminary test and climbed to second place in the finals, good for silver. Bred by Stefanie Löhmann, the liver chestnut Destello stood out with his elastic and super soft-footed trot work. The trot extensions were very ground covering but in the right trot half pass he rushed a bit. The walk was relaxed with small walk pirouettes. In canter Hoffrogge rode all the movements in a soft and beautiful way, even though he dropped a bit in the poll in the right canter half pass and one flying change was in two phases. The stength of this combination was the superb presentation of the horse in a light, unforced contact. 
The judges praised the ride as a "super performance with so much expression, such elegance and a soft-footed way of going." They scored the ride 83.957% with 8.9 for walk, 9.8 for trot, 9 for canter, 8.9 for submission and 9.5 for general impression. The quality score was 92.2% and the technical mark 75.714. 
Beatrice beamed with pride at the press conference. Her young Destello had only done one S-level test before heading to Ermelo. 
"He is one of the best horses I have ever ridden. I didn't plan on going to the World Championships. We did one competition and it went really well, so we decided to try it," she said haphazardly. "He has so little experience at shows, especially these big shows. He has such a strong character with three amazing gaits."
Bronze for Escamillo
Last year's silver medal winning pair, Spaniard Manuel Dominguez Bernal and Escamillo, settled for bronze this year.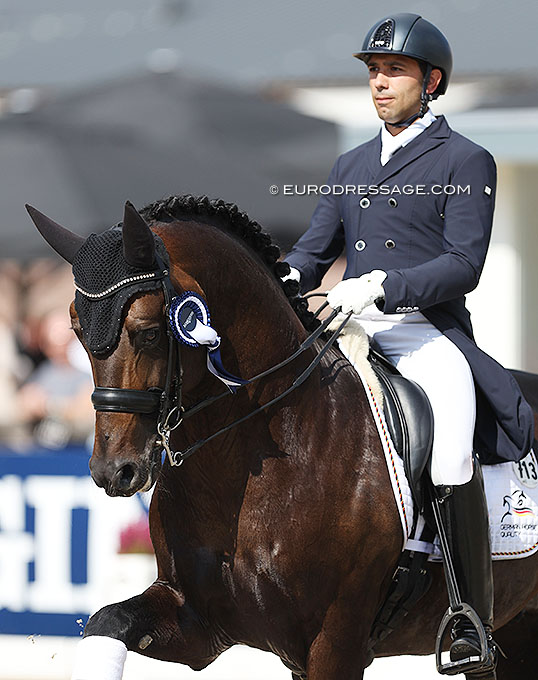 Bred at Gestüt Tenterhof and owned by American Kimberley Davis-Sloud, the dark bay Rhinelander stallion (by Escolar x Rohdiamant) has became a lot more chunky and muscled over the past year. The trot work was rhythmical and in the extensions he did cover good ground, but he broke into canter in the first one and dropped in the poll in the second one. Escamillo has a classy walk with much overstep and good rhythm in the extension, but in the collected he gets a bit prancy. The canter work showed plenty of quality with especially the very straight changes as highlight. The canter appeared very adjustable and rideable but overall more uphill tendency should be achieved. 
The judges rewarded Escamillo with a 83.072% for third place. The breeding stallion got 9 for walk, 9.5 for trot, 9 for canter, 8.5 for submission and 9.5 for perspective. He totalled 91% for quality and 75.143% for the technical execution of the test. 
At the press conference, Manuel was smiling and economical with his words about the day. 
"I'm really happy. It's an amazing feeling," said the German based Spanish rider who works for Helen Langehanenberg. "He has a lot of quality in the movement. He's amazing stallion with a lot of character."
When asked about his future on the horse he said, "we'll see."
First is Fourth
The first to go in the Finals test ended up fourth in the class; but could easily have gotten more points. German based Portuguese rider Joao Pedro Moreira and Fürst Kennedy scored 79.422%.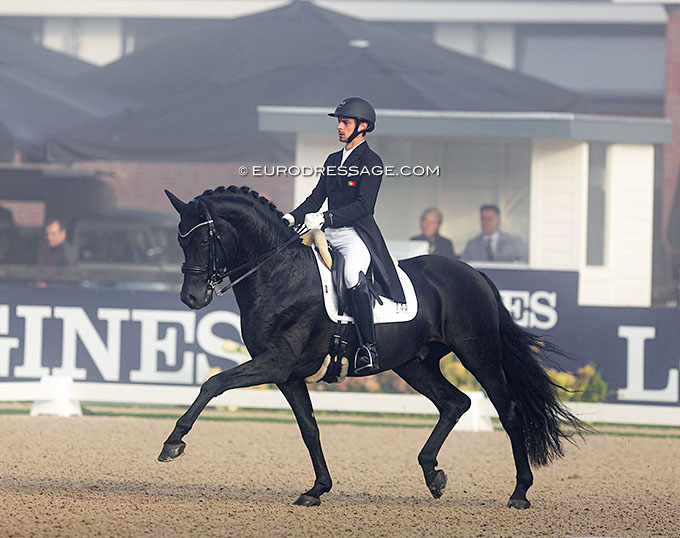 Bred by Paul Schockemöhle and owned by the rider in partnership with Roberto Pedrosa, Fürst Kennedy is an Oldenburg stallion by 2018 WCYH bronze medal winner Fürsten-Look and out of a Don Kennedy dam. The compact 7-year old looked incredibly established in the Prix St Georges work. His trot was regular, uphill in the extensions, and fluent. He showed a good stretch in the give and take of the reins. The walk had huge overtrack and the canter was uphill with super sit in the pirouettes. 
The pair received 8 for walk, 8.9 for trot, 8.5 for canter and submission and 8.7 for perspective. This turned his quality mark into 85.20% and for the technical execution he got 73.642%. With 79.422% they were fourth. 
"No words to describe how good it feels to be among the four best 7-year old combinations in the world," said Moreira. "Our dear Drosa Fürst Kennedy is really an amazing stallion and he keeps delivering breathtaking performances! I'm thankful to my dear friend Roberto Pedrosa for believing that this would be possible."
Britain's Best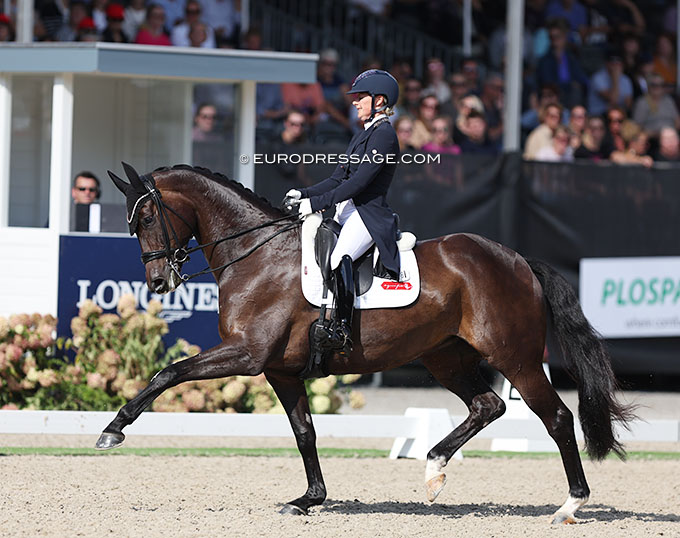 With six slots available to fill, Great Britain only sent four horses to Ermelo this year and two of them made it into the finals. Britain's best turned out to be the 7-year old British Hanoverian bred Swanmore Dantina (by Dante Weltino x Charatan W), bred by Ben St. John James and owned by rider Sadie Smith. 
An assistant rider of Carl Hester for five years, Smith went to work for Van Olst Horses in The Netherlands in November 2021 and returned back to the U.K. in February 2022. Aboard her bay mare she showed trot work that clearly had pep in its step with big, expansive extensions. The mare was not yet very steady in poll and dropped behind the vertical in the right half pass. The extended walk had good marching and relaxation, but in the collected she came close to being lateral. The canter work still looked green but had plenty of potential. The mare changed in the right pirouette and the flying change in between canter half passes was short behind. Still they are a pair to watch for the future 
The judges rewarded Dantina with 7.5 for walk, 9 for trot, 8.5 for canter, 8 for submission and 8.8 for perspective. The quality score was 83.60% and the technical mark 74.357% which resulted in a fifth place with 78.979%. 
Any of the Top Three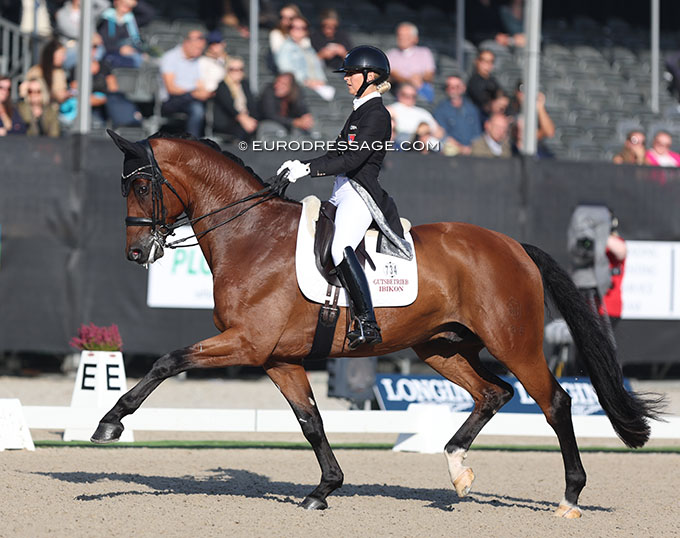 Judge Peter Storr spoke for the ground jury at the press conference.
"Any of the top three horses could have won. They are super good horses and super good riders. It came down to mistakes, small mistakes," said Storr. "Obviously Kjento was amazing. He was very powerful and she rode a beautiful test, Destello is very elastic, We liked all three of them and had to find a winner."
Photos © Astrid Appels  - NO REPRODUCTION ALLOWED (NO SCREEN SHOTS!)
Eurodressage photographed all riders competing at the 2022 World YH Championships. If you are want to use our photos for social media or prints, email us first.
Related Link
Eurodressage Coverage of the 2022 World Championships Young Dressage Horses