Sweden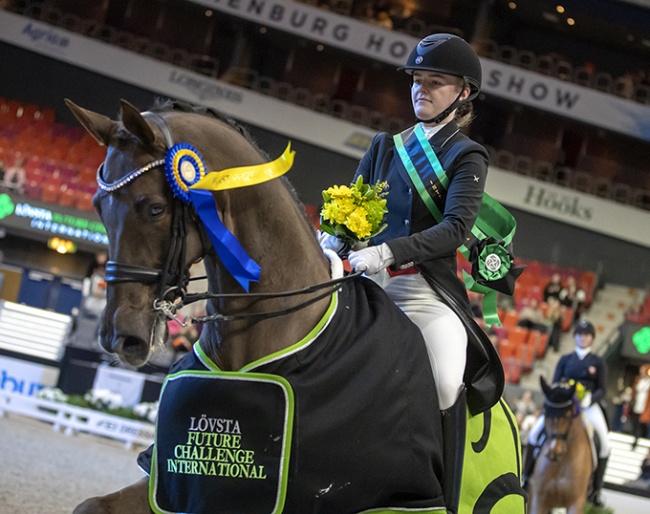 The Lovsta Future Challenge - a Swedish national show circuit for Under 25 Grand Prix riders - is going international. Lovsta has signed a contract with three World Cup Qualifiers for an international Under 25 tour. 
Lovsta has partnered with the World Cup Qualifiers in Vilhelmsborg (17 - 23 October 2022), Amsterdam (25 - 29 January 2023), and Gothenburg (22 - 26 February 2023)
Invitation Based
Each event has a total of 8 competitors, with the organizing countries Sweden, Denmark and Holland each having (at least) two places. All countries are invited to apply for the two remaining places.
Each event consists of two classes: the FEI U25 Grand Prix followed by FEI Grand Prix Kür. 
Supporting the Future
Antonia Ax:son Johnson, owner of Lövsta Stuteri and founder of the Lövsta Future Challenge, is happy to be increasingly involved in dressage sport.
"My lifelong passion for horses and my unwavering belief in the developmental power of young talent have shaped Lövsta Stuteri's operations since the beginning over 20 years ago. The Lövsta Future Challenge has become our guiding light as we realize this vision. Now we are taking yet another step with the Lövsta Future Challenge International Tour, where young dressage talent gains international experience at the highest level. It is a great pleasure to once again extend our support to equestrian sports in this way," said Antonia.
Measure Out
Bo Jenå, Sweden's Grand Prix team captain, commented, "I am very much looking forward to following Lövsta Future Challenge International Tour, and especially because it's held at such well-known and established events as in Gothenburg, Amsterdam and Vilhelmsborg."
He continued, "for us, in the national team management, the U25-riders are an important category of riders to follow. They are about to take the leap into Grand Prix-level, and we believe it is important for them to be able to measure themselves against equal, international riders before they enter senior level."
Related Links
Lovsta Future Challenge Cup, a New Initiative to Strengthen the Future of Swedish Dressage
Emma Jonsson and Gerion Win 2021 Swedish Developing Grand Prix Horse Finals
2013 Lovsta Future Challenge Finalists Known
Blue Hors and Lovsta Stuteri to Collaborate