Hanoverian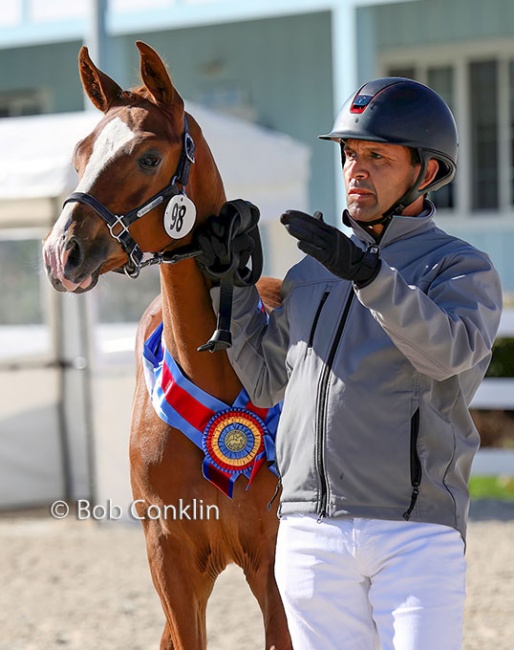 On the opening day of the Devon Breed Show during the Dressage at Devon CDI international competition week, the colt Fahrenheit Hilltop claimed the title in the Foal Championship. 
The Breed Show takes place over three days and began on Tuesday 27 September 2022 with the youngest taking centre stage, the foals. 
Foal Champion
In the Wheeler Ring's first awards ceremony of the day, the Foal Championship went to Fahrenheit Hilltop, a chestnut Hanoverian colt by Blue Hors Farrell out of Raureif (by Ramiro's Bube), bred by Sally Fish and owned by Hilltop Farm. Presented by Michael Bragdell, this colt was presented with the Sally Martin Memorial Perpetual Trophy along with his new champion ribbon.
Four foals competed for the Champion's title and the reserve champion was Iron Callista TR, a black Hanoverian filly by Iron out of Comic Callista (by Comic Hilltop). She is bred, owned and presented by Robin Birk of Timber Ridge Equestrian centre from Ruffs Dale, PA.
Third place went to Southern Belle MP, a bay KWPN filly by Vilancio out of Darling ISF (by Sir Sinclair). She is bred by MP Sporthorses and owned by Melanie Harper. 
Foals of the Current Year
Fahrenheit Hilltop began his conquest at Devon by winning the colt/geldings of the current year class. The judges rewarded him with 98.5 for frame, and head/neck/shouler, and they gave him 9s for back, croup, legs, and feet. For walk he got 8, for trot a 10. The general impression score was 9.5, which made his overall total 91.250%.
The Westfalian bred pony colt GWS Chicago (by Censational x Popeye) was second in the colt category with a total score of 79.600%. He got 8.5 for frame, head/neck, shoulder, 9 for back/loin/croup, 8 for his legs and feet, 7.5 for walk, 7.8 for trot and 8.2 for general impression. 
In the fillies of the current year class, Melanie Harper received highest honour with the KWPN registered Southern Belle MP (by Vilancio x Sir Sinclair) who totalled 82.90%. This filly got straight 8s for her general conformation and walk, and 8.8 for trot and 8.5 for general impression. Robin Birk's Iron Callista TR (by Iron x Comic Hilltop) was second in this division with a score of 79.050%. This filly got 8 for frame and topline, 9 for neck and shoulder, 8 for back, loin, and croup, 7.8 for legs and feet, 8 for walk, 7.8 for trot and general impression. 
Pony Foal Championship
For the fourth time at the Devon Breed Show pony breeding classes were included in the programme. 
In the Pony Foal/Yearling Championship GWS Chicago, owned and shown by Amy Brumbach and bred by Angela Mirarchi, moved into the winner's circle for the champion sash.
Phable of Rapunzel, a yearling filly (by Phenix out of Rapunzel (by Rambo));, owned and shown by Keri Blizniak and also bred by Angela Mirarchi, took home the red ribbon, while Fox Hills Knight's Tale, a Hanoverian yearling colt by Pixar out of WPF Special Edition (by Woodberry's Hot Topic) owned, shown, and bred by Brigitte Deitz, finished in third place. 
Photo © Bob Conklin
Results - 2022 Devon Breed Show
Fillies - born in 2022
1. Melanie Harper - Southern Belle Mp (KWPN, by Vilancio x Sir Sinclair) - 82.900%
2. Robin Birk  - Iron Callista Tr (HANN, by Iron x Comic Hilltop) - 79.050%
3. Melanie Harper - Symphony Mp (KWPN, by Mambo No 5 x Ferro) - 78.375%
4. Olga Iglikova - Franchesca Hh (HANN; by Franklin x Foundation) - 78.150%
5. Quinnten Alston - Sapphire ISF (KWPN, by Secret x Oscar) - 77.600%
6. Grace Usdin - Gedalia C (OLD, by Gaudi x Devon Heir) - 77.550%
7. Jessica Chappell - Faramour (WESTF, by Faramund x San Amour) - 77.350%
8. Caroline Cox - Vita Fiamma (OLD, by Vasari x David Bowie MF) - 77.150%
9. Kendall - Snyder Ziveli (Arab cross, by Zonyx)  - 76.750%
10. Domenique Carson - Gallant Guinevere (OLD, by Gallant Reflection x De Laurentis) - 76.500%
11. Quinnten Alston - Tanzanite ISF (Friesian, by Ulbert 390 x Tjablbert 460) - 74.850%
Jennifer Valentine - Figment Wildflower (Morgan, by Amberfields Embossedngold) - DNS 
Colts - born in 2022
1. Michael Bragdell - Fahrenheit Hilltop (Hann, by Farrell x Ramiro's Bube)  - 91.250%
2. Amy Brumbach - Gws Chicago (WESTFl, by Censational x Popeye) - 79.600%
3. Angela Gell Stanaway - Frankly My Dear Bc (HANN, by Finnigan x Sinatra Song) - 78.950%
4. Brenna Herron - Fearless and Free (WESTF, by Freedom RS x Sinatra Song) - 77.625%
5. Kendra Hansis - December H2o (OLD, by Diesel CF x For Romance) - 77.225%
6. Angela Gell - Stanaway Tough Love BC (HANN, by Toronto x Le Primeur) -  76.125%
7. Morgan Collito - Fioravanti CF (HANN; by Finnigan x De Noir) - 75.225%
8. Stephanie Noberini - Beau Coeur CF (HANN, by Bon Coeur x Sagnol) - 74.575%
9. King Santacruz - Zurich HTF (HANN, by Zenon x For Romance) - 73.950%
10. Olga Iglikova - Benino HH (HANN, by Benicio x Sandro Hit) -  73.425%
11. Rob Robillard - Verity Ash (OLD, by Vitalis x De Niro) - 72.825%
12. Lindsey Berry - Starberry Reveiller (Morgan, by Wintergreen Beaufort x BCT Gentleman in Black) - 69.475%
Foal Championships
1. Michael Bragdell - Fahrenheit Hilltop
2. Robin Birk - Iron Callista TR (by Iron x Comic Hilltop)
3. Melanie Harper  - Southern Belle MP
4. Amy Brumbach - GWS Chicago 142
Pony Foal Championship
1. Amy Brumbach - GWS Chicago
2. Keri Blizniak - Phable of Rapunzel (by Rapunzel x Rambo)
3. Brigitte Deitz - Fox Hills Knights Tale
4. Kristen Deluca - Primo Amore
Related Links
Foo Fighter QC Named Foal Champion at 2021 Devon Breed Show
Oskar Named Foal Champion at 2019 Devon Breed Show
Noah ISF Named Foal Champion at the 2018 Devon Breed Show
Louisville HTF Named Foal Champion at the 2017 Devon Breed Show
Logan ISF Named Foal Champion at 2016 Devon Breed Show
Quartet GSH and Figawi 121 Win 2014 Devon Breed Show Foal Championship Classes
David Bowie MF Named Foal Champion at 2012 Devon Breed Show
Cha Ching Named Foal Champion at 2011 Devon Breed Show