2022 Dressage at Devon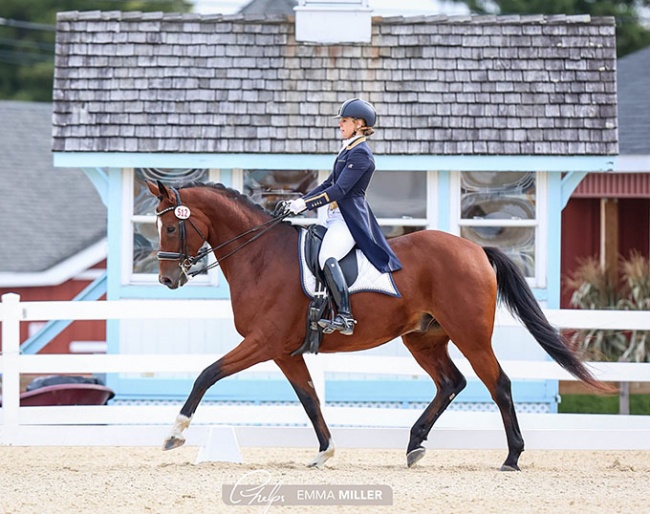 The 2022 edition of Dressage at Devon moved from the breed show into the performance division with three action packed days of competition from Friday 30 September 2022 to Sunday 2 October. 
Erin Bonneville won the Prix St Georges 3*, while Canadian Shannon Dueck captured the blue ribbon in the 1* Prix St. Georges. Brand new U.S. Grand Prix Champion Alice Tarjan claimed victory in the Grand Prix for Freestyle CDI-W.
Bonneville Best in 3* Prix St Georges
The CDI3* Prix St. Georges class held in the Wheeler Ring saw a field of eight international athletes start the morning. Ultimately, it was the United States' Erin Bonneville who took the top honours with Qennett HTF.
Silva Martin first entered the arena with Esperanto, a 13-year-old KWPN gelding owned by Christine Capano. The pair set the standard with a score of 69.363%, earning consistent marks of 7 across the board for many of the technical movements such as the half-passes, extensions, and tempi changes, she was able to secure the top placing on the leaderboard until Erin Bonneville and Qennett HTF, her own 8-year-old Hanoverian gelding (by Qredit Hilltop x Negro) bred at Hilltop Farm, stepped in the ring.
Bonneville and Qennett HTF also earned high marks in many technical movements, earning a score of 8 for one of their half pirouettes and 7.5 for several of their tempi changes and counter canters. The additional movement marks and collective marks were enough to edge them ahead of Martin and Esperanto, where they remained for the rest of the order to take home the victory. Martin and Esperanto finished with the second place ribbon and their score of 69.363%.
Canada's Christian Garweg finished in third place on Excalibur RS, a 13-year-old Danish Warmblood gelding (by Johnson x Lancer II) owned by Karen Meyer, with a score of 66.961%.
"I got him when he was a baby from Hilltop Farm, and I've had him ever since," said Bonneville after the class. "We worked him up the levels, he debuted last year at Third Level, and this year he came out at Prix St. Georges We have been working with Michael Bragdell who rides Qredit Hilltop, who is Qennett's dad. He is here at this show with his sire, and he should be a nice horse."
Bonneville is thrilled and overwhelmed by her Devon win. 
""It feels so good, I've never won anything at a big show like this. We've done local shows and stuff but not a big show," she said. "Qennett did Nationals last year, and he did well. We came in the middle of the pack. It was his first show season, he just showed last year Third Level, and this year he did Prix St. Georges, Intermediate I and we wiggled in a Freestyle too." 
Dueck Wins 1* Prix St Georges
In the CDI1* Prix St. Georges class  it was Shannon Dueck and Angelika MW, a 7-year-old Oldenburg mare by Franziskus x Welt Hit II, that took the trophy home with an overall combined score of 71.471%. The young mare is bred out of Dueck's former international GP mare Aysche and is owned by a syndicate, including Shannon Dueck, Elizabeth Ferber, Kathy Putnam, and Julie Skinner.
Second in the winner's circle was Mary Lauritsen and Jaccardo, an 8-year-old KWPN gelding (by Desperado x Jazz) owned by Victoria Lunt, with a combined score of 69.510%. In third was Shannon Dueck once again, this time on As You Wish, her 10-year-old Hanoverian gelding (by Wilkens x Contendro II) with a score of 69.265%.
Tarjan Continues Winning Streak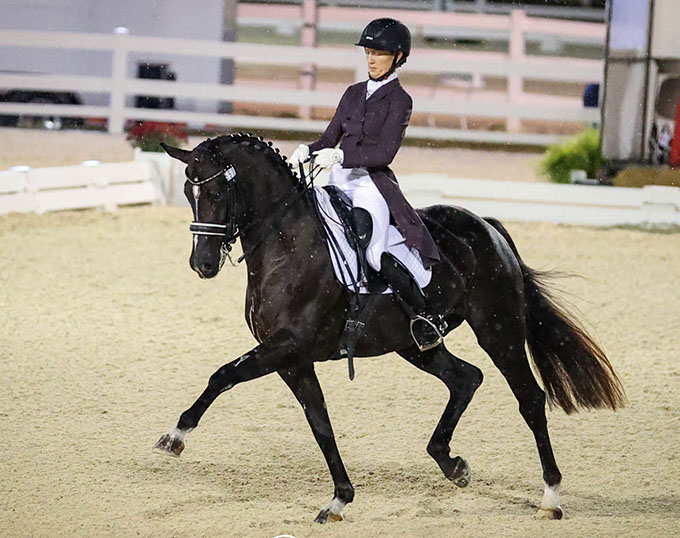 Alice Tarjan and Serenade MF, her 9-year-old Oldenburg mare by Sir Donnerhall x Don Principe, claimed the victory in the Grand Prix for freestyle. The combination, who were named the USEF Grand Prix Dressage National Champions just last month in the U.S. Dressage Festival of Champions, laid down a consistent and expressive test to score 71.804%. 
Canada's Megan Lane and Zodiac MW, an 18-year-old KWPN gelding (by Rousseau x Amethist) owned by Lane and Deer Ridge Equestrian, were last to ride, setting their sights on besting Tarjan's score. They put forth a strong effort to earn a score of 67%, and settled for second place.
At the wrap of the class, it was Tarjan who was presented with the trophy. Lane went home with second place, while last year's CDI-W Grand Prix winner, Michael Bragdell and Qredit Hilltop, a 14-year-old Oldenburg stallion (by Quaterback x Dream of Glory) owned by Hilltop Farm were third with a score of 66.391%.
""It wasn't what we had in the warm up, but it's always a work in progress. Hopefully tomorrow will be better and we have a better horse tomorrow. It's an ongoing process to try and get the quality I can get in the warmup in the ring, but she doesn't let you down, she really tries her heart out," said Alice after her ride. 
Tarjan, who is from Oldwick, N.J,  is thrilled to support Dressage at Devon, which has a long history but now struggles to fill classes with most riders permanently based in Florida, where Hurricane Ian hit this week.
"I think it's a fantastic show — that's why I came, to show support," said Alice. "It would be great to see it go forward in the future. You have a crowd and they're closer to the arena, definitely more spectators here than other U.S. shows, so that's exciting. I would have never thought I'd come back and win. The first time I came here I had cancer. I thought, 'this is so cool…if I can live long enough, I just want to come back and ride here. It's been a journey."
Text © Devon press release, reworked and expanded by Eurodressage - Photos © Emma Miller
Related Links
Scores: 2022 CDI-W Devon
Argentinian Micaela Mabragana Wins First CDI Grand Prix in Career at 2022 CDI-W Devon
Noblewood Tarpania Named Grand Champion of the 2022 Devon Breed Show
Fahrenheit Hilltop Named Foal Champion at 2022 Devon Breed Show