KWPN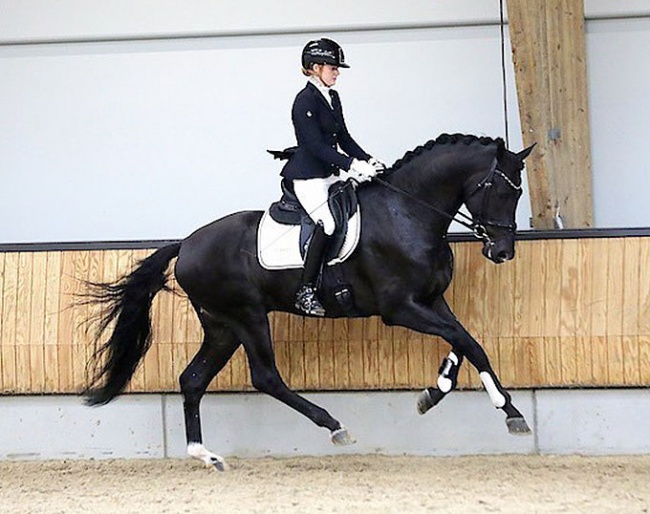 Fourteen dressage bred stallions have been entered for the 2022 KWPN Autumn Stallion Performance testing which begins on Monday 31 October 2022.
The testing will begin with a saddle presentation. Fourteen have been entered including one dressage stallion who has not been licensed yet but hopes to achieve that status after a successful testing. 
The autumn testing will feature several of the premium stallions of the 2022 KWPN Licensing last february, including Otazu, Opoque, One-Two-Three, as well as Gorgeous Black Art, who rolled onto the licensing path through the Pavo Cup.
The saddle presentation is the first moment where the stallions will be presented under saddle to the licensing committee. They will decide if the stallions' rideability and quality are up to standard to begin the 21-day testing. 
In a press release, the KWPN society stressed the fact that it is forbidden to clip whiskers and ears.
Entered for the testing are:
Otazu (by All at Once x Negro) - Breeder & Owner: Stal 104
Opoque (by All at Once x Davino VOD) - Breeder: Stal 104 - Owner: Stal 104 & Andreas Helgstrand
Oké HT (by Dream Boy x Uphill) - Breeder A. Hofenk - Owner: Daniel Mosterdijk
Odysseus P (by Foundation x Painted Black) - Breeder: Pegasus Stables - Owner: Pegasus Stables, Van Uytert, B. Blauwgeer
Blue Hors Freelance (by Furst Bischoff x Samba Hit) - Breeder: ZG Strathusen - Owners: Van Uytert & Blue Hors
Oz (by Kaiser Weltino x Houston) - Breeder: R & I Veninga - Owners: R & I Veninga & Matty Marissink
Olivier (by Kingston x Florencio) - Breeder: W. van der Aa - Owner: W. & J Van der AA and Stal van de Sande
MSJ Springbreak (by Springbank II x Ampere) - Breeder: Emma Blundell - Owner: Turfhorst
Obsession (by Vitalis x All at Once) - Breeder & Owner: Stal 104
One-Two-Three (by Vivaldi x D-Day) - Breeder & Owner: Stal 104
Frederic (by For Romance x Fidertanz) - Breeder: H Schulte - Owner: Van Olst
nn (by Ibiza x For Romance) - Breder C. Ortmann Ellerbrock - Owners: Reesink
Gorgeous Black Art (by Toto Jr x Rubiquil) - Breeder: K. Visser - Owner: Stal Hexagon
Del Guapo (by Vivaldi x Apache) - Breeder: M Gotink - Owner: Van Uytert
Detailed entry list here.
Related Links
Willeke Bos, KWPN Breeder of the Year 2022
Four Premium Colts, Thirty-Nine Accepted at 2022 KWPN Stallion Licensing
Extreme U.S, High Scorer of the 2022 KWPN Spring Stallion Performance Testing