KWPN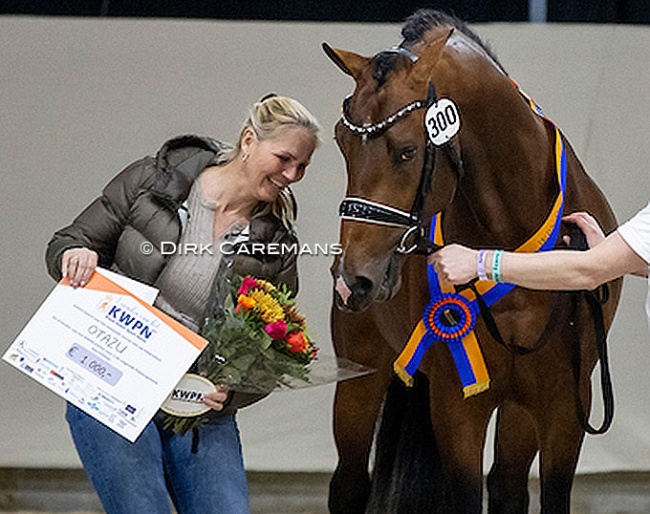 At the 2022 KWPN Horse Days on 5 August 2022, Wileke Bos of Stal 104 has been proclaimed KWPN Breeder of the Year 2022. 
There is no denying Bos' breeding programme, especially after the 2022 KWPN Stallion Licensing in which she had no less than three premium stallions and a fourth licensed stallion from her yard!
In a relatively short time, Bos and Stal 104 in Wijdewormer, The Netherlands, developed into a leading Dutch warmblood breeder. Willeke only took up "serious" breeding 15 years ago and through good and advice she turned her business into a thriving one, both in breeding and sport.
It all began when she bought the foal Vitalis (by Vivaldi x D-Day) together with horse dealer and stallion owner Eugene Reesink. Vitalis sold to Charlotte Jorst and later on to Lone Boegh Henriksen/Paul Schockemöhle to become a foundation stallion. 
Since then, Bos' horses have competed at the Olympic Games (All at Once) and European Youth Championships (Fynona). She has four breeding products at Grand Prix level and seven at small tour level. 
Her success at the 2022 KWPN Licensing was beyond comparison. She has bred premium colts Opoque (by All at Once x Davino VOD), Otazu (by All at Once x Negro), and One-Two-Three (by Vivaldi x D-Day). She also bred One-Two-Three's full brother My Vitality, and Jameson RS2. Horses with the suffix "Taonga" also originate from her barn.
Photo © Dirk Caremans
Related Links
Four Premium Colts, Thirty-Nine Accepted at 2022 KWPN Stallion Licensing
Madeleine Winter-Schulze Invests in KWPN Stallion Majestic Taonga
Seven Premium Colts Named at 2020 Danish Warmblood Stallion Licensing
Like A Diamond, Champion of the 2012 Westfalian Stallion Licensing
Previous KWPN Breeders of the Year
Naber Family, KWPN Breeders of the Year 2021
Jan Streppel, KWPN Breeder of the Year 2020
Willy Wijnen, KWPN Breeder of the Year 2019
Isabel and Wil van Gisbergen Named KWPN Breeder of the Year 2018
Leunus van Lieren, KWPN Breeder of the Year 2017
Marianne Hendriksen Named 2016 KWPN Breeder of the Year
Rene Franssen Named 2015 KWPN Breeder of the Year
Jan Lamers Named 2014 KWPN Breeder of the Year
Emmy de Jeu, KWPN Breeder of the Year 2013
Van Os Family, KWPN Breeders of the Year 2012
Jansen Family, KWPN Breeders of the Year 2011
Van de Valk/Van Anholt Proclaimed KWPN Breeders of the Year 2010