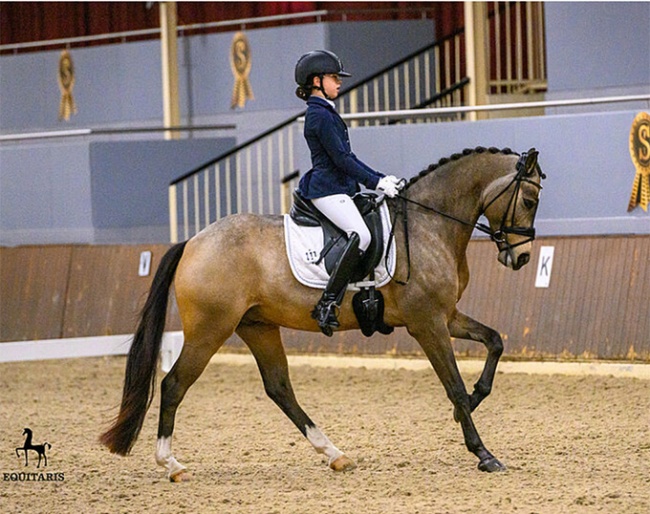 Madlin Tillmann became the winner of the 2022 German Developing Pony Rider Championships held at the indoor competition in Ankum, Germany, on 5 - 6 November 2022. Aboard the 6-year old Mister Prime Time, she scored the highest overall total of 17.40 points.
A total of 22 pairs competed in the Developing Pony Rider Championships, which are the stepping stone for young pony riders to FEI level pony sport.  The combinations have to contest two L-level tests and the results are totalled for the final ranking.
This year they were judged by Wolfgang Schierloh and Nicole Nockemann. They pay special attention to the seat and use of aids. 
Tillmann Wins
The 12-year old Madlin Tillmann hails from Grevenbroich and piloted the very young, 6-year old German riding pony gelding Mister Prime Time (by Movie Star x Hemmingway B). Bred and owned by Madlin's aunt Lina Wurm (née Claren), the buckskin gelding led his young rider to a double victory, winning round one with 8.4 points and round two with 9.0 points. 
"I'm so excited about the future. We have so much young talent," said German pony team trainer Caro Roost. "Madlin has a very good, supple seat, and showed a lot of feeling and overview in the tests. It's noteworthy how she presented her young pony at her young age."
Madlin grew up around horses with her father Frederic and her uncle Gilbert Tillmann being renowned show jumping riders. She has been riding her buckskin since 2020.
"I'm very happy with the title but I'm especially proud of my pony,"  Tillmann told Equitaris. 
Otten and Radovic On the Podium
The silver medal went to 13-year old Philine Otten aboard the 6-year old German riding pony gelding Dr. Best (by Dating AT x Dublin). She was third in the first round with 8.1 points and moved into second place in the second round with 8.50, scoring a total of 16.6 points. Dr. Best is owned by Katharina Forner-Otten and Philine has been competing him since 2020. Otten was already a silver medalist at the 2021  German Developing Pony Rider Championships in Darmstadt.
The bronze was for Joules Radovic on the former international FEI pony Wilky May (by White Gold B x FS Giacomo). She was second in the first round with 8.20 points and fourth in the second round with 8.30 points. Her total of 16.5 put her on the third, bronze medal step of the podium. Radovic trains with Semmieke Rothenberger.
Paving the Way
The German Developing Pony Rider Championships were initiated in 1997. The regional equestrian federations select their best youngest pony riders up to the age of 14 and they are allowed to attend training seminars at the DOKR headquarters in Warendorf. From these three training seminars the best 20 pairs are selected for the annual Championships. Numerous participants of the Championships have moved on to national and international FEI pony sport, including German team selection for the European Pony Championships.
"A lot of pairs made good progress in between our preparation training seminar four weeks ago and the finals here," Roost added. 
Photo © Equitaris.de - check out Equitaris for a photo gallery of this championship
Related Links
Mia Allegra Lohe Wins 2020 German Developing Pony Rider Championship
Julie Sofie Schmitz-Heinen Wins 2019 German Developing Pony Rider Championship
Alegra Schmitz-Morkramer Wins 2018 German Developing Pony Rider Championship
Johanna Kullmann Wins 2017 German Developing Pony Rider Championship
Elisa Mae Deilmann-Walsh Wins 2016 German Developing Pony Rider Championships
Nele Lobbert Wins 2015 German Developing Pony Rider Championship
Jule Marie Schönfeldt Wins 2014 German Developing Pony Rider Championship