The Netherlands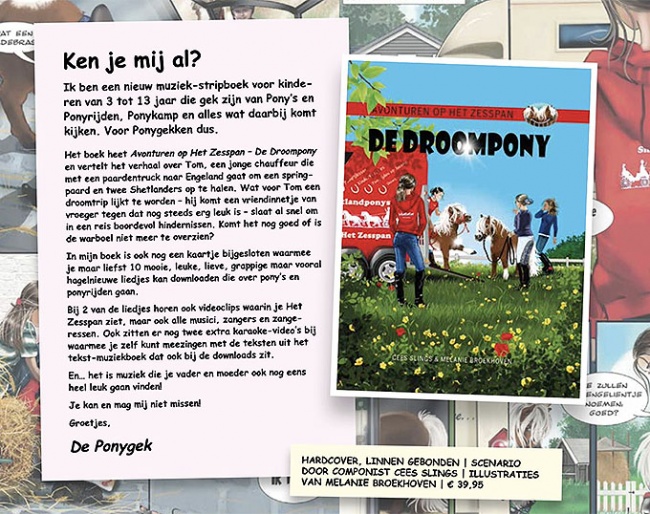 2022 has been quite a year for renowned Dutch composer, arranger and producer Cees Slings. In July he celebrated his 70th birthday with a major retrospective of his favourite dressage freestyles composed and produced by him and his team Slings Music Cast between 2005 and 2016.
From Kur Composing to a Comic Book
Now Slings has treated us to something very special and different – a super comic book and songs about the famous Dutch children's riding school, Het Zesspan, where all of the Shetland ponies are red and white! About 800 children from a widespread region enjoy their weekly moment of fun at the Zesspan premises. The Zesspan show group has been seen by international riders and fans at top horse shows like Aachen, Indoor Brabant, Animal Event, Boekelo Eventing, and Ermelo.
The comic book and music - Avonturen op het Zesspan - De Droompony - launched on 22 October 2022 at Het Zesspan, is beautifully illustrated by Holland's best children's book illustrator Melanie Broekhoven.
10 Original Pony Songs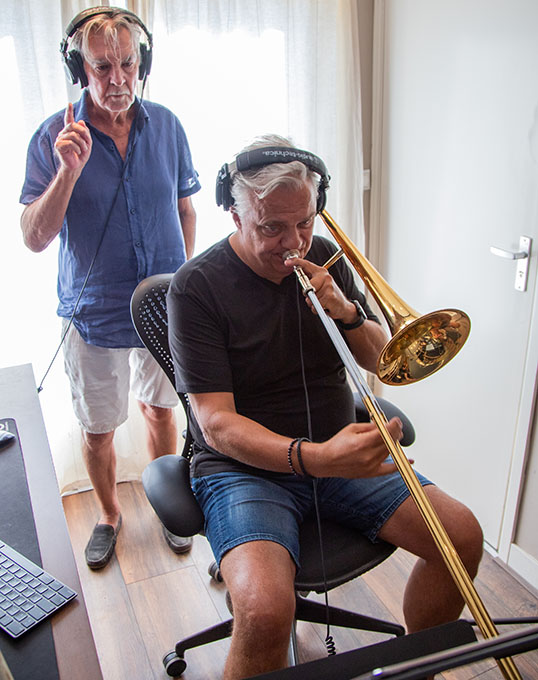 There are 10 original songs about ponies and pony riding composed by Slings and Slings Music Cast.
The imaginative song lyrics will please children and families alike, and conjure up the fun of riding and enjoying ponies. There's 'Kataklop'; a song with the ultimate 'pony canter' rhythm; including washboard and spoons in the percussion section. And 'Ik spaar ze allemaal' (I collect them all!) about a girl who's 'collecting' ponies in a very funny way, and a song about Johnny, the handsome but not so faithful boy at the riding school who all the girls love.
The Roy Rodgers song 'A Four Legged Friend' gets a Dutch translation sung by Scottish singer Ewan Mack in a Dutch American accent, and the song 'Ik wil een staart boven m'n gat' (I want a tail on my bottom) is a fun and extravagant R&B horn section and band tune in the style of Tower of Power.
There's even a song with a spoken verse in the Shetland dialect, translated and performed by Christine De Luca, a Scottish poet and writer from Shetland itself.
Inspiration
Slings tells us how the inspiration for the music and comic book came about.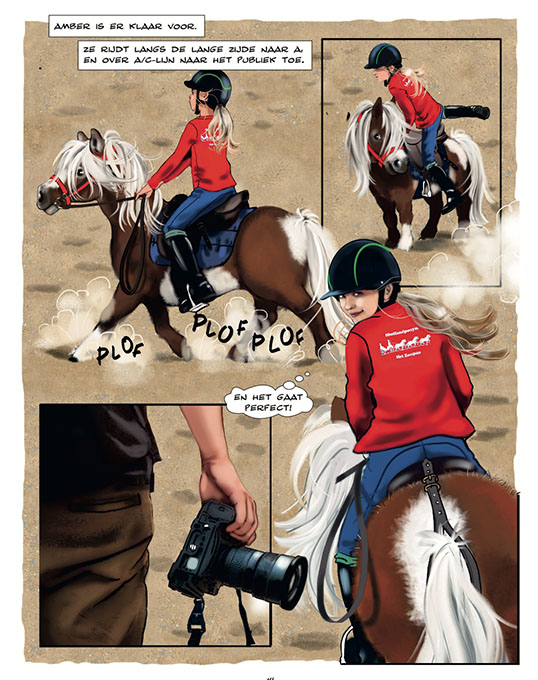 "A few years back my young daughter Vera began pony riding at Het Zesspan and it became her favourite hobby. Three years ago she asked me to write a tune for her, as I had done for my son Marc in 1993, and so the project began. I wrote one song about ponies and with that tune ready the idea came up to write a whole pony themed album.
USB Pony with all the Songs
I thought about producing a CD but these really don't seem interesting any more. So I came up with the idea of a USB-stick in the shape of a pony, like the famous Schleigh Ponies many kids used to play with. The USB pony would contain all the music, video clips and background information, like a CD booklet.
But how would we present this little pony toy with all the magic in his belly? Well, I bought a lot of toy ponies on the internet and one of them - the famous Woody and Bullseye from Toy Story - was presented in a box with a comic strip on it. And that gave me the idea to create a complete comic book, together with the music and the USB pony. The USB pony will be available with the second edition. 
Roller Coaster Production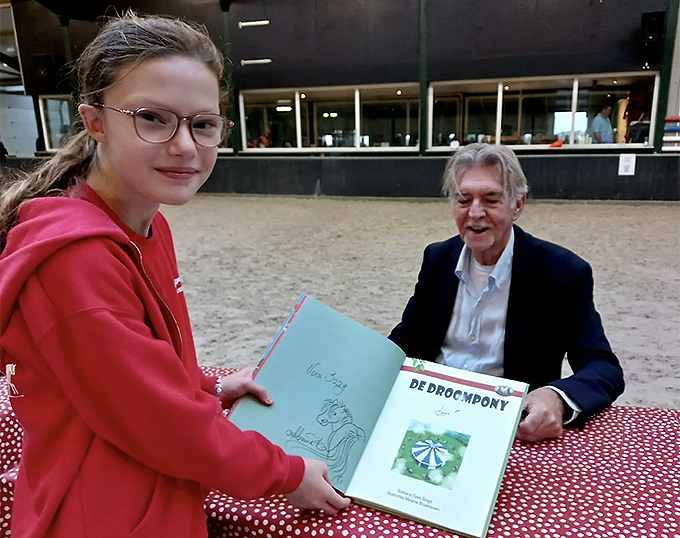 It was a rollercoaster ride for sure! First I had to find an illustrator who was able to realise my vision, and with top children's book illustrator Melanie Broekhoven I found the solution. My idea of a comic strip book was a dream come true for her. While I wrote the story and scenario, Melanie started drawing and developed a complete new comic book style with many fresh dynamics, along with the stunning Shetland ponies and the staff of Het Zesspan riding school – all easily recognisable.
I also had to find a model maker to make the pony look just right. I did not want to face any legal claims from Schleigh, so we designed our own USB Zesspan Pony, currently in production. For now we have launched a lower cost first edition in Dutch for St Nicolas and Christmas. It's the comic book with the extra surprises included as a unique code credit card where you can download the music, the videos and the PDF reader booklet of background information including the lyrics and pictures of the studio sessions and band members.
Zesspan Videos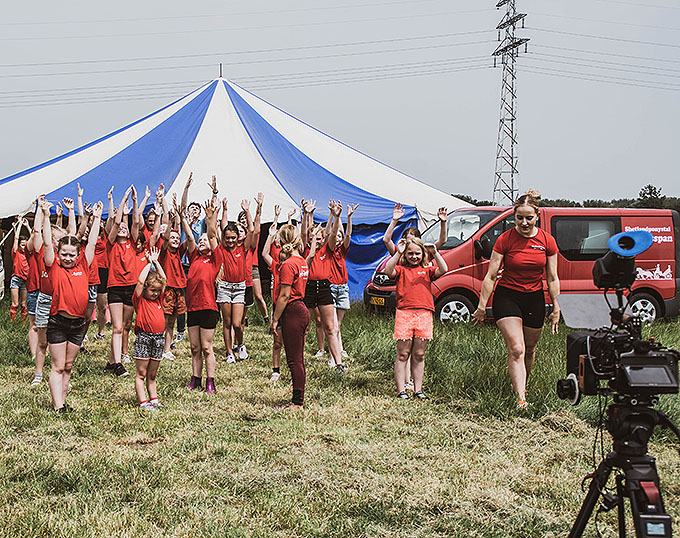 There are special videos of two Zesspan songs, Welkom op het Zesspan and Ponygek, including Karaoke versions, all filmed last summer at Zesspan in Kerk Avezaath. We had a huge blue and white circus tent with lots of little pony riders and a Zesspan dancing group. You can really see the Zesspan spirit and the joy and fun of the participants in the music and the pony riding.
While the first edition is in Dutch, an international release in English, German, French and Swedish is planned for early next year. I would like to invite dressage and other riders from these countries, preferably with young children of their own, and with some writing skills, to help me with the final editing of the book and song lyrics in their own language. Just send me an email at info@slings.nl."
The Dutch version of the comic book is for sale here.
Enjoy Cees Slings' Favourite kur to music freestyles on Spotify