Freestyle Music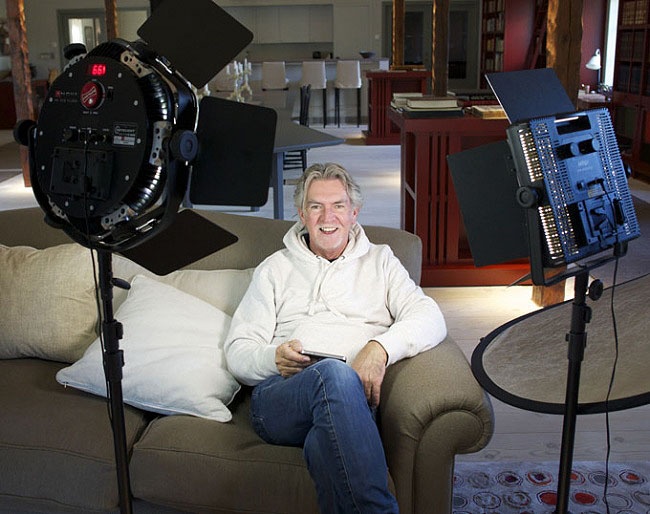 To celebrate his 70th birthday on 6 July 2022, Dutch composer, arranger and producer Cees Slings has a real treat for dressage and music lovers alike with the release of 16 of his favourite dressage Freestyles that he and his Slings Music Cast team have composed and produced in the past 16 years.
Major Retrospective
It marks the beginning of a major retrospective of his work since 2005, when Slings Music Cast was created. This was a new era in dressage music production for Cees, after the many successes of the freestyles he made for Anky van Grunsven with Bonfire and Salinero. He was already a well known name as a composer in the TV and commercial world; his musical signature evident in the 80s and 90s including international drama, comedy and series as well as radio commercials.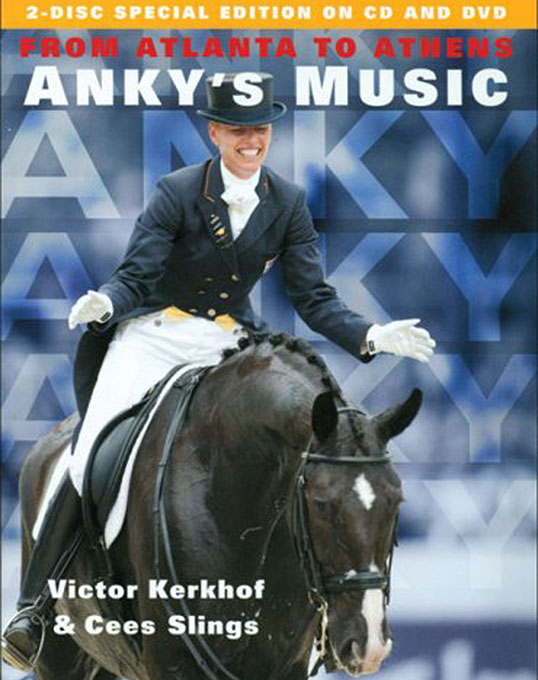 Bringing a musician's approach to Freestyle to Music composition, he was responsible for all of Anky van Grunsven's Freestyles between 1995 and 2004, including the famous Bonfire Symphony (Olympic Silver medal freestyle, Atlanta 1996), Something Old, Something New (Olympic Gold medal freestyle, Sydney 2000), and L'Esprit Chanson (Olympic Gold medal freestyle, Athens 2004) as well as many spectacular and winning freestyles in between.
These remastered Freestyles of Slings' most memorable clients between 2005 and 2016 are released on Spotify and iTunes. Each freestyle has its own unique story of how it was made - the ideas, the details, the music and musicians, the choreography - and some of these stories will be published on Eurodressage as of September this year.
Remastered Freestyle Productions
Here's the list of these fabulous remastered Freestyle productions:
01 - Coby van Baalen (HOL) – Black Temptation
02- Marlies van Baalen (HOL) – Kigali's Sinatra show
03 - Marlies van Baalen (HOL) – The Wild, Wild West
04 - Victoria Max-Theurer (AUS) – Mary Poppins
05 - Laura Bechtolsheimer (UK) – The Shadows 50th Anniversary
06 - Victor Alvarez (SP) - Guerreros de la Paz
07 - Beatriz Ferrer-Salat (SP) - Baile de Mascaras
08 - Matthias Alexander Rath (GER) – Rhapsody in Blue
09 - Matthias Alexander Rath (GER) – 1001 Nights
10 - Catharine Rasmussen (NOR) - Horseshoe Blues
11 - Princess Nathalie zu Sayn Wittgenstein (DEN) - Dansez Maintenant
12 - Lia Koudoni (GRE) - Miami Vice
13 - Tinne Vilhelmson Silfvén (SWE) – It's Broadway
14 - Tinne Vilhelmson Silfvén (SWE) – Who's Anton
15 -Tinne Vilhelmson Silfvén (SWE) – Take 5 and 6 legs
16- Tinne Vilhelmson Silfvén (SWE) – Good Vibrations
Speaking exclusively to Eurodressage, Slings said 'When we started to remaster these tracks I came across many musical details I had forgotten over the years. And at most dressage venues the sound systems are pretty poor so a lot of details get lost. Now remastered, all these details become clear and it was really fun for us to play these tracks again. I can't wait to share the stories behind these Freestyles over the coming months."
A New Project: Zesspan Comic Book for Pony Kids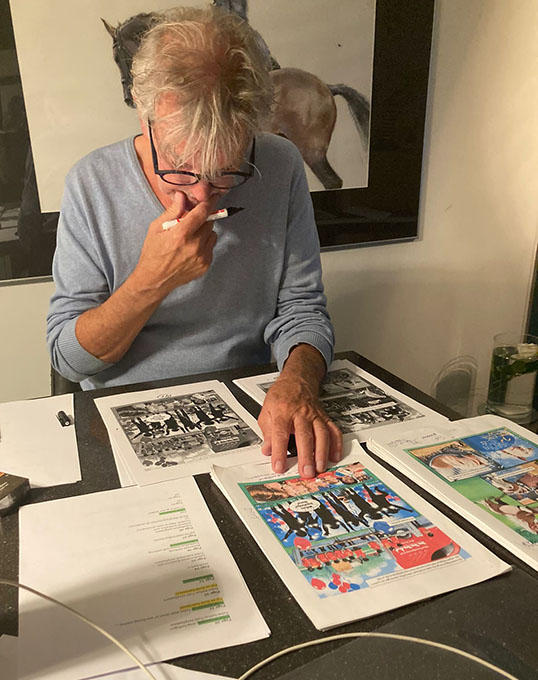 It was also a great in-between job as in the last few years I've moved house, had some health issues, and been working on an exciting new project inspired by my young daughter Vera, who is passionate about ponies. Over the past three and a half years, what started with a song written for Vera, has transformed into a soon to be released comic book illustrated by Holland's best children's book illustrator Melanie Broekhoven. It's about a very special Children's Riding School called Het Zesspan where the only colour of the 65 Shetland ponies is red/white!
"Many of you and many international dressage riders will have seen the Zesspan show group, a regular guest at international horse shows, like Aachen, Indoor Brabant, Animal Event, Boekelo Eventing, and Ermelo," Cees explained.  "There are lots of extra surprises with the comic book and I think we can please many young pony riders in many countries! I'll be sharing more information with Eurodressage very soon!"
Release of book and music in Holland is planned for early September this year. The release of book and music internationally is planned for March 2023.
Future Releases
The Slings Music Cast Spotify future releases in August & September:
Slings Music Cast - Ceremonial Dressage Leaders and themes:
WEG 2006  World Equestrian Games, including
WEG 2006 Ceremonial Leaders
Karl der Grosse hymne and The Fountain Fanfare
Invasion(opening)
Aachen Weg Logo choreography
Copa Ferrer Salat
Slings & Kerkhof
Knuffelpleinliedjes Dierenpark Amersfoort
Slings & Kerkhof
Anky's Music – From Atlanta to Athens
All Anky van Grusven freestyles between 1996 and 2004
Related Links
Cees Slings: Is it Time for Freestyle 'Goal Line Technology'?
Tinne Vilhelmson Gets Gutsy with New Broadway Freestyle
Vilhelmson-Silfven Premiers New Freestyle for Don Auriello at 2012 World Cup Finals
Sanneke Rothenberger to Premier Slings Arranged Freestyle
Slings Music Cast Freestyle for Marlies van Baalen and Relevant
New Freestyle Music for Victor Alvarez and Cava-Iles
L'Esprit Chanson, The Secret to a Winning Freestyle
Slings Music Cast's 2008 Enterprises
Thank you for the Music! Slings & Kerkhof Partnership Ends
2006 WEG Aachen to Feature Grand Opening Ceremony
Cees Slings and Victor Kerkhof Reveal the Secrets to their Success
The Making of Wayne Channon's Kur to Music "Il Passeggiato"