F.O.C.U.S.
The Canadian mother-daughter dressage duo - Evi and Tanya Strasser - are both in the running for Canadian team selection for the 2023 Pan American Games, where Canada will vie for a team spot for the 2024 Olympic Games in Paris. 
The two are highly ranked on the Canadian Leaderboard, issued by Equestrian Canada on 29 December 2022.
Pan Am Leaderboard
With less than 300 days to go until the 2023 Pan American Games in Santiago, Chile, the Canadian equestrian federation is rolling out the team selection process. 
The FEI Dressage Riders World Ranking, taking international results into account from 4 April 2022 till 30 November 2022, is used as a template for the Canadian leaderboard. German based Ryan Torkkeli stands first with 1262 points, followed by Spanish based Naima Moreira-Laliberte (1158), Megan Lane (1144) and Pia Fortmuller (1044).
Christmas Present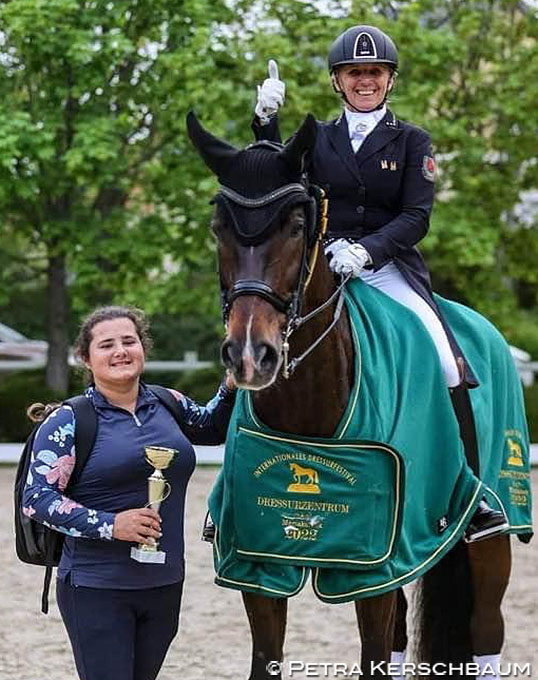 Standing in fifth place is Canadian Olympian Evi Strasser with 998 points and in sixth place, her daughter Tanya Strasser-Shostak, with 461 points after just two shows. 
"This is the best Christmas present," said Evi Strasser about their ranking on the leaderboard. "It says we are on track to represent the Maple Leaf for the Pan Am Games-in Chile. I'm so excited, so proud and happy."
The Pan American Games are a stepping stone for Canada to make it to Paris. The Pan Ams work with mixed teams of Grand Prix and small tour horses, but in order to qualify for Paris the teams need to have at least one Grand Prix on its team. In addition Grand Prix horses earn coefficient scores so nations will benefit from including more big tour horses on their team to boost the scores for the Team Championship competition in Santiago.
The Strassers
For more than thirty years Evi Strasser has been a well known competitor on the international dressage scene. Her career highlight came in 1996 when she represented Canada at the Olympic Games in Atlanta aboard Lavinia (by Ludendorff x Dirk). They also contested the World Cup Finals in 1995 and 1997.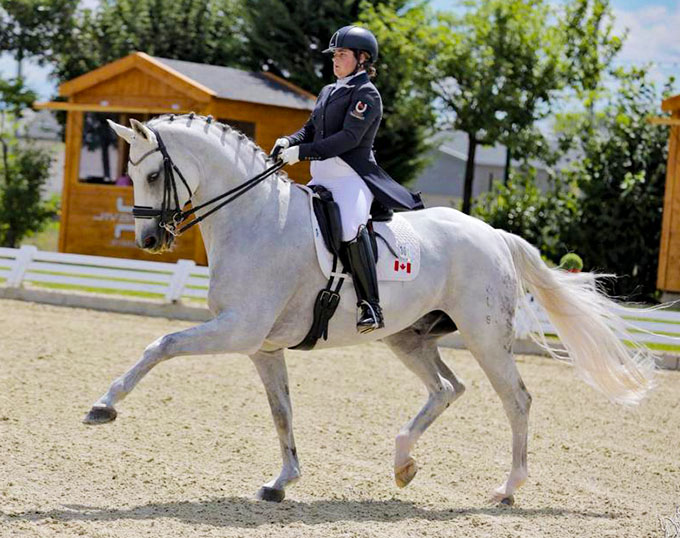 Her second super star was Quantum Tyme (by Quattro B x Argentinus). He became Canada's best scoring horse at the World Young Horse Championships to this date (4th in the 5-year old division with 8.99 points) and went on to win team silver at the 2003 Pan American Games in Santo Domingo, he did two World Cup Finals, was the highest scoring horse for Canada at the 2006 World Equestrian Games and became the team alternate for the 2008 Olympics in Hong Kong and 2010 World Equestrian Games in Kentucky. Most recently Strasser has been a regular on the Canadian teal for the FEI Nations' Cup series, winning bronze at the 2022 CDIO Wellington.
Tanya Strasser-Shostak is an upcoming Grand Prix rider for Canada who over the years has won multiple medals at the North American Junior/Young Riders Championships. She was ranked third in the FEI World Young Riders and Under 25 Ranking and won the CDIO-Under 25 Nations Cup in Wellington with Renaissance Tyme (by Royal Diamond x Dream of Heidelberg). In her first international Grand Prix outing for Canada as a senior at the 2021 CDI-W Devon, she was second on Deja Vu Tyme (by Dauphin x Werbellin).
Home Produced at Good Tyme Stables
Evi takes great pride in producing all the horses to top level herself with Tanya by her side at their home base Good Tyme Stables in Ste-Adele, Quebec.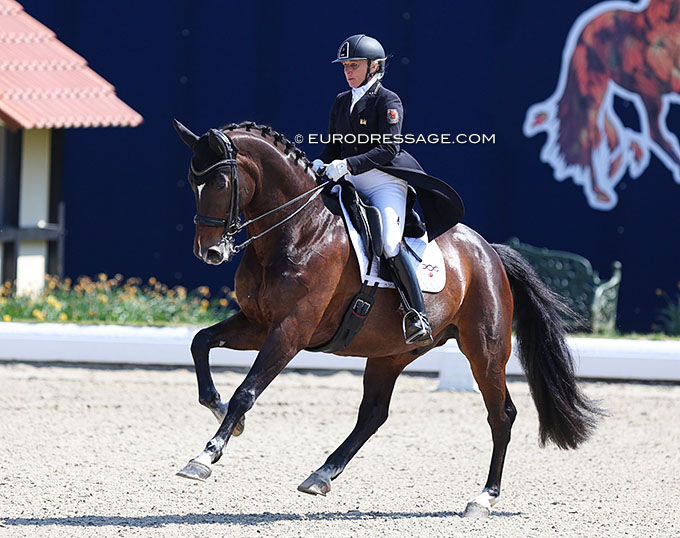 The Strassers mainly source their horses at the Oldenburg auctions in Vechta, Germany, where they found Quantum Tyme, but also their other Grand Prix horses Disney Tyme, Renaissance Tyme, Rigaudon Tyme, Dancing Tyme, Action Tyme, Super Tyme, to name jut a few were discovered there and trained to Grand Prix.
"We own our horses, which we buy as three-year olds," said Evi. "We pay everything ourselves and bring them along to Grand prix. I'm so happy that all this hard work is paying off. There are not many of us left who buy, own, train and ride the horses ourselves without the backing of big sponsors."
Famous "Good Tyme" horses that were developed and sold to international dressage riders include Hiscox Artemis (Richard Davison), Show Tyme (Kirsty Oatley), Andiamo Tyme (Kyra Kyrklund), and Santana (Patrik Kittel), amongst others. Horses from their barn competed in Olympic Games, World Equestrian Games, and Asian Games. Strasser's Renaissance Tyme also made a celebrity appearance in Central Park, in 2015 when Olympic champion Charlotte Dujardin rode him in a demonstration while Pope Francis visited New York at the same time.
Whirlwind Year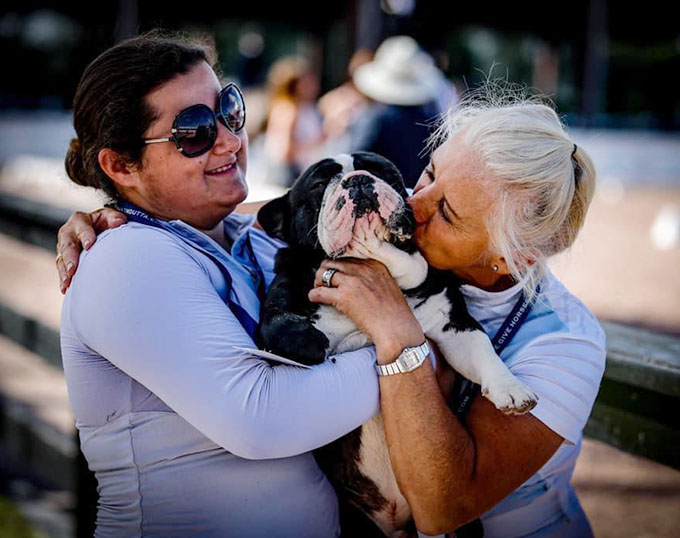 The Strassers had a whirlwind year in 2022 travelling across the globe to compete. 
They traditionally spend winters in Florida, but this year went to Europe in spring, accepting an invitation to ride at the Horses and Dreams Meets Canada CDI in Hagen, Germany. They stayed there for the summer to be closer to Evi's family in Inzell, Bavaria and to savour the European competition circuit. 
"For our upcoming Grand Prix horses it was great to give them some European exposure. We showed them at CDI's in Mariakalnok, Wiesbaden, Pilisjaszfalu, Fritzens, Lipica, Samorin and Neu-Anspach," Tanya explained. "After Covid it was nice to be closer to my grandparents again and spend time with them."
Evi agreed and rung in: "The decision to go to Europe turned out great. I finished in the top 8 in Wiesbaden and was able to show in two World Cup qualifiers with a third and fourth place in Mariakalnok."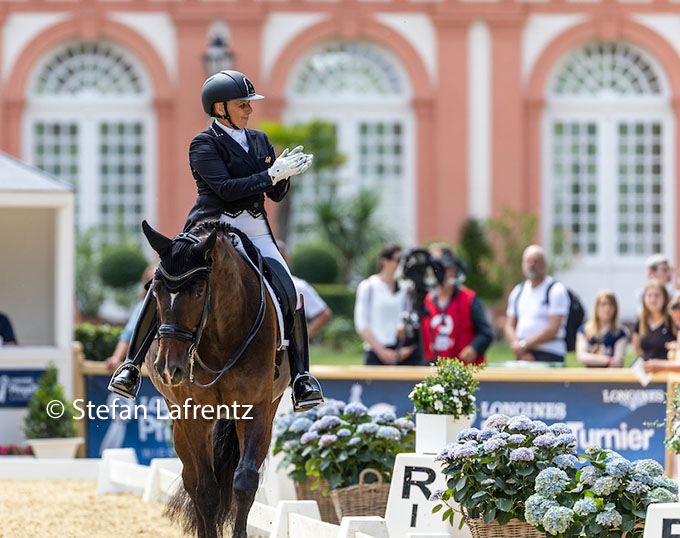 The combined results from Florida and Europe boosted their ranking on the Canadian Leaderboard and put them up as firm hopefuls for Canadian team selection.
Photos © Astrid Appels - private - Stefan Lafrentz
Related Links
Evi Strasser's Fleur Belle Tyme OLD Turns Heads at Oldenburg Young Horse Championships in Rastede, Ready for Bundeschampionate
Rodolpho Riskalla Fulfils Florida Dream with Evi Strasser's Catch Ride, Rigaudon Tyme
Team Spirit, Key to Canada's Overwhelming Success on the Florida Dressage Circuit
German and Canadian Team for 2022 CDIO Wellington Named
Rider in the Spotlight: Evi Strasser, Having the "Tyme" of her Life