2022 CPEDI Wellington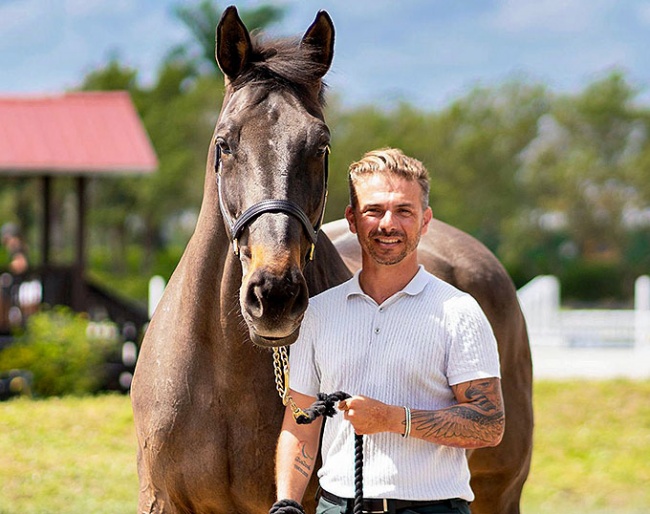 Brazilian Paralympian Rodolpho Riskalla fulfilled his dream of competing in Florida at the Global Dressage Festival thanks to Canadian Evi Strasser, who helped him with a catch ride and turn this dream into reality.
The Quebec based Olympian, who annually snowbirds in Wellington, Florida, offered him her former international Grand Prix horse Rigaudon Tyme for the 2022 CPEDI 3* Wellington on 11 - 13 March 2022.  The one-week partnership achieved two second places out of three starts. 
Florida Fever
"I wanted to compete in Wellington for many years," Rodolpho told Eurodressage. "I had never been before, but I heard from people that I know it's a nice place to ride. A few years ago my sister Victoria was there, riding and working, and she loved it."
A trip to Florida had been in the back of Rodolpho's mind for years. The Paris based Brazilian is quite the commuter, working as an Events Manager for the fashion house Christian Dior in Paris, while combining it with trips to Germany where he keeps his horses in training with Holga Finken.
As the winter months are usually low-key for paralympic riders, Riskalla decided to seize the day.
"Every year there was something going on so I couldn't organize to go," he confessed, "but this time I said "Ok, let's do this!" 
The Quest for a Horse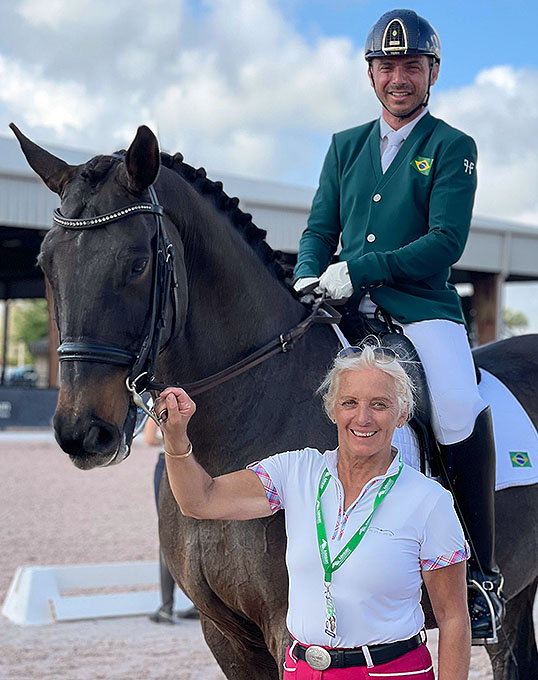 The trip to Florida was not without its challenges as Rodolpho struggled to find a horse on loan for one week for the 3* competition. 
"I asked few persons that I know and have horses there, and could loan me a horse for the week, but I never really got an answer," Rodolpho admitted. "It was a lot of "yes maybe we could do something" or "send me a message close to the date" but then I never got a reply. I understand that loaning a horse for a competition is complicated, especially for a a rider with a handicap, but sometimes we have to try new things and make it work!"
The Right Tyme
Canadians Evi and Tanya Strasser, however, did not have to think twice when Rodolpho came knocking on their door.
"Evi and Tanya were amazing! I have known them for many years and when I came round asking her she right away she said yes," he said with gratitude.
Evi reminisced that her acquaintance with Rodolpho dates back to 2006. "I know Rodolpho from when he was working at Norbert von Laak and we were getting ready with the Canadian team for the World Championship in Aachen," Strasser remembered. "Last year I tried Rodolpho's second Para horse for a client and he mentioned he would love to ride the International Para Show in Wellington. I offered two, older World Cup horses and we decided on Rigaudon."
Rodolpho's partner-in-crime was Rigaudon Tyme, Evi's 18-year old Oldenburg gelding by Rosario  x Calypso II who has no less than 145 international starts to his record in his CDI career, which spans from 2013 til 2020. The Grand Prix schoolmaster proved up for the task.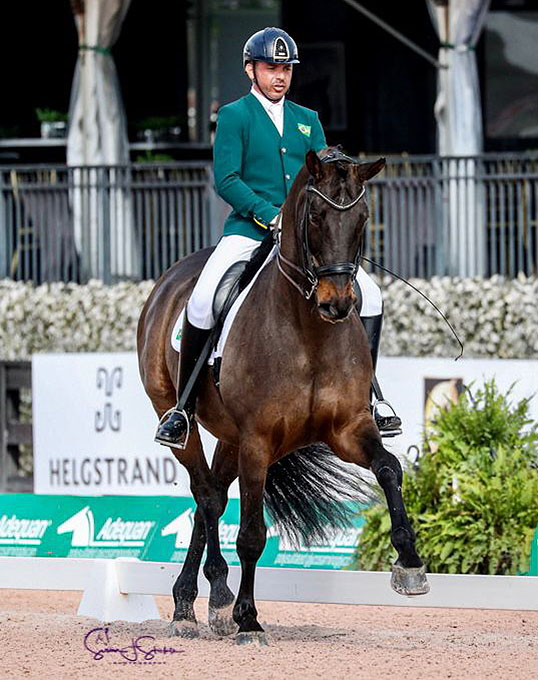 "I didn't have too many days before the competition, so I rode him three times, but he played the game right away," he said. "He was such a good boy! Even if we didn't knew each other a lot, he really enjoyed being there, and I had a lot of fun."
The pair posted 69.417% to place second in the Grade IV team test and 69.919% in the individual test for another second place. 
"I really enjoyed my experience in Wellington and can only say a big thank you to Evi and Tanya who made this possible and trusted 'my riding skills'," said Rodolpho.  Strasser confirmed this: "it was amazing. Rodolpho got two top scores which he could use as a qualification for WEG as his second horse."
Evi was thrilled to support para dressage sport with her Grand Prix schoolmaster Rigaudon Tyme.
"Many of these horses, who have done international shows and are no longer showing internationally,  could do the para levels and be super successful. They will help the para sport to keep on growing. Rodolpho is an inspiration to all of us. We are so happy to have been part of this wonderful journey here in Wellington."
Season Target: Herning
In 2015 Rodolpho contracted bacterial meningitis in Sao Paulo, Brazil, and spent a month in a coma. He survived but lost his right hand, some fingers from his left, and had both legs amputated below the knee. Although life had knocked him down, Rodolpho stood back up and eight months later represented Brazil at the 2016 Paralympics in Rio de Janeiro.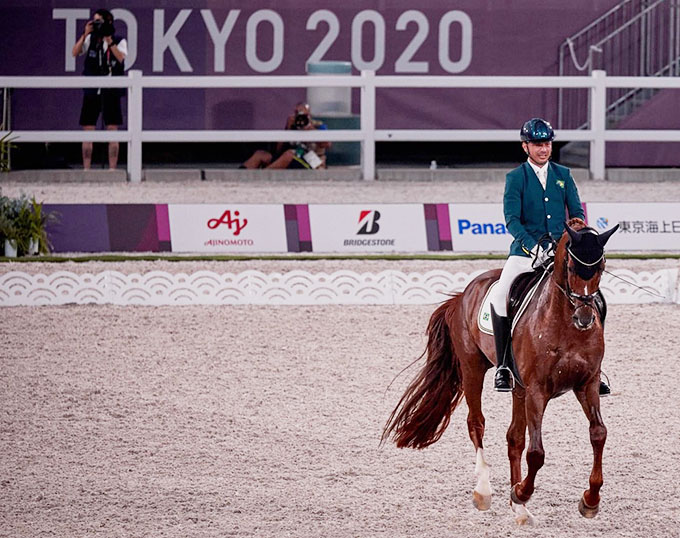 Since then he has been competing in both the para and able-bodied dressage divisions with Don Henrico (19, by Don Frederico x Lauries Crusador xx), Don Frederic (13, by Don Frederico x Wolkentanz) and Die Wette (12, by San Amour x De Niro).
With his most seasoned ride and Tokyo silver medal winning Don Henrico he's aiming for the 2022 World Para Dressage Championships in Herning (DEN) this summer 
"I have few more para competitions with Don Henrico coming up before the World Championships in Herning," he said. "Don Henrico is in a great shape despite his 19 years "young". I'm choosing to spare him now and not do too many competitions. I'm also looking for new four-legged partners to keep competing. Let's see what the future brings."
Photos © Sue Stickle - FEI
Related Links
Rodolpho Riskalla: Adaptability as a Superpower
Rodolpho Riskalla: "We All Have More Strength than We Think We Have"
A Look at the Individual Medal Competition at the 2021 Paralympics
A Look at the Freestyle Medal Competition at the 2021 Paralympics
It's Glamping for Rodolpho Riskalla in Corona Times
Dressage Riders Rothenberger and Riskalla Win 2016 FEI Awards
Don Frederic Sold to Brazil
Brazilian Horse Selected for 2013 World Young Horse Championships