Germany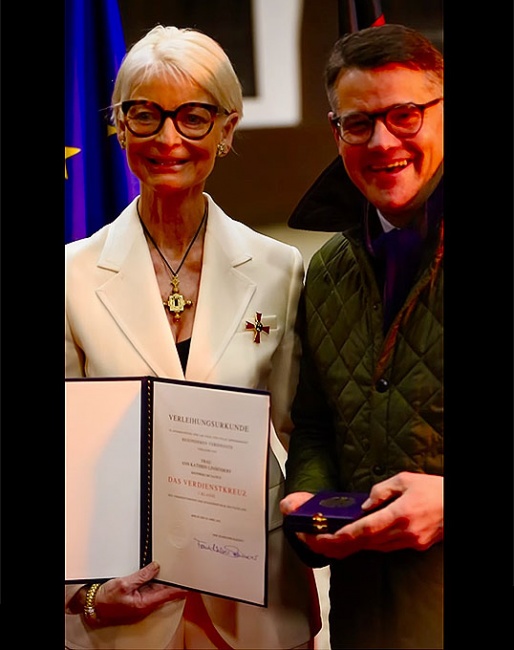 Former German Olympic dressage rider Ann-Kathrin Linsenhoff has become the recipient of the "Officer's Cross" which is the Federal Cross of Merit 1st Class bestowed by the Federal Republic of Germany.
In a lavish ceremony with sit-down dinner and a pas de deux demo at Gestut Schafhof in Kronberg on Saturday 21 January 2023, Linsenhoff received the Cross of Merit from Hessia's minster president Boris Rhein.
The Federal Cross of Merit is awarded for special achievements in political, economic, cultural, intellectual or honorary fields and given to both Germans and foreigners. It was created by the first President of the Federal Republic of Germany, Theodor Heuss, in1951.
The team at Schafhof said in a speech that Ann-Kathrin, "bursts with drive and energy for all her projects and - which is absolutely not self evident - she does not shy away from any risks when it comes to helping and supporting others - and has been doing so for decades!"
Linsenhoff took to instagram to thank all: "I would like to thank for the special award presented by our Minister President Boris Rhein, but I would also like to thank all those who support me in my work of course especially my husband and my family! I'm very happy to share the credit! It was a beautiful unforgettable moment for me, prepared so lovingly for me."
Linsenhoff is a driving force for the development of dressage sport in Germany through the Klaus Rheinberger foundation (sponsoring the Piaff Forderpreis and Louisdor Cup circuit). Furthermore is she the host of Preis der Besten qualifiers; CDI's in Kronberg and Frankfurt, as well as hostess to European Youth Championships (2010, 2023). Through the Linsenhoff Stiftung and Ann-Kathrin-Linsenhoff-Foundation for UNICEF she supports children in need and educational projects for young people - especially girls - with a migration or refugee background. 
In 2011 Linsenhoff already received the German Cross of Merit from German president Christian Wulff. 
Related Links
Ann Kathrin Linsenhoff Retires from Competing Due to Health Issues
Another Totilas Teaser Released: New Year's Greeting from Linsenhoff
End-of-The-Year Totilas Teasers: Totilas under Linsenhoff, Total U.S Under Gal
Neighbours in Need: Linsenhoff Offers Facility to Rothenberger
Linsenhoff Buys Portuguese 7-YO Champion Java da Hermida
Ann Kathrin Linsenhoff Receives German Cross of Merit