Portugal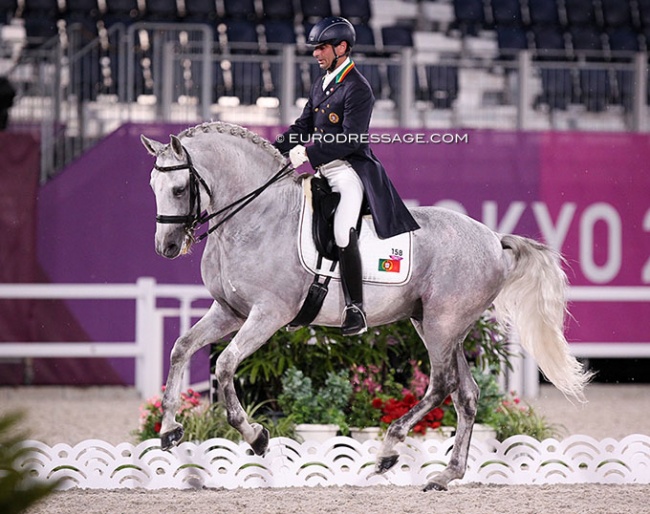 Portuguese Grand Prix rider Rodrigo Torres and his Lusitano stallion Fogoso HorseCampline are no longer a combination. Their sensational start at the Tokyo Olympics will be remembered as their career highlight. The grey stallion will compete for Brazil as of now.
Fogoso is a 13-year old purebred Lusitano stallion by Rico out of Amelia (by Raja). He is bred at Rodrigo's family stud farm, Coudelaria Torres Vaz Freire. He was co-owned by Torres and the Portuguese investment company Horse Campline
Torres and Fogoso
Rodrigo trained and competed Fogoso from novice level to Grand Prix. 
The pair rose to fame in 2019 by winning the Portuguese Grand Prix Championships and assisting in Portugal's Nations Cup victory at the CDIO Hickstead.
The pair represented Portugal at the 2019 European Dressage Championships in Rotterdam, The Netherlands, where they were the second best scoring Portuguese pair. At the 2021 Olympic Games they exceeded all expectations and made it into the Kur to Music finals, placing 16th.
In 2022 they were 14th at the World Cup Finals and 13th in the CDIO Aachen Kur to Music, but opted not to go to the 2022 World Championships in Herning to spare the horse with the Paris Olympics as goal
Brazil
Paris is still the target for the horse, but it will no longer be with Rodrigo Torres in the saddle.
Horse Campline has now bought full ownership of the licensed stallion and allocated the ride to rookie Renderson Oliveira, who is yet to make his international show debut. 
The 30-year old Oliveira began his career with horses as a groom at the Ilha Verde Stud Farm. Shortly after, his riding career began and it has lead him to 5 Brazilian Champion Titles so far. He joined the Campline team in Portugal last year and will compete Fogoso as of now.
Campline already sponsors one Brazilian Grand Prix rider, Joao Victor Marcari Olivia, who competed in Tokyo on Escorial Campline.
Photo © Astrid Appels
Related Links
Campline's Escorial and Fogoso Not to Stand at Stud in 2023
Horse Campline Invests in Portuguese Team Horse Fogoso