Portugal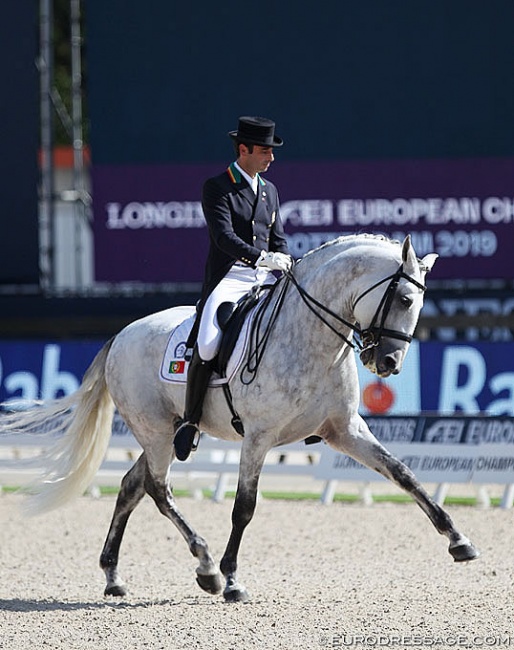 Portuguese Grand Prix team rider Rodrigo Torres and his number one horse in the barn, Fogoso, are now part of the team of the up and coming dressage investment group Horse Campline. . 
Fogoso is a 10-year old purebred Lusitano stallion by Rico out of Amelia (by Raja). He is bred at Rodrigo's family stud farm, Coudelaria Torres Vaz Freire. He has already produced several offspring.
Portuguese Team Horse
Rodrigo trained and competed Fogoso from novice level to Grand Prix. The grey stallion is currently ranked nr 85 on the FEI World Dressage Ranking.
The pair achieved notable successes, especially in 2019. They were also the Portuguese Grand Prix Champions, scoring 77,4% in freestyle. They assisted in Portugal's Nations Cup victory at the CDIO Hickstead, and they won a series of CDIs in Portugal including winning the popular Rota Lusitana Champion Prize.
The pair represented Portugal at the 2019 European Dressage Championships in Rotterdam, The Netherlands, where they were the second best scoring Portuguese pair with 71.786% and a 26th place in the Grand Prix Special. 
The duo contributed solidly to Portugal's unprecedented, historic feat of qualifying a team for the 2021 Olympic Games in Tokyo. 
Benchmark for Lusitano Breeding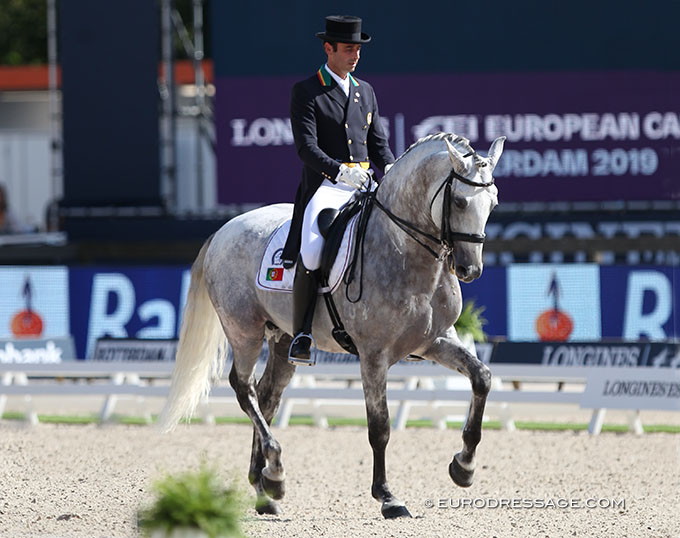 Not only has Fogoso proven his worth as an international Grand Prix dressage horse, the 10-year old stallion is also a benchmark for Lusitano breeding. 
Fogoso is an approved 4-star recommended stallion, a distinction given to horses which have proven themselves in their discipline as well as having outstanding conformation.
Fogoso is a gold medal winner  in the morphology classes at Lusitano breed shows. 
He is a 4-star recommended breeding stallion with the APSL (Associação Puro Sangue Lusitano – Lusitano purebred Association).
Horse Campline Adds Fogoso and Fidalgo to Stallion Catalogue
Fogoso's major achievements at breed shows and in the international dressage arena have not gone unnoticed.  The brand new dressage investment company, Horse Campline, decided to retain the ride with Rodrigo Torres  to achieve Olympic team qualification.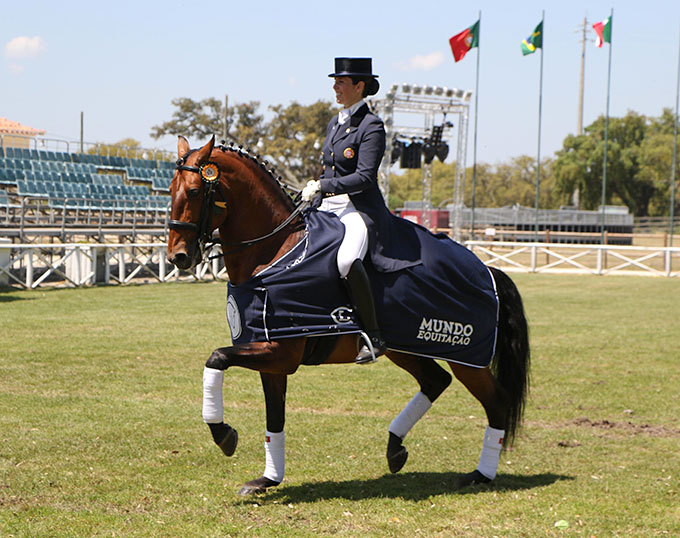 "We have planned our international comeback in February 2021, when we will start our Olympic qualification campaign," said proud owner and rider, Rodrigo Torres. "Of course I want to keep my spot on the Portuguese National Team."
Besides Fogoso, Horse Campline also added Maria Amaral's Grand Prix stallion Fidalgo to their stallion catalogue, a 10-year old Lusitano stallion, also by Rico x Raja. This pair was 2017 Portuguese Small Tour Champion.
Fidalgo is a medal winner in morphology events, he was awarded the APSL Young Lusitano Rising Star Prize, and has won international Grand Prix classes at the 2018 CDI Companhia das Lezirias with scores over 70%.
"He is now recovering from an injury, but is fully capable of fulfilling his breeding duties," Maria added. 
Lusitanos on the Rise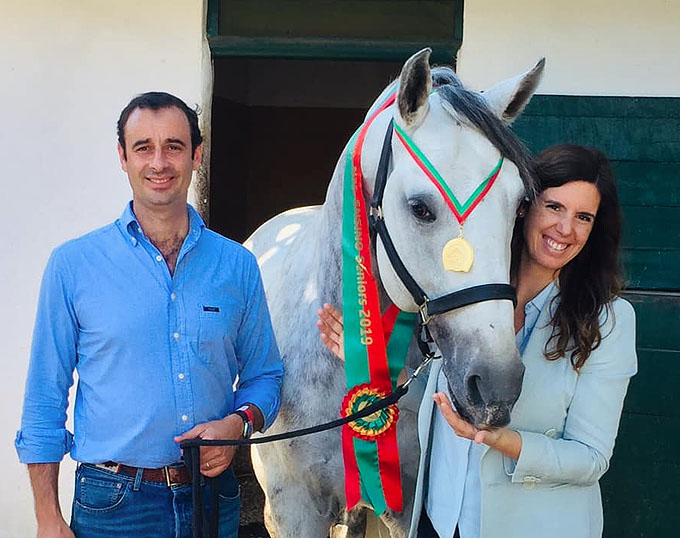 The ever improving performances and scores of purebred Lusitanos in the CDI ring have motivated Horse Campline to invest in the breed. 
Their first notable acquisition was the 4-star recommended stallion Escorial, who is currently competing with Brazilian Grand Prix rider João Oliva as a hopeful for a Brazilian individual spot for Tokyo 2021.
"With Escorial and Fogoso on their team, Horse Campline makes a strong bet and has a good strategy going for representation at the Tokyo 2021 Olympics," Amaral stated.
Related Links
Escorial, New Olympic Hopeful for Joao Victor Oliva
Corona Times: Hit & Run with Rodrigo Torres
Carrasqueira, Lopes, Meneres, Vila Nova, Torres Win 2019 Portuguese Dressage Championships at CDI Lisbon
Lusitanos Take Grand Prix World by Storm, Fidalgo Stars at 2018 CDI Alter do Chao
2018 CDI Lisbon Draws Out the Crowds, Celebrates Dressage in Portugal