2023 CDIO Wellington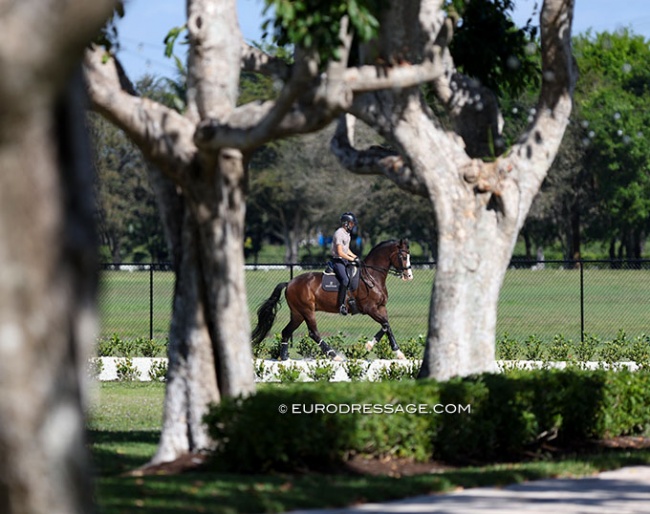 Time flies and certainly if you decide to put your brain into "airplane mode" for the week. I have settled in in Wellington in the gorgeous house of my hostess and been approaching life with open arms, come what may. 
Loitering
I drove from Miami to Wellington last Thursday and spent the first evening at home, sharing a slice of Papa Johns' pizza with Jane. 
The first few days in town I spent "loitering," literally just hanging round. I worked on the computer in the morning but deliberately gave myself the liberty to keep some assignments on the shelf in order not to be a rat in a wheel (as I experience my normal work routine at home). I hung by the pool for a while, then went for lunch with Lily Forado at First Watch and we just ended up talking for hours, catching up as we hadn't seen each other since SICAB in November. In the evening I was invited to join Jane with a few friends for dinner at Cafe Centro in West Palm Beach, where I had scallops. I gave myself a path on the back after I had (easily) parallel parked the huge SUV rental car near the restaurant. 
An Oldenburg Education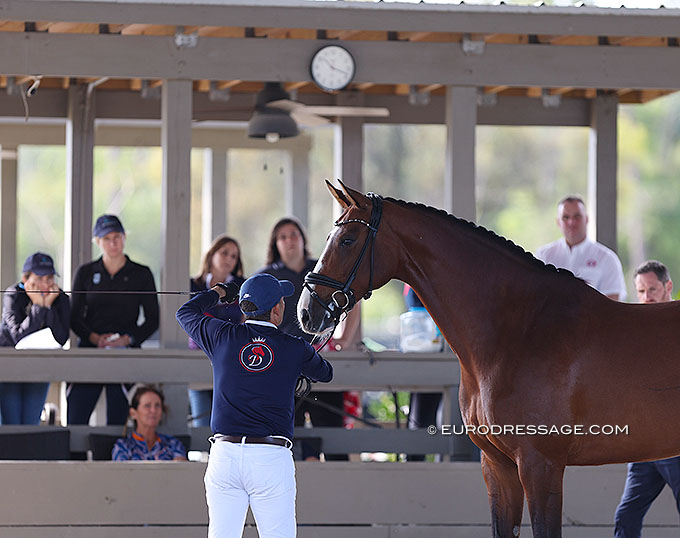 On Saturday it was the first work day, although you can't call it work when you are standing in the glorious weather, looking at great horses, and learning new things. The German Oldenburg Verband (GOV) held its first annual meeting at Poinciana farm and I listened with my ears pricked from start to finish what breeding director Bernd Thoben, repro vet Erin Newkirk and media specialist Annan Hepner had to say. The group was not too big which allowed plenty of room for a good discussion, bouncing ideas off each other, and thinking how foals bred in the U.S.A. can be better marketed through the Oldenburg society.   I'll do an extensive write-up about the day, coming soon. The evening wrapped up with cocktails at the farm and then a hillbilly dinner at Boonies.
0/10 for Originality
On Sunday I just worked a little in the morning, lay by the pool, continued reading my book (The Mayflower Pilgrims) and got some lunch at Kabuki. Then strolled around the Wellington Green mall, trying to find a nice present for Janne Rumbough who was celebrating her birthday with an intimate dinner in Palm Beach. I probably bought the most uninspiring gift that makes every woman happy: a scented candle. That's 0/10 for originality, Astrid!
I contemplated getting a massage but compared prices between the U.S.A. and those in Thailand (3 bucks or so for an hour) and passed up on the opportunity, well aware that it's a very unfair comparison. However cheap massages are the perks of travelling to South-East Asia, where I haven't been since the pandemic.  The evening was absolutely delightful, celebrating the wonderful life and presence of the Grand Dame of Florida dressage, Janne Rumbough. Her energy, passion, commitment, kindness and gentle heart make her one in a million.
Driving Miss Daisy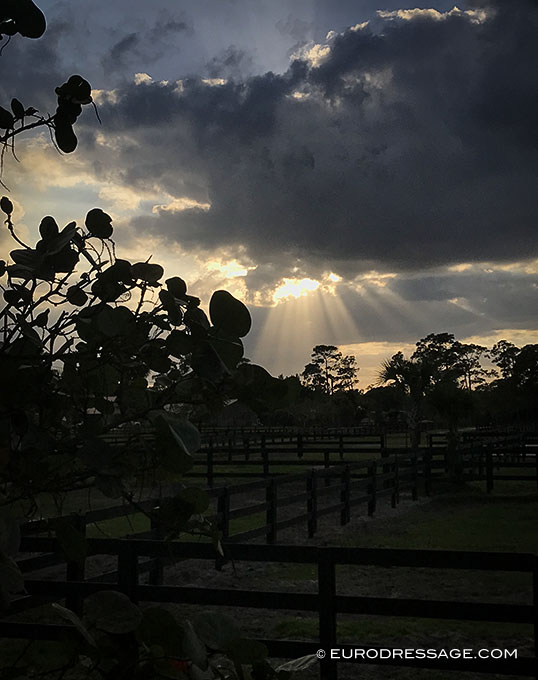 On Monday Jane had her day off and we spent it together driving around to farms, looking at horses, and having to do absolutely nothing ! It was fabulous. While in Europe I suffer from road rage and always speed a little over the limit to still be at my destination 10 minutes late, here in America I'm driving like a senior citizen: slow, in the middle lane, while enjoying the scener. I just love that I don't have to be anywhere and can take my time, for once. No rushing, no catching up time, or chasing my tail.  
Or first stop was at Cecilia Stewart's farm in Rustic Ranches, where we visited a friend from Belgium and saw two of Maryanna Haymon's home-bred horses by Belantis and Revolution. The three of us then had a wonderful lunch at Oli's, munching on a very nice, big salad and finishing it off with the best cappuccino I had so far in Florida (aside from Rosetta's in Miami). Then we drove to another farm in Loxahatchee to see a second Belantis bred by Maryanna. From there it was to Poinciana Farm again where I strolled around to check out the pedigrees of all the horses, listed on stable plaques on each stall. I was searching for familiar faces and bumped into a Belgian compatriot, Elbrasco L who represented Belgium at the European Young Riders Championships in 2020 before selling to the U.S.A.
We had dinner with Kristin Stein (Elbrasco's rider), Kristen Hansen, and Betsy Rebar-Sell at Aglolio and that was a blast from the past. It took me back to my very first days coming to America and working for Mary Phelps at White Fences, where Betsy competed her brilliant horse Wonderful Walden (by Wittelsbach x Seelöwe). 
Hello at Helgstrand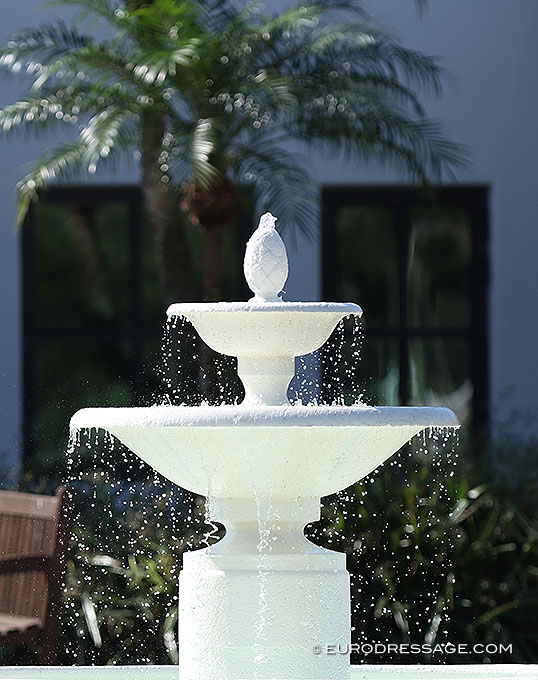 The biggest buzz word in the dressage world seems to be Helgstrand and in all the years that I have been coming to Florida, I have never visited their yard. Well, I don't really visit that many yards anyway as I usually stick to covering the CDI show. In the spring of 2022 Lars Petersen and Melissa Taylor took over the daily management and with Ulf Möller in town, I got a personal invite to pass by.
The farm is big, beautiful and immaculately clean. The covered arena was like a beehive with horses coming and going and clients taking lessons, while the "kids" (assistant riders) were schooling horses in the outdoor further down the property. I got a tour of the property from Ulf and then just casually snapped some atmospheric photos. Esben Möller arrived and welcomed me with the words "what are you doing here?" Well, hello to you too, I thought. He seemed simply surprised and then I had a lovely chat with his wife Susanne.  I didn't want to stick around for too long and jumped in the car and drive into Southfields road to look at the farms until I was stopped by a gate. U-turn and then off to Lemongrass for another Asian styled, light lunch. Afterwards I went to Barnes & Noble, bought myself a book for the flight back home (Colm Toibin's Vinager Hill) and got a cappuccino from Starbucks. Then I drove back home and worked on the computer to produce this article amongst others. Have a look at image gallery below for some pictures of the day.
Tomorrow the state of slumber is over as the CDIO 3* Wellington will begin with the horse inspection and arena familiarisation. Can't wait!
Text and Photos © Astrid Appels - No Reproduction Allowed
Related Link
Februaries in Florida - Sun & Fun with Horses as Icing on the Cake