2023 CDI Temecula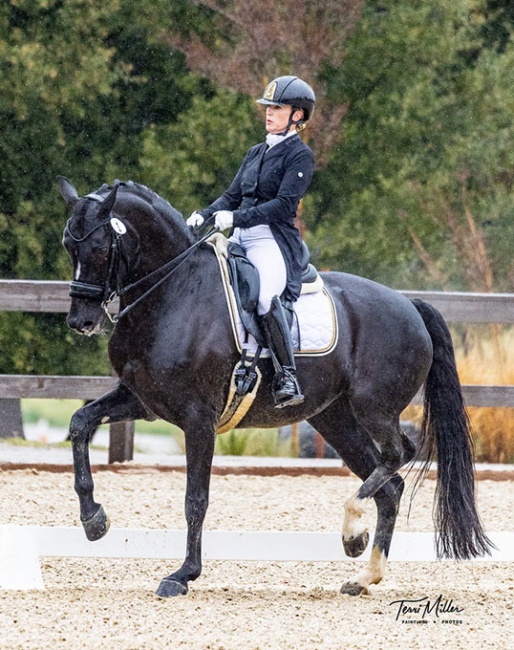 -- press release by Kim Miller, edited by Eurodressage
The 2023 Pacific Coast CDI & Open Show opened on 10 March 2023 with a weekend forecast to see another "atmospheric river" hit the Golden State. But that was for Central and Northern California, with milder forecasts for Galway Downs' Southern California location in Temecula.
And, mild it was through most of the opening day -- right up until the CDI3* Grand Prix and exhibitor party were set to start in the late afternoon.  And, then came the downpour.
Rigdon Reigns
Rebecca Rigdon and Lauren Fisher's 13-year-old Heide Spirit (by Zack x Sir Donnerhall) rode last and emerged the soaked victors with the mare seeming relatively unfazed by the heavy rain. Their 65.891% from ground jury members Sandra Smith, Cesar Torrente, Clive Halsall, William Warren and Sarah Geikie led the division.
Heide Spirit was trained and competed from young horse level to Grand Prix by David Blake. The pair made its debut in the young horse classes in 2016 and reached CDI Grand Prix level in 2021. The mare's last CDI under Blake was in Temecula a year ago before Rigdon took over the ride, having sold to Lauren Fisher in the autumn of 2022.
Tina Caldwell and the 15-year old Hanoverianer gelding Lagerfield K (by Londontime x Don Crusador) were second a 65% and Sharon Warner and her 18-year old Hanoverian Rubico (by Rotspon x Wanderbusch) were third with a 64.891%.
No Grand Prix for Suppenkasper Today
Coming off three consecutive World Cup Qualifer wins during the Desert Circuit in Thermal, Tokyo Olympic team silver medalists Steffen Peters and Suppenkasper were set for a final strut of their special CDI Grand Prix stuff before heading to the FEI World Cup Finals in Omaha in early April. But that was not to be after "Mopsie" sustained "a pretty good cut" on his leg during the night. It required four stitches.
"Most likely it would have stayed shut, but if there had been even just one drop of blood, we would have risked elimination," Steffen explained. So, they sat it out and Steffen joined the exhibitors party to watch the CDI Grand Prix action under the shelter of the VIP Pavilion.
While this much rain is rare in California, Steffen noted that shows around the world go on in similar circumstances. "We've had days like this in Aachen and really anywhere in the world. It is what it is. The horses did their jobs, and it's a bit more challenging. Mother Nature always wins!"
Happy Win for Peters in the Prix St. Georges
While he was disappointed to miss a final outing with Mopsie before the World Cup Finals, Steffen enjoyed another happy outcome with his own horse, Be Happy, in the CDI 1* FEI Prix St Georges. The 8-year-old grey Hanoverian by Belantis x Sunny Boy earned a 71.029% to top the 8-horse field in its first international.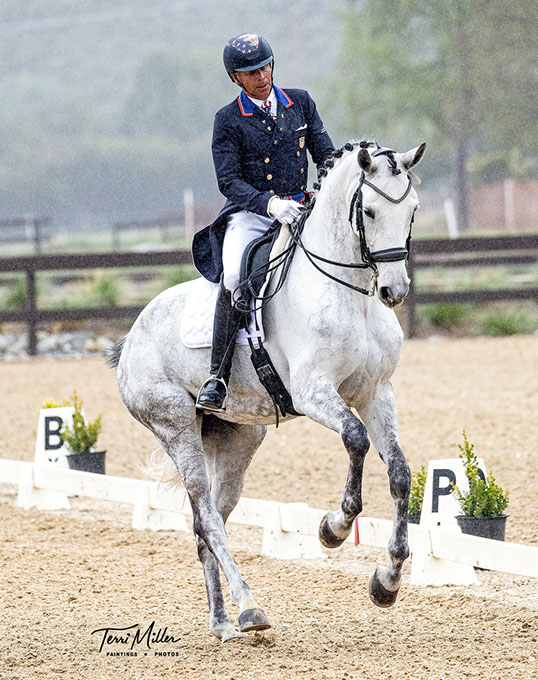 "In November, she did 3rd Level, in December, she did 4th Level, and today was her first Prix St. Georges," Steffen explained of the mare's ascent at the Desert Dressage over the winter. "She was a little nervous coming into the ring, but she settled down nicely and did a clean test." Steffen acknowledged the weather may have amped up the atmosphere a bit, "but she's a good German horse so I think she's probably seen this before."
The weather for this PSG was relatively mild compared to what the CDI Grand Prix field withstood later in the day, but it heightened an atmosphere that's already impressive. Galway Downs' Grand Prix Arena has a VIP Pavilion on one side, grandstands on the other, and today, international flags flapping behind the judge at C, Cesar Torrente, who was joined by Clive Halsall and William Warren on the ground jury.
Jo Moran and Victoria Cotchett's 10-year old American bred Reine Noire GWF (by Rotspon x Cor Noir) finished in reserve on a 67.696%. And Nick Wagman and Heatcliff, an 11-year old Dutch warmblood by Florencio x Olivi owned by Beverly Gepfer, were third with a 67.255%.
Yang Tops Young Riders Team Test
2021 NAYC Team Gold Medalist Miki Yang is a seasoned contender in this division, but this year's journey is all new thanks to sharing it with Grey C Carrus, a 9-year-old Oldenburg by Grey Flanell x Krack C. Miki's previous Young Rider horse, Donovan, "was like a schoolmaster. He'd done the Small Tour for so long, he could do it with his eyes closed." With Grey C, Miki is the teacher. "It's a real learning opportunity for me," she said.
In only their third show together, Miki and Grey C Carrus topped the Young Rider Team test with a 66.422% that the rider was "very happy with." The gelding is a puppy dog in the barn. "He licks my face and my helmet when I put the bridle on," Miki shared. "But he also can get very hot and he's still very sensitive. Going around the arena today, he was looking at the flags and I think the temperature had just dropped by about 10 degrees. He was saying, 'Oh, I'm definitely in the arena now.' He just needs to look at everything and then he's back to business. I really like his overall work ethic."
She was particularly pleased with Grey C's pirouettes and of her own work finding the balance between pushing for enough and pushing too much. "He has a lot of talent for the pirouettes, so it's up to me being able to guide him through without getting him too worried about it."
And his trot work is coming along, too. "It's about the fine tuning," Miki said. "How much expression can I ask for while still maintaining lightness and suppleness." She described today's win as a solid milestone on their current Young Rider path.
Ellanor Boehning and the 12-year old Rhinelander Sir Junior  (by Sir Stauffenberg x Grosso Z) were second in the class, with a 65.441%, followed by Tiggy Gates and the 17-year old Hanoverian Shadow's Dream (by Sandro Hit x Rotspon) on a 65.196%.
William Warren, Clive Halsall and Sandra Smith judged the  Young Rider Team test.
Canadian Dynamic Duo
Canadian mother and daughter duo, Claire and Carol Robinson, started their first visit to Galway Downs on a high note. Claire and Glamour Boy won the Under 25 Intermediate II and Carol and Lightfoot continued their first year in the CDI arena with a solid test in the CDI Amateur FEI Prix St. Georges.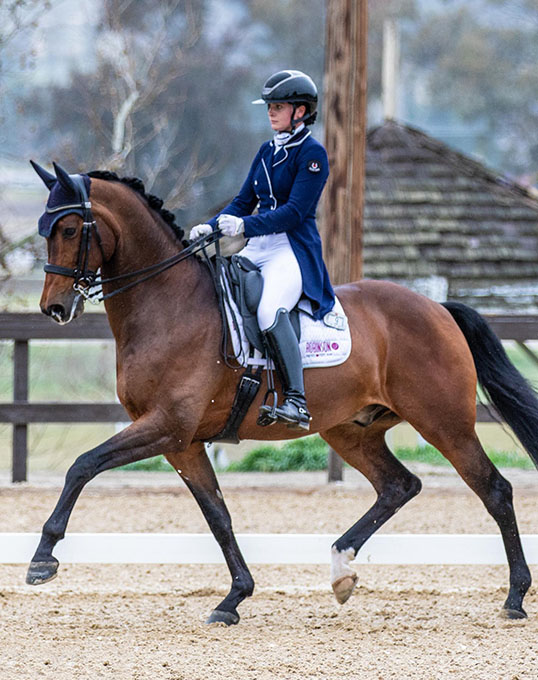 Claire and the 12-year old KWPN bred Glamour Boy (by Bojengel x Jazz) earned a 66.667%, continuing a journey in which the horse has "fulfilled all of my childhood dreams about riding at this level," Claire said. Which is not to say their four years together have been easy. "He is such a good boy and also such a huge character, so it's taken a long time. He's very ticklish -- he doesn't like anything touching him, like certain fabrics, shavings, etc. That's part of why It's taken a while to build the trust with him."
Today's weather and the general atmosphere resulted in a bit more tension than Claire would have liked, but "overall I'm pretty pleased."
Mom Carol and the 12-year old KWPN bred Lightfoot (by Johnson x Florestan (his original name is Grandia's Gordon)) had the Amateur Prix St Georges division to herself, but that took nothing away from the satisfaction and fun of topping the leaderboard on a 64.412%. "As a parent, it is a complete joy to be able to do this with my daughters. And it's gone full circle. It started with me doing everything for them with their ponies -- losing 5 pounds at a horse show getting everybody to the ring. Now, they do everything for me!"
While it's a long way from their Alberta, Canada, home, Galway Downs is a place the Robinsons will happily come back to. "The facility is lovely, the footing is great. We will definitely come back," Carol said.
Photos © Terri Miller - The West Equestrian
Related Link
Scores: 2023 CDI Temecula