2023 CDI Temecula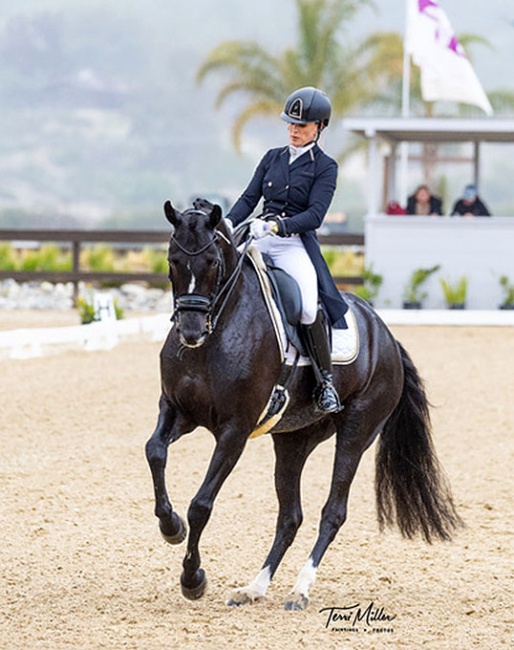 -- press release by Kim Miller, edited by Eurodressage
West Coast-based partnerships occupy an outsize place in US international dressage present and past. In the Pacific Coast CDI's Grand Prix Freestyle, Rebecca Rigdon and Heidi Spirit seemed poised to join those ranks. Their calm win of the CDI Grand Prix yesterday in a torrential downpour was followed up with a 70.110% in the Grand Prix Kur to Music on Saturday afternoon 11 March 2023. 
Rigdon Brings Music to the Arena
 Even with a pilot error walk break in one of multiple canter pirouettes, ground jury members Clive Halsall, Sandra Smith, William Warren, Sarah Geikie and Cesar Torrente liked what they saw from the high-stepping, metronome rhythmic of the 13-year-old Oldenburg (by Zack x Sir Donnerhall).
Heidi has been part of the family for Rebecca and her husband and training partner David Blake for 10 years. David bought her for a client as a 3-year-old, bought her himself as a 5-year-old, and campaigned her up to Grand Prix, then reluctantly planned to sell her. The marketing plan involved having Rebecca ride for the sales video. Four rides in, the plan changed.
"I thought, 'Wow! Wow! David has done a fantastic job with her'," Rebecca remembers. Visions of a solid Team USA candidate arose and a phone call was made to Lauren Fisher, "a sponsor I am incredibly lucky to have," Rebecca explained. Lauren signed onto the team vision, bought Heidi for Rebecca to campaign and the rest will hopefully become history.
"I love her silhouette and she is a very beautiful horse," Rebecca raves. "She articulates her joints so much and has so much expression. The next step is me learning how to ride her better."
Rebecca began riding Heide regularly last September and this is only their second time performing the Freestyle set to Kygo music and created by Marie Medosi's Ravehorse Productions. Their learning curve is accelerated by "being married to the guy who wrote the owner's manual," Rebecca laughed. "We can never get a divorce because he knows what to do in every single situation."
Of their very rainy ride and win in Friday afternoon's Grand Prix, Rebecca's role as Heidi's "mom" helped settle the mare in a wet, buzzy environment. "I thought the rain pinging on the grandstands might set her off, so I talked to her while we went down that side before entering the ring. She was like, 'Oh, mom's here, so it's OK." When the high-strung mare panics about anything outside the ring, "'Dad' is always there in David."
The DASC Spring Benefit CDI in May, also at Galway Downs, will be the pair's next outing. If all goes well, a summer tour of smaller CDIs in Europe may be in the cards and Rebecca has applied for Team USA Pan Am Games consideration. "It's all stepping stones toward the bigger picture," she said.
Rebecca and Heidi Spirit were the sole Grand Prix Freestyle pair.
Wagman in the Winner's Circle in the Intermediaire I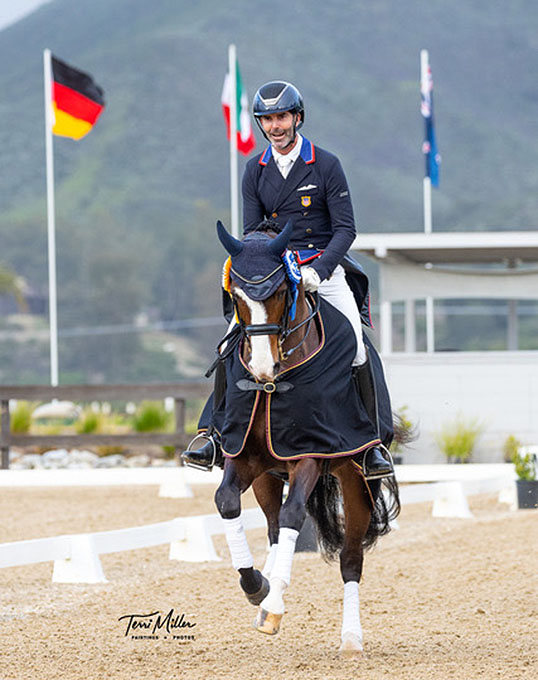 About two-thirds of the way into Nick Wagman and Heatcliff's test, silence fell in the VIP Pavilion as spectators shut up and zeroed in on what became a personal best score for the pair. The 70.833% was awarded by ground jury members Sarah Geikie, Sandra Smith and Clive Halsall. Five years into this partnership with the 11-year-old Dutch Warmblood (by Florencio x Olivi) owned by Beverly Gepfer, Nick modestly described it as "one of his better tests" from a consistently strong performer.
"He was rattled yesterday and had gotten spooked, and he's one of those horses who remembers his spooks," Nick said of their one less-than stellar spot. "So, there was a point when we were picking up the canter at F where I felt my little volcano beneath me. The first zig zag seemed a little rodeo, but I think we pulled it off." The judges agreed.
Nick and Heatcliff are putting together some of their Grand Prix movements and Nick is confident of moving up to I2 by the summer.
After topping the 1* Prix St. Georges yesterday, Steffen Peters and his own Be Happy (by Belantis x Sunny Boy) mixed their characteristic brilliance with a few bobbles to finish in reserve on a 68.882%. Anne Buchanan and Rosette B were third with a 66.422%.
Young Rider Yang Takes Two
Miki Yang and Grey C Carrus continued their ascent, logging another beautiful winning ride, this time in the Young Rider Individual test with a 69.461%. The 18-year-old was even more pleased with today's test and cited a half-halt response tune-up with Steffen Peters in the warm-up for getting the 9-year old Oldenburg (by Grey Flanell X Krack C) more on the haunches and in a more compact frame.
Grey C joined the Yang family intended as a family horse. Accomplished amateur mom and sport supporter, Akiko Yamazaki, rode him for a while and Miki's younger sister Emmy has ridden him, too. But "we're probably past the point where we'll be sharing him," Miki acknowledged.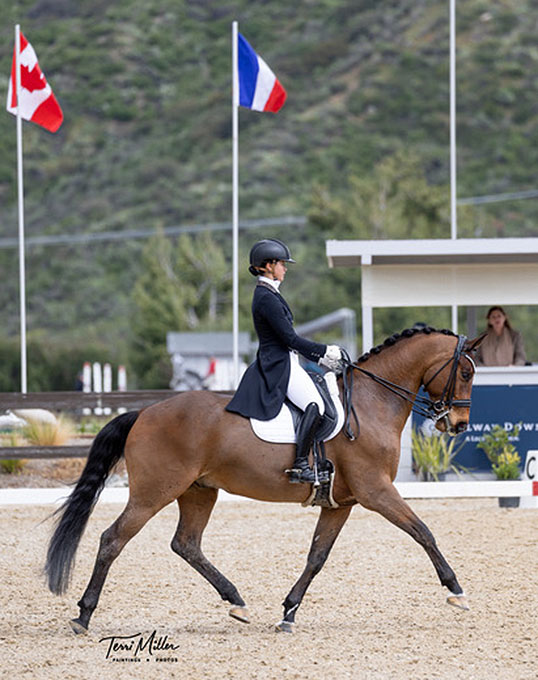 They will continue sharing their horsemanship insights around the dinner table and honing a horsemanship style distilled from "how lucky we are to get insights from so many amazing riders and coaches," Miki said. Their coaches include Steffen, Dawn White-O'Connor, Heidi Gaian and Johan Hinnemann. Grey C lives in Northern California near the Yangs and Miki and Akiko ride on their own much of the time. "My mom is one of my coaches, of course, and we take what we learn from so many people and kind of finesse it into what works best for us."
The Stanford University freshman also credits last summer's trip to Europe for upping her game. "The standard over there is so elevated, it really pushed me to step it up a notch. Even the pony riders over there look like they're on Grand Prix ponies."
Yang was followed by another ever-rising California rider mentored by a talented equestrian mom. Ellanor Boehning and Sir Junior (by Sir Stauffenberg x Grosso Z) earned a 66.225%. They "triple podiumed" at North American Youth Championships last summer and are striving for a repeat.
"His trot work was super forward and had that spring in the step," Ellanor said. "I'm pleased with our canter pirouettes because that's something I was personally not so good at. I'm learning to make them bigger so they flow smoothly."
The 17-year-old hopes a European Young Riders tour may in the cards this year or next. She credited her mother and USDF Region 7 Young Riders coordinator Anne Boehning as instrumental to her success. A little extra coaching from Steffen Peters today was a big help, too.
Tiggy Gates and Shadow's Dream  (by Sandro Hit x Rotspon) followed in third with a 64.314% and are following in the internationally ambitious path of Miki and Ellanor. Tiggy and the 17-year-old Hanoverian moved from Massachusetts to San Diego 18 months ago to train with Dawn White-O'Connor. Tiggy was especially pleased with their pirouette and trot work, and generally pleased with a "mostly clean" test as they continue the big step up from the Junior ranks.
Taylor Allen Makes a Long Trip Worthwhile
In the Junior Individual test, 16-year-old Taylor Allen again showed grace and grit after yesterday's highly-tensioned team test with Fleur de Lis, a 13-year-old mare by Tuschinski x Goodtimes.
"She's always a pretty hot horse and there was a lot of atmosphere yesterday," Taylor reflected. "When she gets nervous, she thinks she's going to save me by running away, but she always comes back to me."
Despite the challenges, Taylor and Fleur share an obvious bond -- evident in Taylor's slight smile when her mare responded too enthusiastically to her aids, or in anticipation of them. Taylor's ability to trust Fleur was clear today in an expressive extended canter. The sole contender in this class, Taylor received a 63.873% score. It reflected her "big sigh of relief that we got to improve after having a tough ride."
She travelled from Longmont, Colorado, where she trains with Greta Vowell and she considered the weekend a win in the experience column.
Canadians Clean Up – Again
Alberta, Canada-based Claire Robinson went two for two winning today's U25 Grand Prix with Glamour Boy on a 67.094% from Sarah Geikie, Sandra Smith and Clive Halsall. By Bojengel out of the Jazz mare Udina, Glamour Boy won the U25 Intermediate II yesterday.
Mom Carol Robinson and "Gordon" Lightfoot finished their California circuit with a 64.363% in the Amateur Intermediate I, taking home another top rosette as the sole entry in the division.
Scores Hung Out To Dry
The scores for yesterday's CDI Prix St. Georges and Grand Prix were posted unusually late last night and for good reason.
While the horses, riders and the arena handled Friday afternoon's freakish deluge amazingly well, the score sheets didn't fare so well. They had to be hung up to dry in the show office before the scores could be tabulated and posted.
The Grand Prix's runner-up Tina Caldwell had a great perspective on the rainy rides. As the rain got heavy, she wondered if the class might be cancelled, but she never thought about scratching. "My coach Guenter Seidel said, 'Tina, horses don't care about the rain.' I just don't quit. Any time down centerline is an opportunity to learn and grow. Overall, I think it was a good experience. We were able to put in a really good ride under really adverse conditions."
The CDI finishes Sunday with the 3* Grand Prix Special and the  1* I1 Freestyle in the morning.
Photos © Terri Miller 
Related Links
Scores: 2023 CDI Temecula
Rebecca Rigdon and Steffen Peters Reign in the Rain at 2023 CDI Temecula