2023 New Zealand Dressage Championships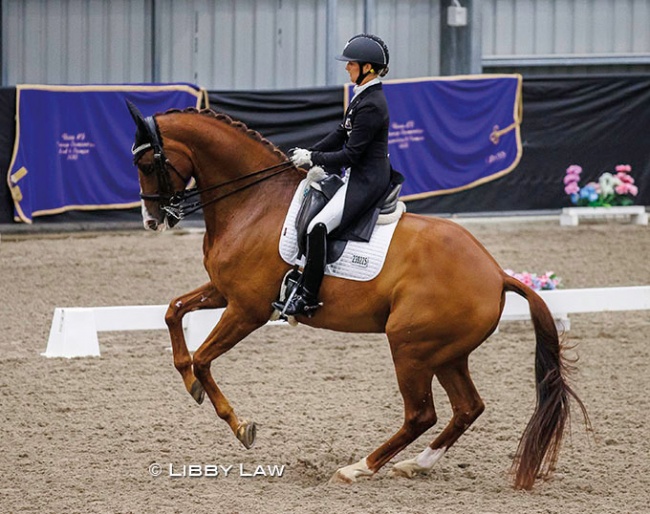 - by Wendy Hamerton, edited by Eurodressage - Photos © Libby Law
In their first appearance at the New Zealand National Championships since 2020,  Melissa Galloway and Windermere J'Obei W were on top form at the National Equestrian Centre in Taupo, not only winning all three classes but breaking New Zealand records, achieving personal bests, and etching their name on the championship title.
Breaking Records
Their Grand Prix test produced a new high of 73.456%, the score including a 74.8% from 5* judge Isobel Wessels (GBR) and 75.9% from Australian judge Kerrie-Swan Bates. The pair have just gone from strength to strength, their 10 months spent training with Anne van Olst and competing in Europe and at the 2022 World Championships in Herning being the just the start of the pair setting new high standards.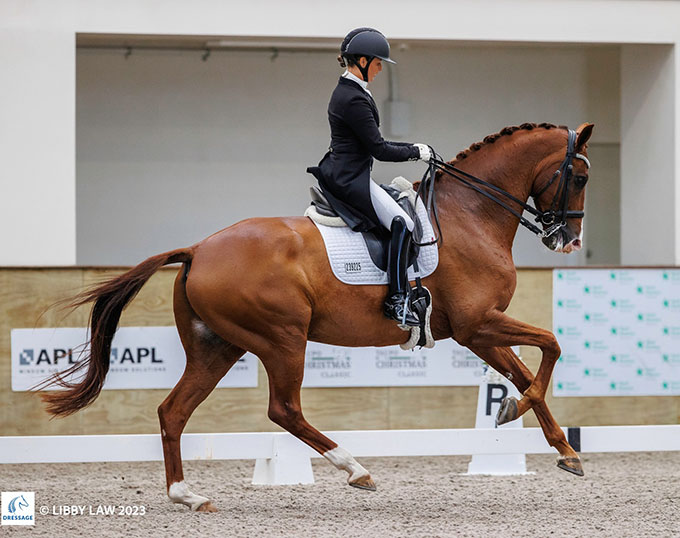 Their Grand Prix showed great consistency some real highlights with seamless pi-pa transitions  and world class execution of both movements, but the Freestyle was sensational for an average 80.120% for Artistic and 73.950% Technical and another national record of 77.035%
Despite the pain of a tooth abscess, Melissa was overjoyed with her dancing partner, Windermere J'Obei (by Johnson x Pompeii Court xx), who is bred by Rania Todd in partnership with David Woolley.  
"I just couldn't be happier with him" she grinned "but think I look like a chipmunk with my swollen cheek!"
For now it's back to Marlborough on the ferry with next stop Sydney CDI at the end of April.
Williamson Runner-Up
The 2022 NZL champions Wendi Williamson and Don Vito MH  (by Don Frederico x Anamour) were the runners-up at the 2023 Nationals in Taupo.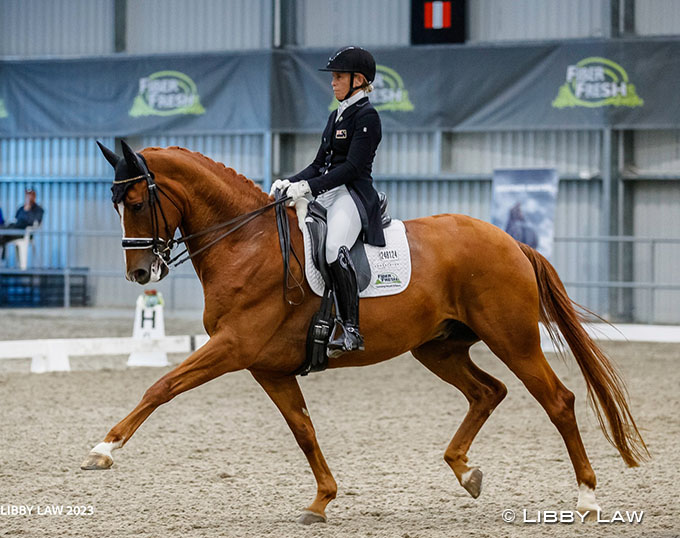 They are a combination relatively new to the Grand Prix level but Wendi's previous experience on a number of other horses at this level is proving invaluable as she pilots the powerful gelding through the tests giving him confidence and showing more maturity at every outing. He has great ground cover in the extensions, and ability for the collected work so at just ten years old has plenty in store for the future.
This pair is also heading to the Sydney CDI.
Bronze for Lennard
The next placings were shared between Waikato's Gaylene Lennard on her Herning World Championship team horse Jax Johnson (by Johnson x  Anamour) who showed his quality but lacked some consistency and confidence at times. 
The two fifteen-year-old Anamour progeny, Aphrodite (ridden by Cooper Oborn and owned by Belinda & Emily Stuchbery) and Ardmore (Lucarne Dolley) completed the top five. Ardmore was retired from Grand Prix level competition at the event, but finished in style  having scored over 70% in the Freestyle.
Ben Weir Renews Young Riders' Title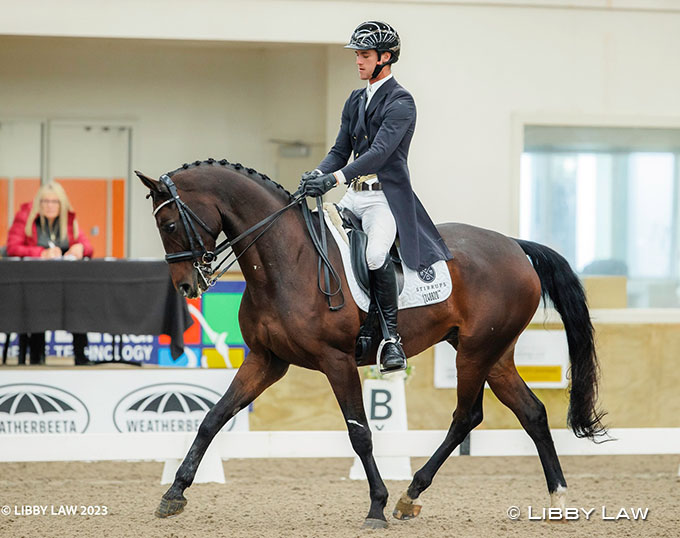 The Young Rider Championship was dominated by Ben Weir aboard Melissa Steed's 13-year old NPE Del Rico (by Doringcourt). The pair won the 2022 Nationals only a few months ago in November at the 2022 postponed Nationals (due to covid) and confirmed their dominant position on the NZ young rider scene with three winning tests. 
He was chased throughout by the Canterbury duo of Gemma Lewis and Ruanuku R, Christine Lewis' 17-year old Regardez Moi gelding.
Ben is in his final year of Young Riders, while Gemma has recently joined the ranks on Ruanuku R who was purchased as a schoolmaster for Gemma as she transitions from ponies.
Results - 2023 New Zealand Dressage Championships
Young Riders - Team Championship Test
1. Ben Weir - NPE Del Rico - 68.32%
2 - Gemma Lewis - Ruanuku R  - 65.88%
3 - Morgan Abel-Pattinson - Don Tobio -  63.41%
4 - Emily Townsend -  Astek Ginsling  - 63.41%
5 - Charlotte Thoma -  Time After Time  - 59.06%
6 - Tannah Johnson  - Minobie  - 58.21%
Young Riders - Individual Test
1 - Ben Weir  - NPE Del Rico. - 68.19%
2 - Gemma Lewis - Ruanuku R  - 67.55%
3 - Morgan Abel-Pattinson -  Don Tobio  - 63.19%
4 - Emily Townsend  - Astek Ginsling  -62.45%
5 - Charlotte Thomas  - Time After Time  - 59.32%
6 - Tannah Johnson - Minobie  - 58.97%
Young Riders - Kur to Music
1 - Ben Weir  - NPE Del Rico  - 72.24%
2 - Gemma Lewis  - Ruanuku R  - 71.21%
3 - Emily Townsend - Astek Ginsling  - 67.91%
4 - Morgan Abel-Pattinson - Don Tobio  - 65.77%
Grand Prix
1 - Melissa Galloway (Marlborough)  - Windermere JObèi W  - 73.46%
2 - Wendi Williamson (Waimauku)  - Don Vito MH  - 70.37%
3 - Gaylene Lennard (Te Aroha)  - Jax Johnson  - 67.37%
4 - Lucarne Dolley (Tamahere - Waikato)  - Ardmore  - 66.07%
5 - Cooper Oborn (Masterton) - Aphrodite  - 65.15%
Grand Prix Special
1 - Melissa Galloway  - Windermere JObèi W  - 72.87%
2 - Wendi Williamson  - Don Vito MH  - 71.04%
3 - Cooper Oborn -  Aphrodite - 66.49%
4 - Gaylene Lennard - Jax Johnson - 64.79%
5 - Lucarne Dolley  -  Ardmore - 64.60%
Grand Prix Kur to Music
1 - Melissa Galloway - Windermere JObèi W -  77.04%
2 - Wendi Williamson -  Don Vito MH  - 74.13%
3 - Gaylene Lennard - Jax Johnson  - 71.64%
4 - Lucarne Dolley -  Ardmore  - 70.96%
5 - Cooper Oborn ( - Aphrodite - 70.75%
Related Links
Wendi Williamson Wins 2022 New Zealand Dressage Championships
Jefferies and Galloway Take Titles at 2020 New Zealand Dressage Championships
Gradowski, Sage, Galloway and Way Win at 2019 New Zealand Dressage Championship
Sage and Dolley Take Titles at 2019 New Zealand Youth Riders Championships
Julie Brougham Wins 2018 New Zealand Grand Prix Championship
Beere, Sage, Benzie Wins the 2017 New Zealand Youth Riders Championships
Molly Lumb Wins 2016 New Zealand Young Riders Championships
West and Noble Win Big at 2015 New Zealand Young Riders Championships
Catherine West Wins 2014 New Zealand Young Riders Championships
Kate Welten Retains Title at 2013 New Zealand Young Riders Championships
Kate Welten Wins 2012 New Zealand Young Riders Championships
Kate Welten Crowned 2011 New Zealand Young Riders' Champion
Georgia Worth, 2010 New Zealand Young Rider Champion
Appleton, 2009 New Zealand Young Rider Champion
Hannah Appleton wins 2007 New Zealand Young Rider Championship